And it's goodbye to A&M...
It's time we face the truth, fellow Big 12ers. Texas A&M is dumping our conference for a prettier girl. So invite your closest girlfriends over, crawl into your comfiest pajamas, and crack open an economy-sized tub of Cherry Garcia.
This, my friends, is Barking Carnival's final Texas A&M State of the Union.
We should have seen this coming. Oh sure, the Aggies officially denied that they planned to leave us. They swore up and down that nothing had happened between them and the SEC, that no offer had been made. When they met up with SEC officials, they assured us, it was just for "conversation." But, deep down, we always knew that wasn't true. There was more to this Aggy-SEC relationship than just talk. All the signs were there:
The Ags grew distracted and distant
They told everyone who would listen that they were dissatisfied with our relationship
They returned home late at night, reeking of cheap perfume, gumbo, and Les Miles's pungent ejaculate
We found two economy packs of Hanes Her Way size XXL support panties in Bill Byrne's desk drawer.
Okay, I admit that clue #4 was a little ambiguous. But the other signs were pretty clear. And now it's all but official. After the 2011 season, our Friends from the State's Craphole will be moving on to the nation's premier college football conference.
And why not? For a decade-and-a-half, the Aggies have thoroughly dominated the Big 12, winning nearly 54% of their conference games and playing for the league title in both 1997 and 1998. Kicking that much Big 12 ass gets old quickly. Who can blame the Ags for moving to a tougher conference?
Really, WHAT THE FUCK IS AGGY THINKING??? Don't they know what they're in for? A&M is acting like the college football equivalent of a homely Ted Bundy victim. "Oh, he's so handsome and confident! He wants me to join him in his apartment for coffee? Of course I will! This could be the start of something really special!"
One season later, investigators will discover the dismembered remains of the Aggie program stuffed into a half-dozen black Hefty bags on the side of a Florida highway.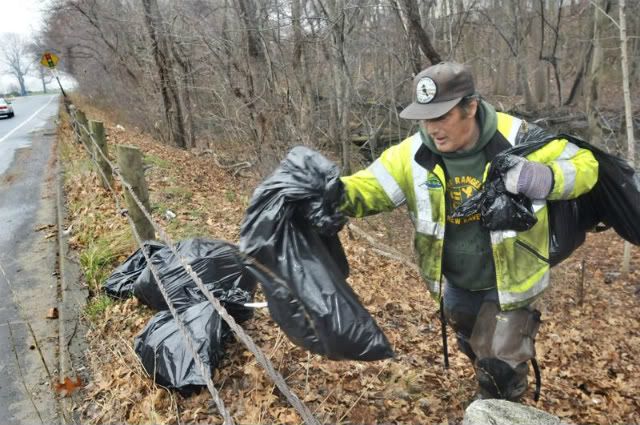 "Damned teenagers and their throwing-bags-full-of-torsos-out-the-car-window hijinks."
But the SEC won't get an opportunity to strangle the Aggie program with nylon stockings, quarter it with a rusty hacksaw and fashion a surprisingly charming lampshade out of its skin until 2012. This piece is about the 2011 Aggies, and their final season in the backwater bush leagues. So let's move on.
Last Season
Record: 9-4
Big 12 Record: 6-2
As Vasherized dutifully advises his gullible marks valued clients, past performance is a perfect indicator of future success. We thus begin our analysis by looking back at the 2010 Aggies.
After successfully navigating an early-season murderer's row of Stephen F. Austin, FIU and Louisiana Tech, the 2010 Aggies stumbled to 3 straight losses. Things looked bleak at 3-3, but A&M bounced back in impressive fashion. The Ags finished the regular season on a six-game winning streak, including a victory over mighty Oklahoma, before falling to LSU in the Cotton Bowl, 41-24.
That loss should have done for A&M what a Scared Straight monologue on the dynamics of jailhouse romance does for scrawny pre-teen wanna-be hardasses. Unfortunately, Aggies aren't exactly adept at correctly diagnosing their spot on the tough-guy pecking order and tailoring their decisions so as to avoid years of brutal butt-poundings. So the Aggies were treated to four quarters worth of 10-gauge Louisiana meat enema, and came away thinking "Wow, isn't this great?!? This is what we'll be doing to other teams once we join the SEC!" Poor Aggies.
Say it again. You're going to miss it. Pooooor Aggies.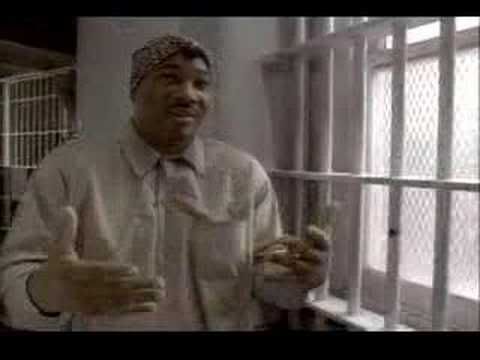 He seems like a nice guy who, unlike our previous conference mates, will respectfully consider any grievances we may express.
So the Ags remain optimistic about their chances in the SEC. And why shouldn't they be confident? Last year, A&M went 9-4, including an 0-2 record against the two SEC teams on their schedule. Now, that 0-2 mark may not seem very impressive on first glance. But remember: managing only two conference losses in the SEC is not easy. In most years, a 2-loss SEC record is good enough to get you into a BCS bowl. Hell, LSU lost two conference games in 2007 and won the whole enchilada!
Viewed in that context, the Ags' 2-loss SEC record in 2010 is pretty god-damned impressive. Awe-inspiring, even. If A&M can manage such an outstanding SEC record before even joining the conference, one can only imagine what heights they'll reach in a full SEC schedule. Sleeping giant, imo.
Offense
Entering 2010, the party line on A&M's offense held that the Aggies would excel at the skill positions and struggle along the line. The consensus prediction was 50% correct. While the Aggie skill players did, in fact, excel, the Ags hit the jackpot on two fantastic young linemen. Unfortunately for the rest of the league, A&M returns 10 starters and several key backups from an offense that ranked in the Top 25 nationally (5th in the Big 12).
RB Cyrus Gray may be the league's top returning running back. As a junior, Gray finished 6th in conference in rushing yards and 4th in all-purpose running yards. Running behind a more experienced line, and with continued help from the passing game, expect Gray to put up huge numbers in 2011. Gray's backup and Title IX beneficiary, Christine Michael, is no slouch either. In 2010, Ms. Michael averaged 5.0 yards per carry and nearly 80 yards per game.
At WR, the Aggies are loaded. In 2010, Aggie receivers Jeff Fuller and Ryan "Swippery" Swope ranked #3 and #8 in the Big 12, respectively, in receiving yards per game. The Ags' third receiving option, junior wideout Uzoma Nwachukwu (gesundheit!), contributed a slick 11.31 yards-per-catch in 2010.
Little-known mediocre quarterback Ryan Tannehill outplayed widely-heralded Heisman shoo-in Jerrod Johnson in 2010 to take the reins at QB. Tannehill bores me. But he is apparently better than the Aggie Vince Young, so prepare for a torrent of absurd fish stories about the undeniable greatness of A&M's forgettable signal-caller.
Does A&M even have a tight end? I don't know and I don't care!
The Aggie line is anchored by two stellar sophomore tackles in Luke Joeckel (2010 Big 12 Offensive Freshman of the Year; 2010 All-Conference Honorable Mention) and Jake Matthews (2010 All-Conference Honorable Mention). Junior guard Brian Thomas was a 2010 All-Big 12 Honorable Mention winner, just like Blake Gideon. So, you know, he's got that going for him. Although the Aggie line includes only one senior (guard Evan Eike), this unit has a full season of trial-by-fire under their heavy-duty size XXXL belts and should therefore demonstrate an experience level above their class designation.
Defense
Like the Aggie offense, A&M's defense finished 2010 ranked #5 in the Big 12. That's where the comparisons end. The Aggie defense ranked a mediocre 55th nationally in 2010, lost All-Everything LB Von Miller, and will field an unimpressive collection of mediocre defenders lacking any star power.
On the other hand, the 2011 Aggies are effectively an SEC team, and every single defense in the SEC! SEC! SEC! ranks in the Top 5 nationally every year. (Don't question the math. That it poses an unresolvable paradox is what makes the statistic so amazing.) Add the coordinating genius of former Air Force secondary coach Tim "Roto" DeRuyter, and the Ags are poised to return to their Wrecking Crew glory days.
Back in the real world, I can't identify a single Aggie defender worthy of individual discussion. That should tell you all you need to know about the quality of the 2011 Ag defense. The loss of Von Miller is huge, but it should be partially offset by a weaker conference. All in all, I expect the Ags to continue their run of defensive mediocrity.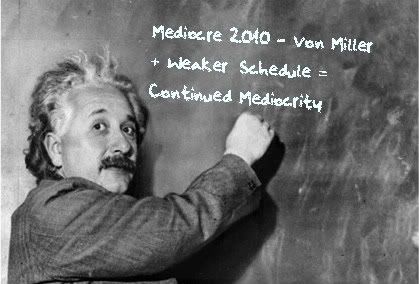 Great minds...
Special Teams
Uh, okay, I wasn't exactly prepared to talk about special teams, per se... So, let me see. I guess, you know, that, like, you can expect Aggie kick-offs, punts and, like, field goal attempts to proceed with, um, some successes and, you know, uh, probably like one of the, uh, faster guys, um, probably like a black guy on the team - or, or, you know, it could be a white guy too! - will return the, uh, the kicks and punts and maybe do pretty well at it. Or maybe struggle. Who knows?
Overall
A&M 2011 is the proverbial hillbilly penis wolf in sheep's vagina clothing, a veritable SEC powerhouse playing among the weaklings of the lowly Big 12. Except that, pretty much unlike every SEC team, A&M will field a shitty defense and a dangerous offense.
A weak schedule has the pollsters picking Aggy in the Top 10. I doubt that holds up over the course of the season. Although only a few teams (Oklahoma State, Arkansas, OU and, yes, Texas) will likely challenge A&M, I expect the Ags to lose at least two and possibly three of those games. Late-peaking Texas will steal a win in College Station, and then the Ags will endure their usual bowl game thumping. Call it 9-3 or 8-4, with a final ranking somewhere in the 15-25 range.
And that will be the last we hear of the Ags for a long, long time.
Closing Thoughts
Look, I know a lot of you are annoyed at Texas A&M. They've acted like a petulant child and now threaten to trigger a conference implosion. For my part, I've tried to hate the Ags for leaving. But I just can't.
Say what you will about Aggies. They're delusional. They're self-important. They're blinded by a pathetic inferiority complex. Say those things as often and as loudly as you want, because they are all absolutely true. But I'm still going to miss those bizarre little bastards after they leave. In fact, I'm so emotional about the departure of our long-time whipping boy "rival," that I put together a video mix-tape of my favorite Aggie memories. So, please, cram that last heaping spoonful of Ben & Jerry's into your gaping maw and join me in a little melancholy reminiscing:
Now if that doesn't bring a tear to your eye, then you are a soulless shell of a human being, a pitiable automaton incapable of feeling any emotion. Either that, or you suffer from familial dysautonomia, a rare disorder of the autonomic nervous system that results in the inability to produce tears.
You should probably see a doctor about that. Just to be safe.