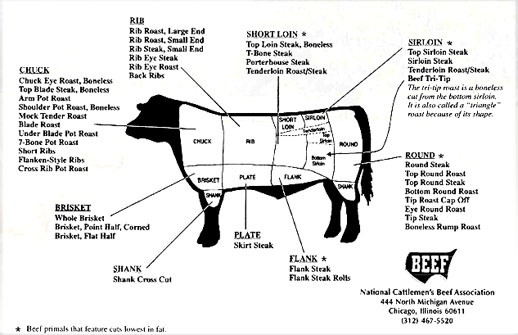 The art of honing the toughest and most rugged cut of beef from the bovine into a juicy, tender and angelic delicacy is a quasi religion every bit as worthy as the sun, the moon, the multiple arms of Vishnu or the open field tackle. It can be as easy as you want it to be or seemingly more difficult than conjuring theurgic interveners from the stars.
What I'm aiming to provide here is a rudiment foundation for attaining the tools to snatch the sacred smoke ring from the lords of fire. There are more ways to go about cooking the rancorous slab that we call the brisket than there are unholy deviants that insist on driving five miles-per-hour under the speed limit in the far left lane. None of them are wrong and all of them are paths to failure and each of them individual offenses to someone's deity. It all depends with whom you speak. The only right way to do it is enduring trial and error and settling on what works best for you. The methods are endless. Listen to anyone who thinks they might have advice and take what you like and discard what you don't. Keep an open mind and always be willing to change 180 degrees from your comfort zone. So, if you have any suggestions or observations don't hoard.
Here are the Cliff Notes to what I do to brisket:
1.) I look for a brisket that is at or just fewer than nine pounds.
2.) Slightly trim the fat side to around a half inch.
3.) Apply coarse salt, pepper and dry rub (Adkins Seasoning in my case).
4.) Smoke the brisket for about a third of its weight in hours per pound at 225 degrees.
5.) Remove from the smoker and wrap in foil and cook to an internal temp from 195 to 200.
6.) Remove brisket from foil and place back on smoker for about 30-45 minutes to get char and bark on the outside.
7.) Make sure I go to at least ten when compiling a list.
The arena:

Lets begin by picking out a good prospect. This guy looks good.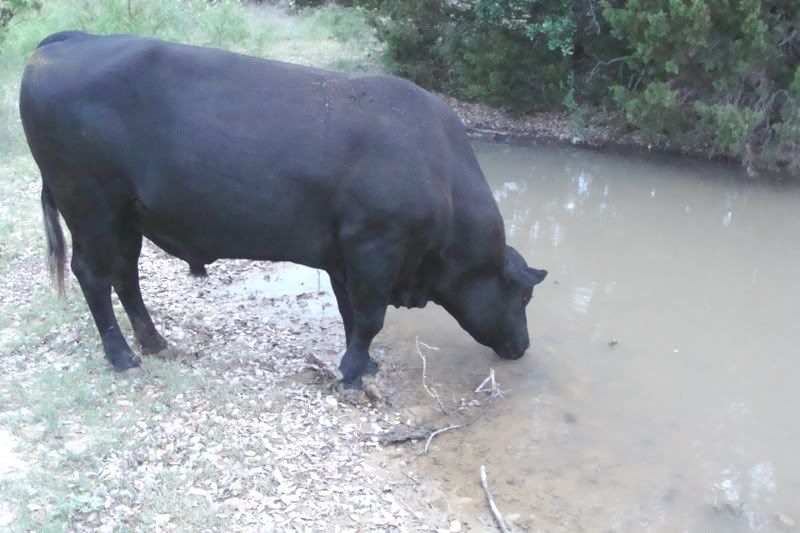 Hold steady, big guy.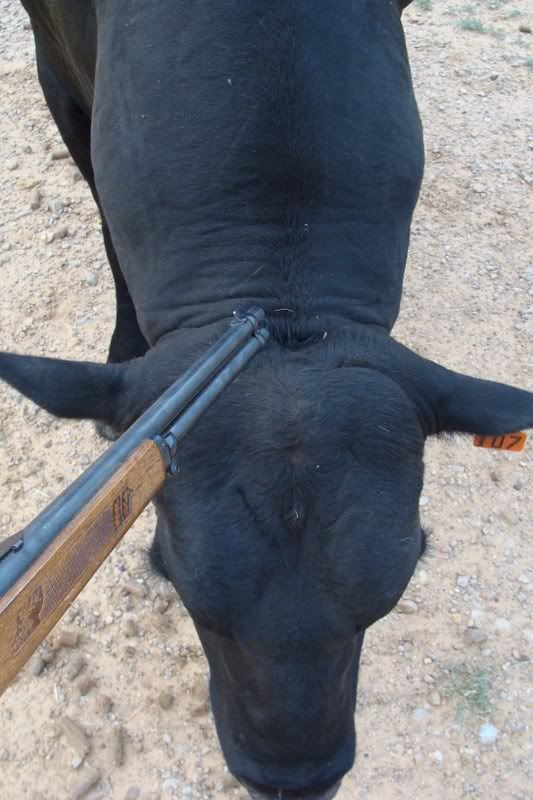 Just kidding.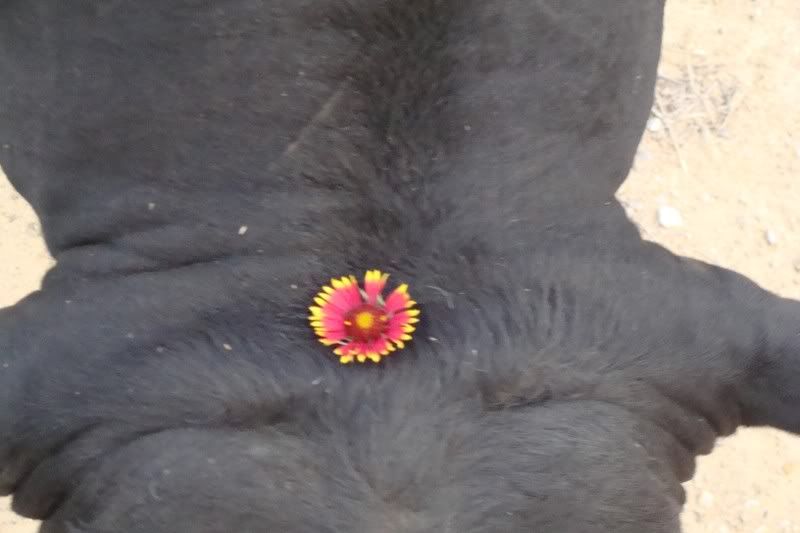 I'm a big fan of buying pre-trimmed flats. Many of the purists will frown upon this, but I don't have much use for the point unless I plan on doing chopped beef. Long lean slices from the flat is what I like. Wal Mart's trimmed flats are nice and about the only place I can find flats in the eight to nine pound range. The downside is that you have to go to Wal Mart. This one is pretty much ideal for what I seek.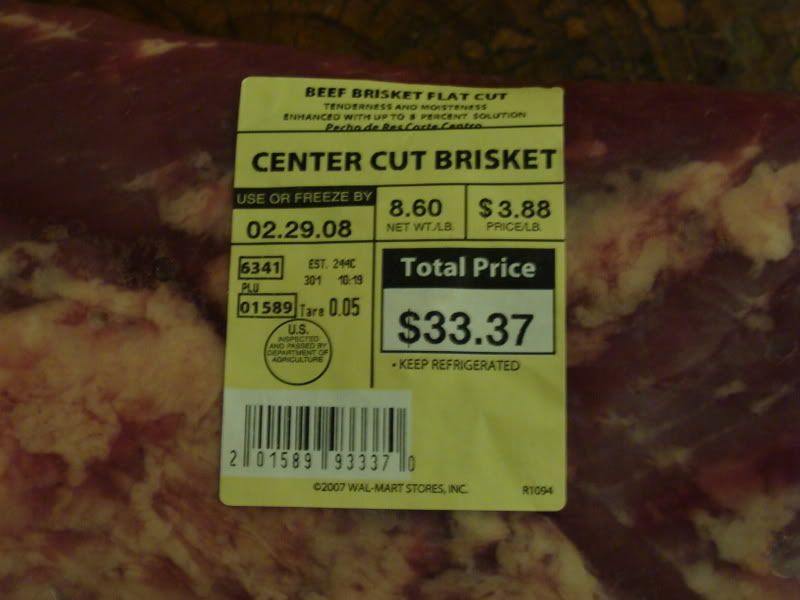 Here's what I used. One of these doesn't belong. This is a test. Pay attention and stay with me.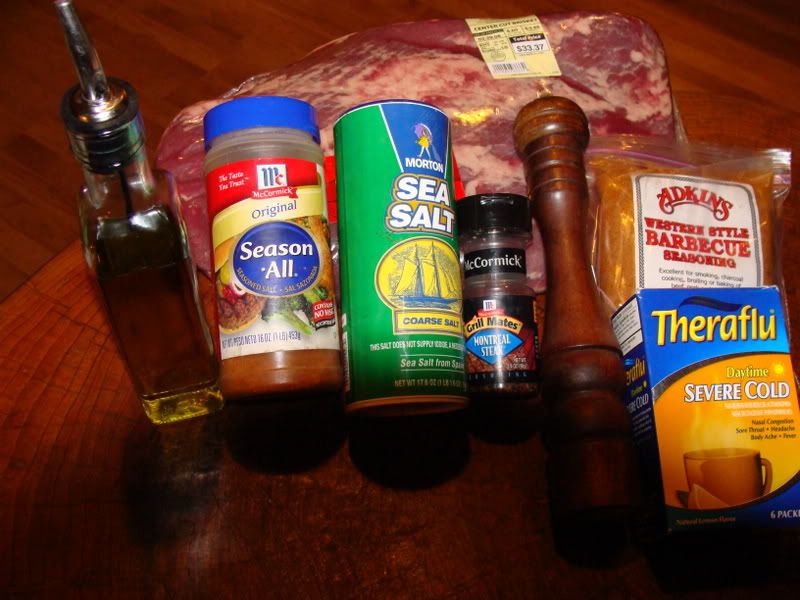 Here it is as naked as a boy scout in Sizzlechest's basement.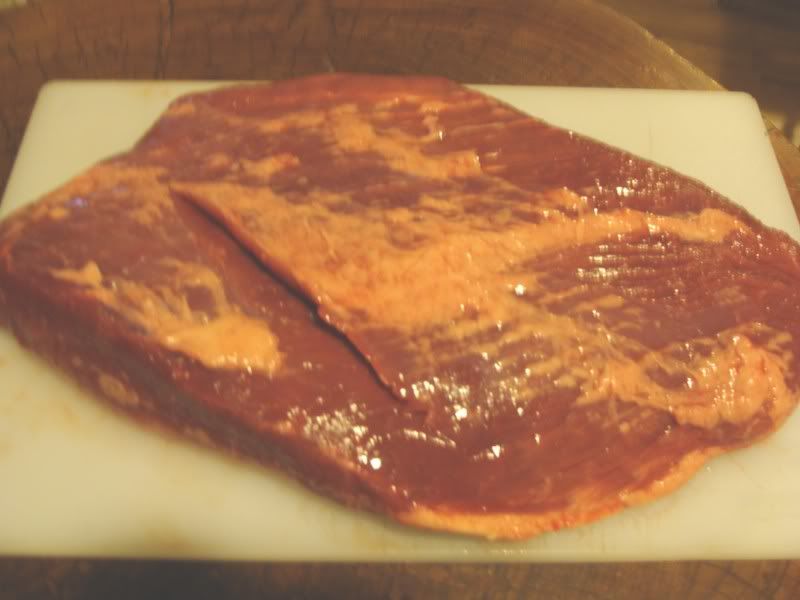 Season it with your dry rub of choice.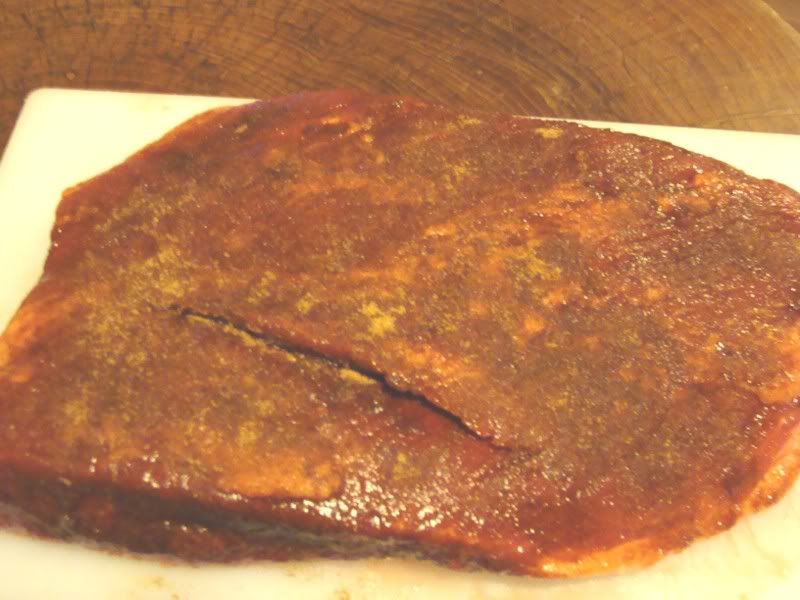 I can't resist adding a little more pepper. Also, alot of people like to slather their brisket with yellow mustard. It cooks in really well and seems to add an extra bit of char to the outside. I didn't do it this time simply because I didn't have any mustard. If you do decide to do this make sure you apply the mustard after you apply the seasoning and rub.
ALERT: Always allow your brisket to set awhile before putting it on the pit. Don't throw cold beef, of any kind, on a grill or pit.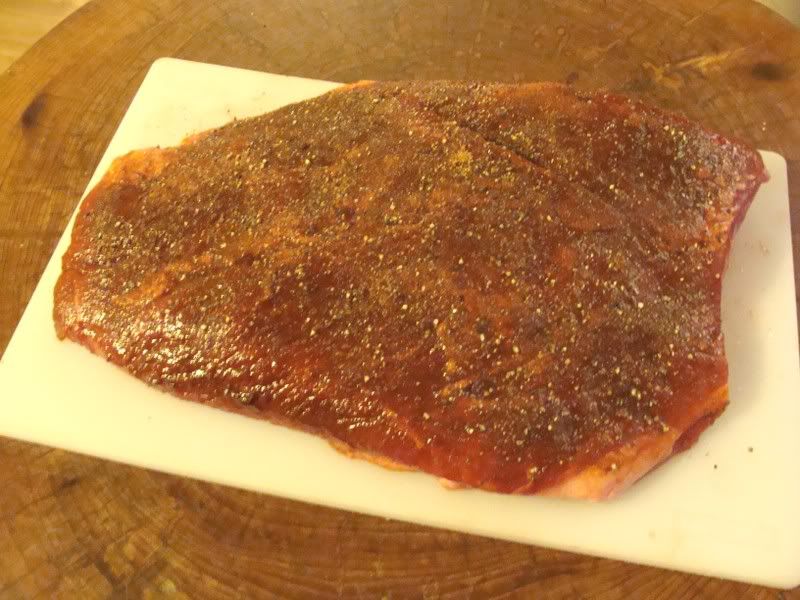 Getting the fire ready, suckas. If you use an offset smoker remember to keep your coals and wood elevated from the bottom with a grate or whatever you have to rig together. This allows oxygen under the bed and makes it way easier to maintain a steady temperature. I usually start with a bed of charcoal and small pieces of wood to get the fire started. As you can see, I used a big chunk of mesquite to get things going. However, I only use either oak or pecan when actually cooking. Mesquite, contrary to popular belief, is far too robust and abrasive to use on a slow-smoked meat. It also burns too hard. Stick with oak and pecan. Hickory, cherry, apple and a variety of a few others are preferred by some, but I've never tried any of those.

Okay, damnit. I decided to try this cabbage recipe that turned out well, but only after some tweeking. If you like cabbage, like me, stick to the traditional crockpot, veggies and saltpork method. Here's the gist of the recipe:
Hollow out a head of cabbage.
Take your favorite rub and seasonings and roll an entire frickin' stick of butter in it.
Place the seasoned stick of butter in the hollowed out hole in the cabbage.
Wrap in foil and cook on the pit for about three hours.
It didn't turn out terrible, but I had to eventually just finish it off in a crockpot considering that it was hard as a rock after about five hours in the pit. Here are the images of this flailing effort: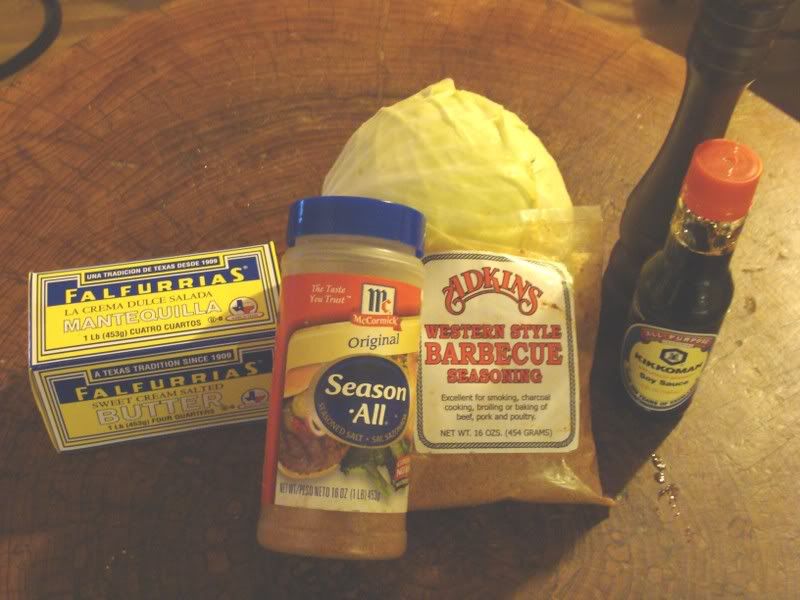 Good grief.

I don't remember what this recipe was called. If I had to title it I'd go with "The Slow Death of a Rube Southerner" or "Jeff Madden."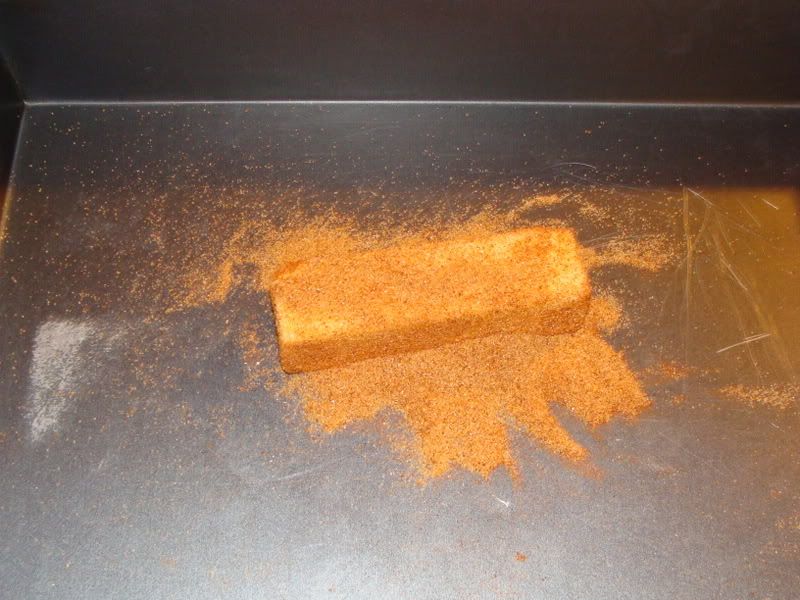 Ridiculous. Absurd. This has to conjure bad memories for Tamarick Vanover. Just ... no.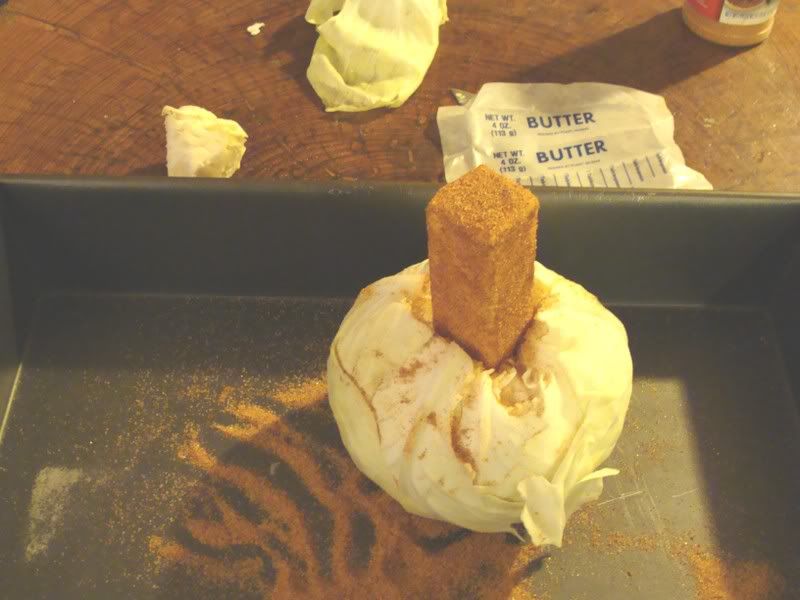 Geez.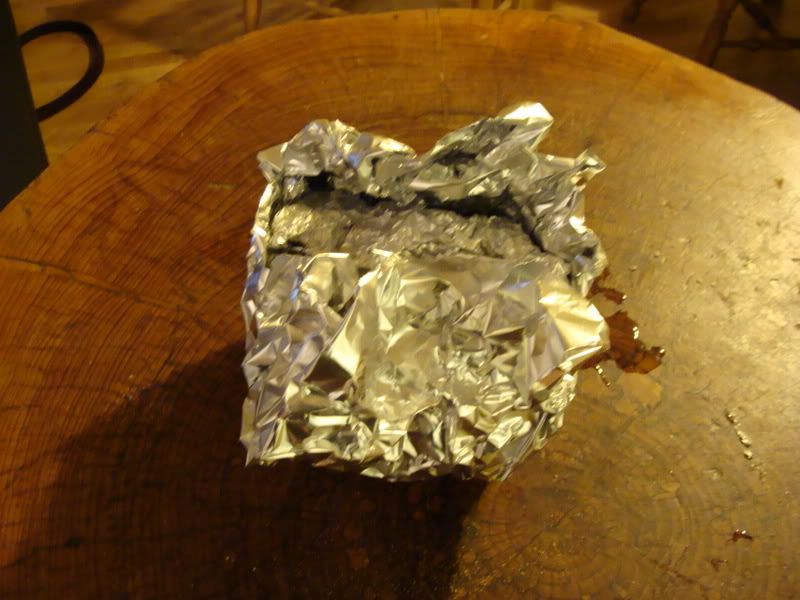 Time to move on from that haunting episode. The fire is ready.

Get in there, foods.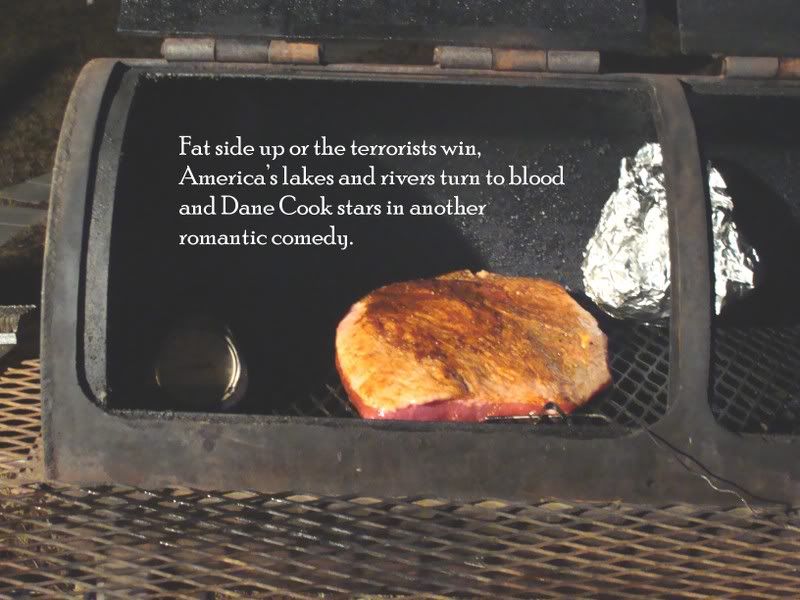 This is what you want.

At some point in the night the smells lured this little guy. Sorry about the quality of the picture. I had to press the lens flush against the window to get a shot. It's a gray fox. Here's what he'd look like if I didn't suck:

Uh oh. The temp dropped. No big deal. Just ventilate. If your temp fluctuates try to only allow it between the 200 to 250 range. You'll be fine. Even a total lush is capable of doing this, trust me.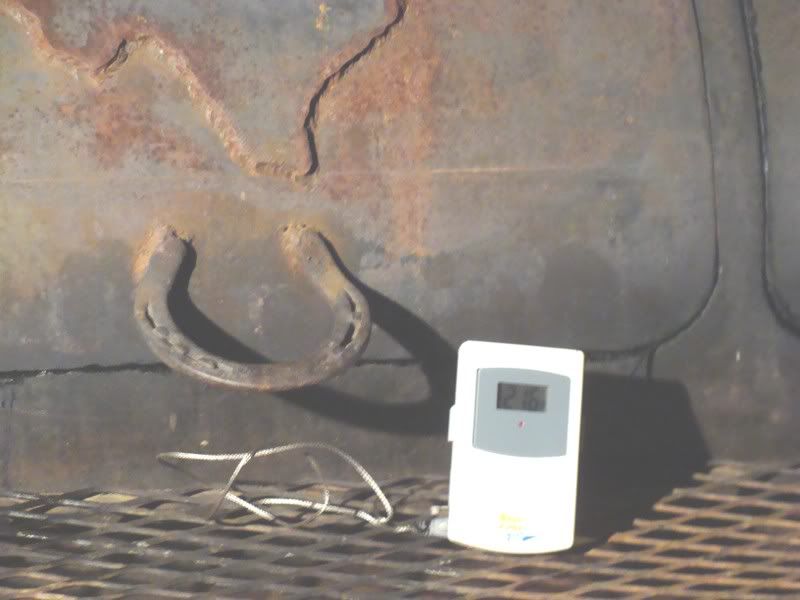 Here we are almost three hours after putting it on the grill. Time to wrap this bastard in foil.

For those that don't already know, here's a cool wrap technique I learned from a buddy. Lay down three sheets of foil of the same length.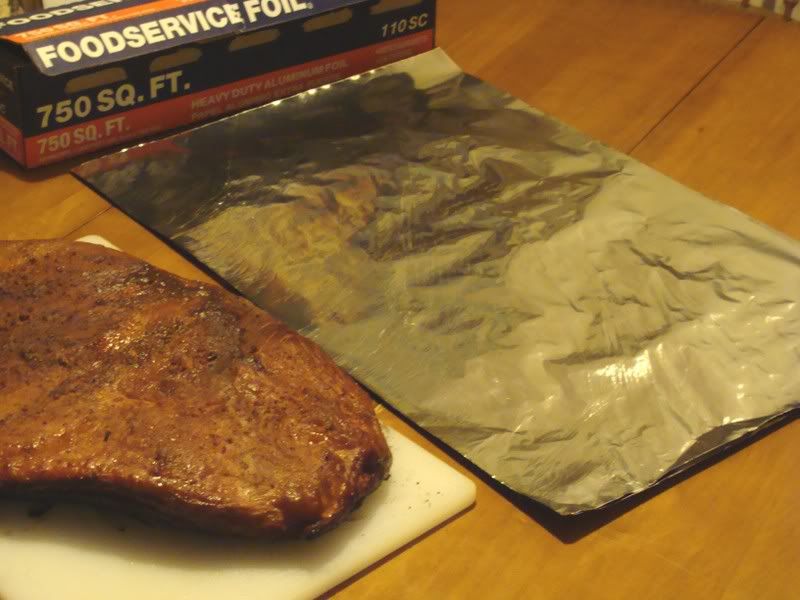 Crease the edges like this.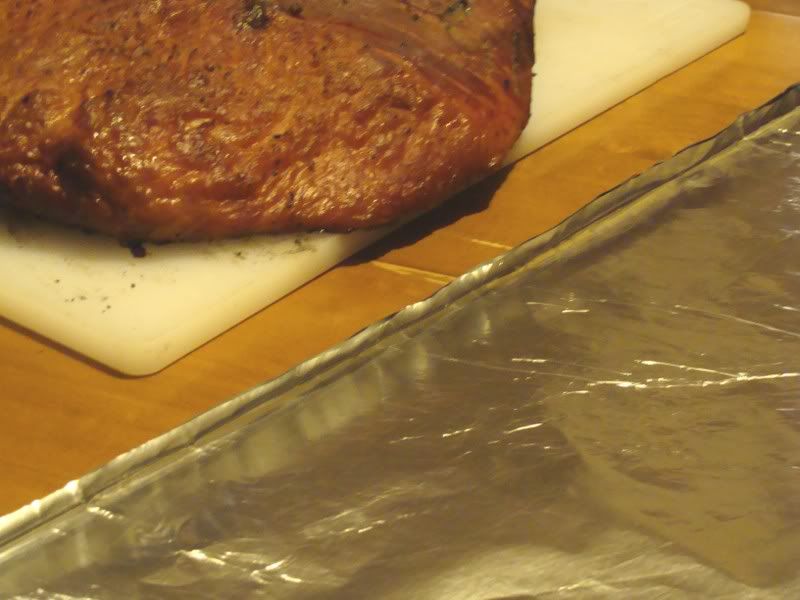 Slide the brisket on top of the bottom two pieces for extra support in order to prevent any leaks.

Crease the rest of the corners until you have this. Try to leave a little bit of room for the juices to run. Think of it as a foil boat.

If you're up to pulling an all nighter and you have enough wood, put your wrapped brisket back on the grill and drink yourself into a blathering stupor. I prefer to put it into the oven and cook it overnight to an internal temp of about 195 to 200, drinking myself into a blathering stupor minus the responsibility of chasing a fire.
My total cook time, including the smoke time, is usually about an hour and fifteen minutes per pound. Instead of bridling myself to specific times, I prefer to closely monitor the internal temp and pull it when it's done. Again, do what works for you.
NOTE: Some people like to pull trimmed flats at an internal temp of about 185. If you get a thin flat it's probably a good idea. I haven't had any problems and that might be due to the fact that I try to get the thickest flat that's close to nine pounds.
The next morning. The smell that's wafting across the house is a thing of greatness. Let's stroll around the ranch while this thing cooks.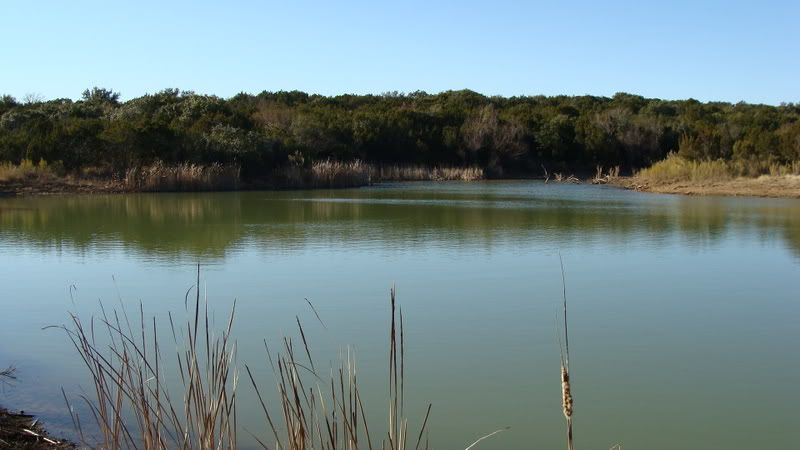 Jive.

Nature rejoices as if it knows that something good is about to happen. Even the birds are singing the gospel.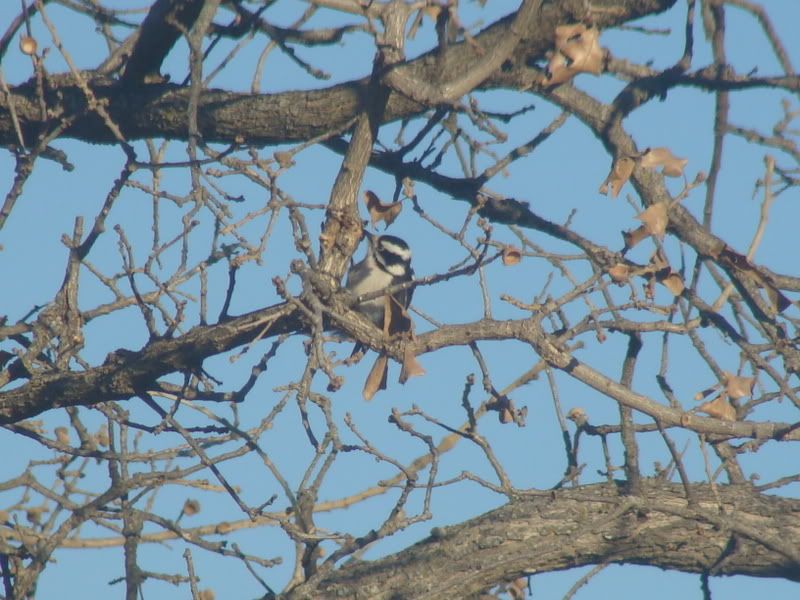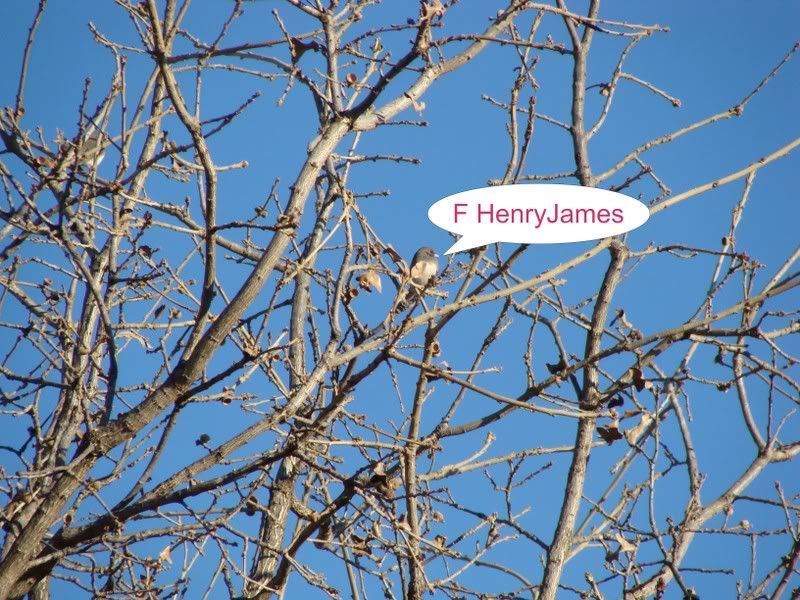 When you pull the brisket cut a corner off the foil before you open it. Drain the juices into a saucepan. I didn't provide a picture of this simple task, but If it requires a visual aid just do this:
Good job.

Now remove the foil. Good morning, brisket. If you did everything right, your brisket will be falling apart. Be careful.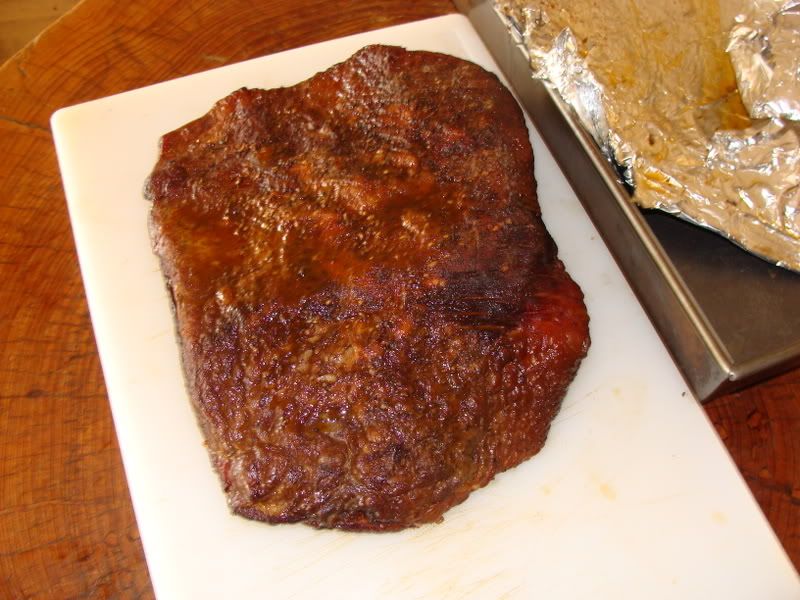 At this point my brisket is almost too tender. That might sound like blasphemy to some, but you want it to at least be firm enough to get slices. So, I'll put the brisket back onto the pit for about another 45 minutes to an hour at heat not exceeding 200 degrees.
Here we go.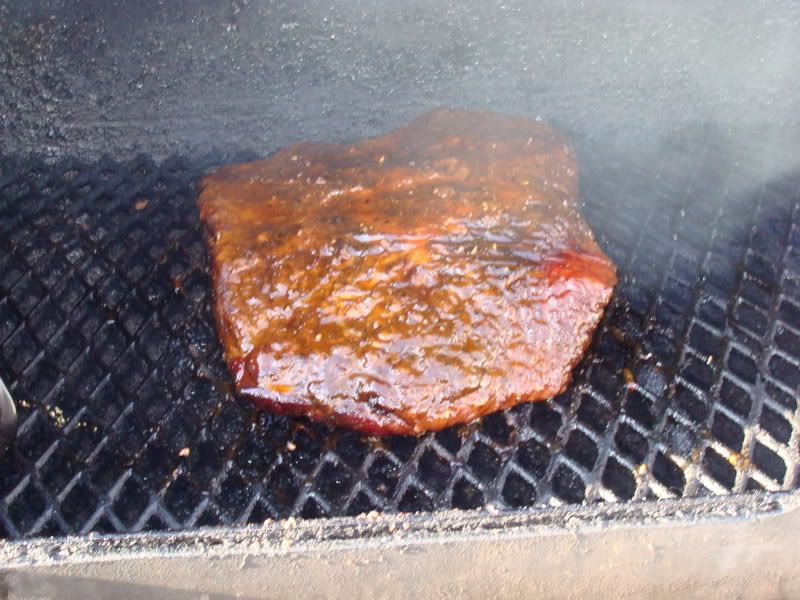 Take your sauce (what is now a "mop sauce") and slather the meat. The sugars from this concoction will provide the burnt and charred exterior that I like.
Be generous.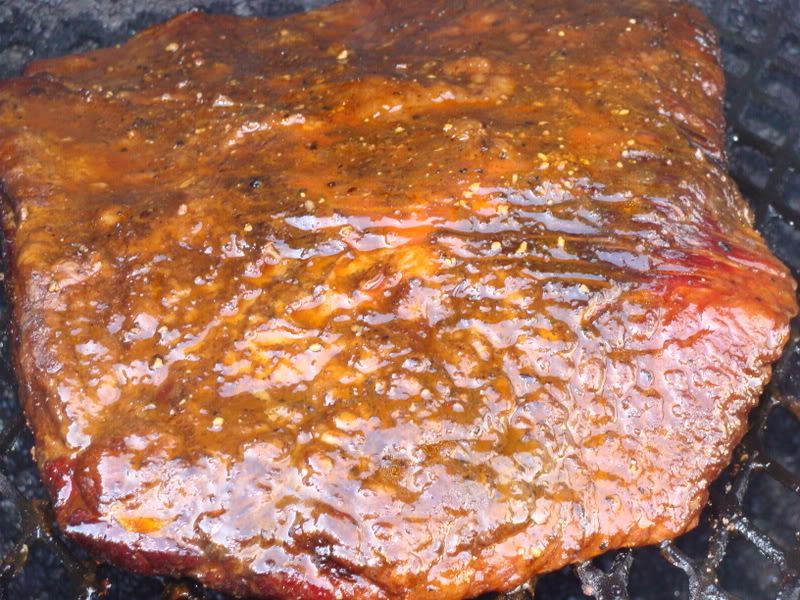 Close the lid and let it sing.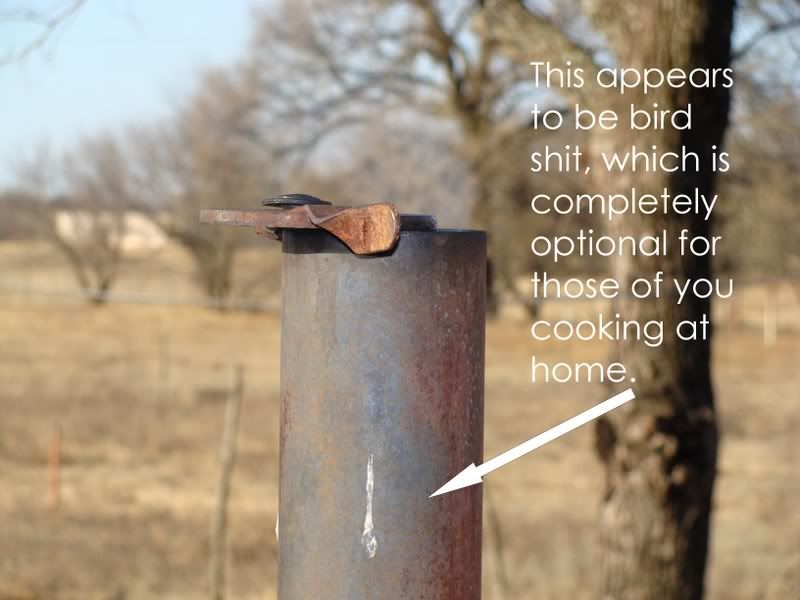 Let's take a look at that wretched cabbage debacle. This actually turned out pretty good. As I said, the next time I do this I'll just cook it in a crockpot. Carving that hole sucked and shoving a stick of butter into it left me dazed and in need of therapy. Overall it's not worth the effort, but some of the pieces had a slight char to them and there was a hint of smokiness to it. It looks like ass, and smells like two asses, but it tastes great.

Back to the brass tacks. This is how I want it to look. It's also a little more firm now. This will slice nicely.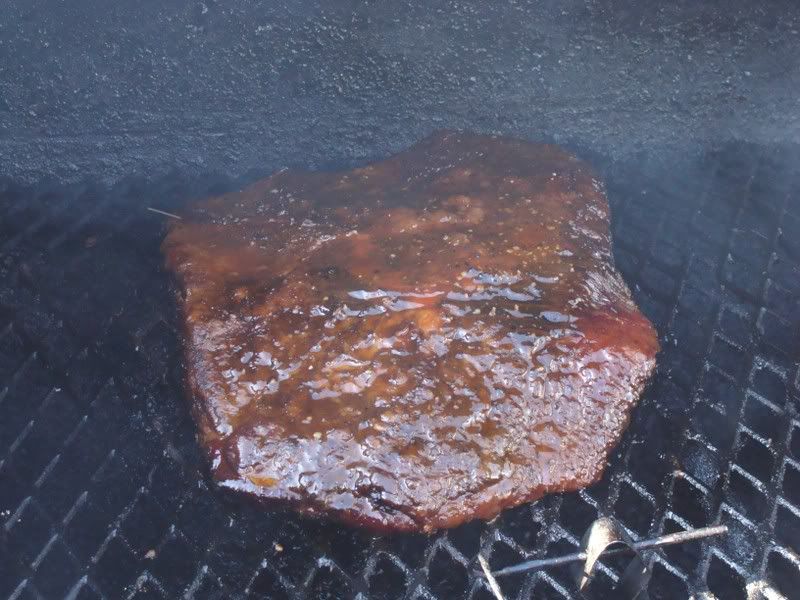 VERY IMPORTANT: When you're done with the brisket let it sit for 45 minutes to an hour. If you instantly start slicing you'll have a cutting board and counter coverd in broth. You'll be thinking that you have a nice and juicy brisket, but you'll be wrong. If you begin slicing right away you're basically creating a purge for the liquids. If you can manage to leave it alone the juices will render back into the connective tissues of the meat.
Time to unveil this monument.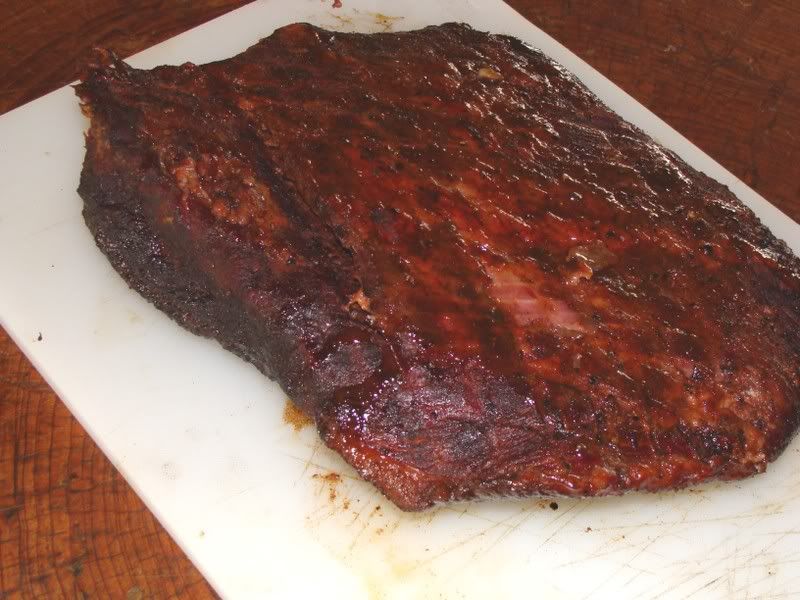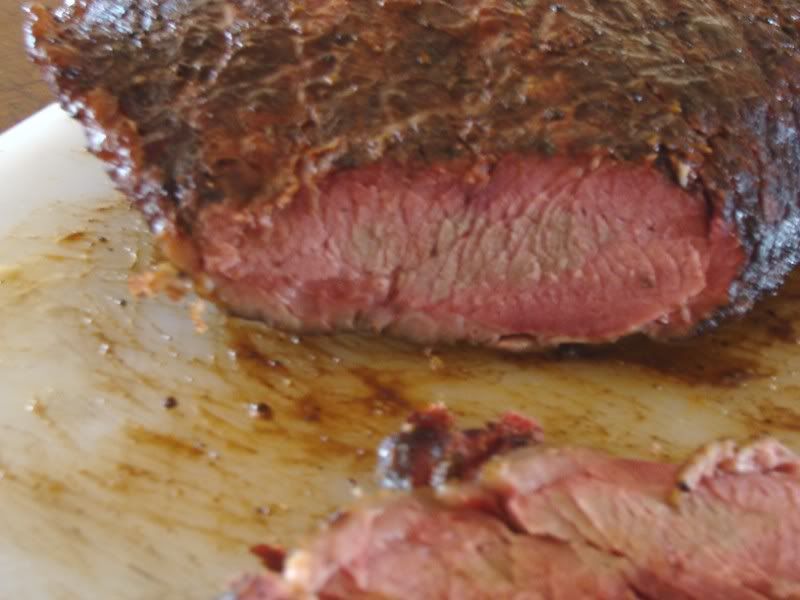 If you see images of Elvis or the Virgin Mary in one of your slices don't make a big deal of it. It happens to me all the time.

For me, an ideal slice of brisket will stay together if you pick it up on the end but crumble away at a slight shake of the wrist, especially a limp wrist like Sailor Ripley's.
The goal is moist and tender slices with a charred, blackened and semi-crisp exterior.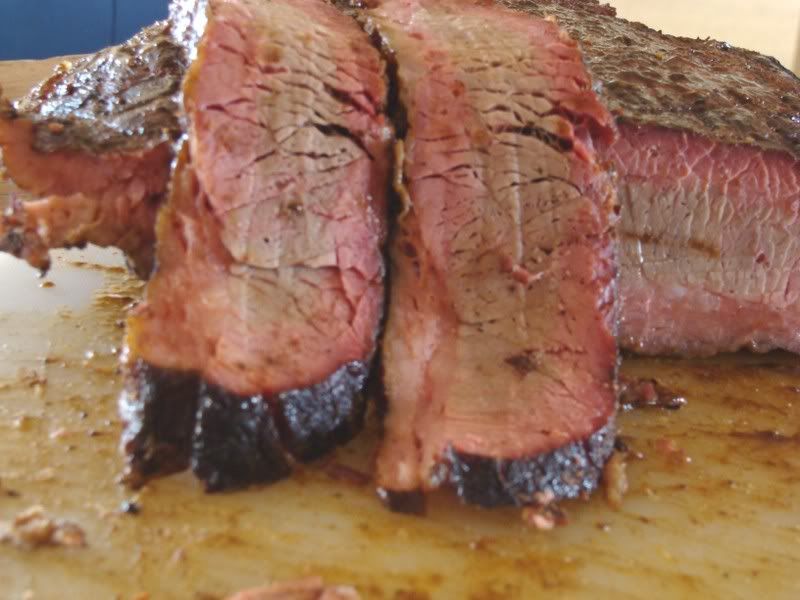 For the people among you that prefer sauce on their brisket, the wrong and unwashed heathens that they are, warm up your sauce and dip a few slices.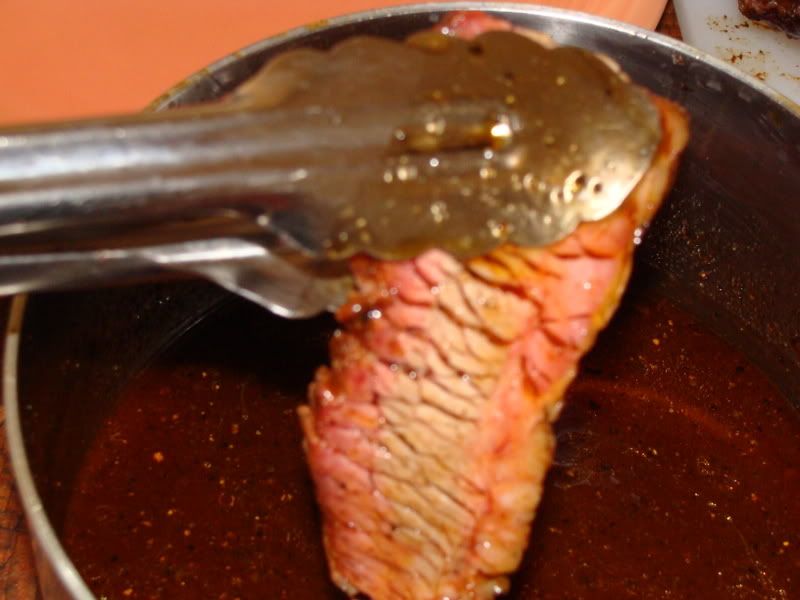 This is barbecue, not Top Chef, so don't fret about presentations.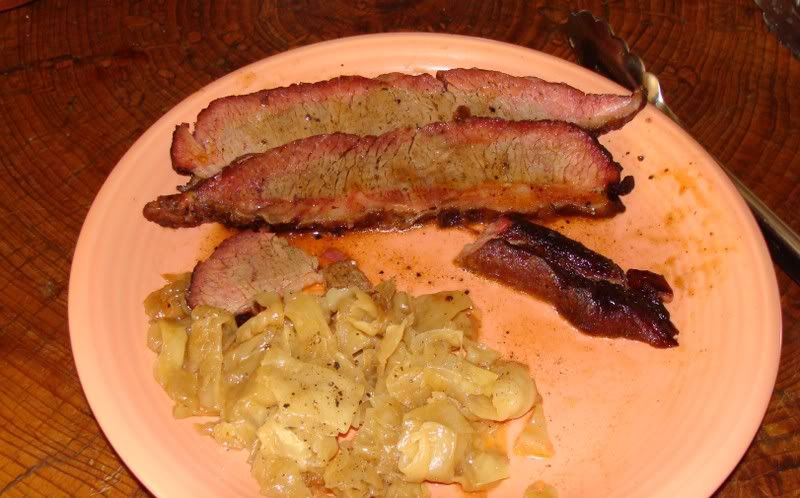 Any thoughts, particulary suggestions, would be appreciated.
I'm still new to the game and starve for advice on cue. If you're also a newbie but wanting to learn you can get advice from the community regulars and cue heavyweights like Brisketexan, 12thStudstan and many others from here: shaggybevo
You may also find them at hornfans.
You can find the answer to anything related to barbecue at The Smoke Ring. Check out their forums. Everybody there is kind and eager to help.
My next food post will be how to kick everybody's ass with pork spareribs.