in ten years and that's reassuring to a fan base resigned to the notion that their life's achievements will always best be realized vicariously. Sooner Nation citizenship is more precious than a man's best acid-washed girbauds, lax child support laws, and primo tickets to the midget auto races in Enid. Big Game Bob may not be living up to his moniker on the national stage, bricking in his last 4 BCS bowls, but pointing that out is a little awkward when he noodles us like a catfish in October. Stoops is a regional powerhouse. Sort of like the Von Erichs circa 1982. He has decided to shake it up a bit in Norman this spring, working on a no-huddle offense to increase tempo and to win his bet with strength coach Jerry Schmidt that he can give at least two of the sea manatees on his OL a myocardial infarction. As usual, Stoops will be dressed in a style known as Contemporary Flatlands Golf Prick, make outlandish projections about the quality of his team (captured so well last year by Henry James) and will go apeshit at the officials sometime around the coin flip. Something about that Stoops look of petulant contempt and perpetual grievance just says September to me.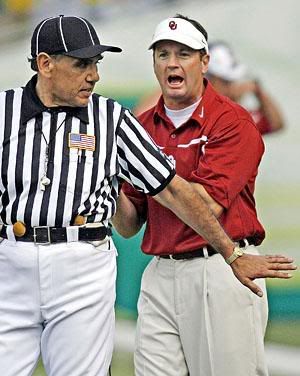 Golf prick says what?
I'm an Indian outlaw
Half Cherokee and Choctaw
My baby she's a Chippewa
She's one of a kind
~ Rumi ~
Sam Bradford is also one of a kind. He's the little Injun that could. Have heap big arm throw it all way to Shining-Big-Sea-Water, height soar like eagle, accuracy like arrow. And rare for an OU QB, dentistry that doesn't hail from Cardiff. Bradford is poised, understated, and smart. Characteristics reflective of Bradford's lineage as the great-great-grandson of Susie Walkingstick, a full-blooded Cherokee. The Walkingsticks are one of the most respected families in Cherokee tradition - in addition to being my favorite childhood bug. Now I'm more of an ant lion guy. Bradford is almost unstoppable when he's in his comfort zone. You have to shake him up. Deny the quick slant, the easy pre-snap read, have defenders yell out, "Tecumseh peed like a squaw!", and mount a pass rush. It's the only way to frogmarch him down The Gridiron Trail of Tears.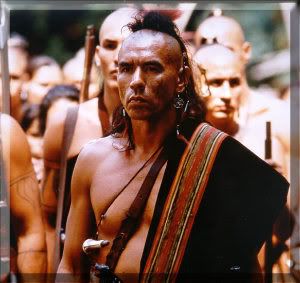 My tomahawk yearns for the heart of the Grey Hair
Despite his humble demeanor, Bradford's Big 12 Media Day included this statement about Mack Brown:

"Know this, when the Grey Hair is dead, I will eat his heart. Before he dies, Auston English will put Chris Jesse under the knife so that Grey Hair will know his seed is wiped out forever."

This is incendiary talk even for a rival. Though Texas fans quietly endorse his sentiments about Chris Jesse. Before Bradford, the last great Native American impact players were Sonny Sixkiller, Wahoo McDaniel, Jim Thorpe, Sitting Bull, and the Mel Brooks chieftain in Blazing Saddles. So he is in select company.
Over the past three years, the OU OL walked a razor's edge with injuries, Kevin Wilson serial killings, defections to Cuba, and general pansy assed quitting, but they've developed a massive and rather good OL. Or as Bradford calls them: Angry-Buffalo-Who-Stampede-All-Greater-Norman-Area-Buffets. The Sooner OL don't always get great movement at the point of attack against a low pad level (see Virginia, West), but they're big bodies that will lock up and screen your guys sufficiently to allow one of the Sooners RBs to get to daylight. They do a nice job of protecting Bradford in OU's quick passing game (the latter reinforcing the former).
The gargantuan Phil Loadholt has particularly sweet feet for such a big man. Indeed, Mad Dog was once observed licking Loadholt's achilles tendons during pre-game warm-ups. When Loadholt sweats the caramel lick spouting from his phalanges is irresistible to the morbidly corpulent even though his thigh pads smell like Madonna's perineum after NBA All-Star Weekend. Duke Robinson is a legit 1st Team All Big 12 Guard. Jon Cooper is their overrated center that the lazy media places on their ballots for First Team All Big 12 because they see line play as an unfathomable mass of moving color and they have to rely on other's opinions after the event to know what just happened. Much like a Pink Floyd concert.
Useful Sooner OL quick fact: If you dart Branndon Braxton, they'll all mill around him nervously licking the air and you can pick them off one by one. To get close enough to tranc him, garb yourself in the pelt of a Domino's pizza man and disguise your scent with David Boren's tinkle.
When healthy, DeMarco Murray may be the most talented back in the league. Last year he averaged over 6 yards per carry and one TD every ten carries - ratios almost as impressive as the OU player time worked vs. pay scale at Big Red Autos. Remember Big Red Autos? Back when Rhett Bomar used to make the Sooner players work there! Or else he'd kill them!

Bomar forced many innocents to receive illegal cash
Jermaine Gresham is a massive presence and major goalline threat who is still being integrated into the regular passing game. The integration won't require Federal troops as OC Kevin Wilson hates all races equally. If they can use Gresham effectively, OU's play action game just got very interesting. 6'6 265 pound TEs who can run are not pleasant to tackle. Just think of trying to tackle the last woman you hooked up with Carnivalers, but with a better disposition and sans floral capri pants.

Mayan over matter
OU's two best WRs are named Juaquin and Manuel. This is generally bad news for any football team outside of the Rio Grande Valley, but these two faux Meso-Americans can both run like Apocalypto. Malcolm Kelly inspired fear; Juaquin and Manuel primarily inspire confusion as this year's Big 12 CBs wonder how two Honduran dudes combined for 99 balls for 1300+ yards in '07. Apparently scouting reports don't have head shots. Shouldn't they be (sorority girl spanish) like, diviertan en la playa con un cerveza frio? As you know, the word iglesias means "el churcho" in Mexican talk. The secondary meaning of Iglesias is 'my music is insipid but I polish Kournikova's ass.' The tertiary meaning is 'I have lots of talent, but drop passes on 3rd and 7 when I'm thinking about strange.' Juaquin and Manuel aren't actually from Central America; they're Catalonian. A proud and haughty people. Mucho gusto!
OU doesn't have tremendous depth at WR. DeJuan ('Nother Mexican) Miller pictured here was decapitated in his Honors Metal Shop class making a bong pipe with a jigsaw. In macabre tribute, the Sooners will carry his helmeted head in the Sooner Schooner menacing Big 12 opponents as if they were a hapless Ichabod Crane. On any full moon preceding a Kenny Chesney concert, The Great Crimson Cabeza will appear in Poteau, Frogville, and Bugtussle to receive offerings of Pabst, firecrackers, and myrrh. Josh Jarboe will provide a deep threat. Via youtube.
The Sooner DL range from very good to serviceable. DE Auston English returns from an All-Big 12 season. He's a very good instinctive pass rusher. His speed off of the edge will be increased without his appendix. The other DE spot appears to be unsettled, which means whoever squats on the field three days before the opener gets the job via Sooner common law. John Williams - who first enrolled in Norman during the Ford Administration - battles Jeremy Beal and some other carbon based life forms for the starting gig. You have to wonder if RJ Washington might not make an appearance. The DTs look to be stout as former uber-recruits Gerald McCoy and DeMarcus Granger have more stars by their name than a Barry Bonds record. An offense has to be aware of Granger at all times. Particularly if they have valuables.
Sooner LB Ryan Reynolds was awesome in Just Friends, but he is saddled heavily with the Big P word. Platypus? No, Potential. Which as a high school coach once pointed out, is a fancy word for someone who ain't done shit yet. To which I said, you mean platypus? And he said, no dumbshit, potential. Then I had to run laps. Reynolds is from Las Vegas and odds are that he'll be solid if pit boss Venables doesn't make him deal at the coverage card table. Giving Reynolds a TE to cover is like taking a hit on 19. Dude gave Jermichael Finley more highlights than illegitimate children.
Curtis Lofton will be badly missed. Lofton was last year's Rocky Calmus, who once famously said,"I know of only one duty, and that is to love." That may have been Albert Camus. I often confuse scrappy white LBs with Absurdism. The rest of the LBing corps will be filled out by undersized Keenan Clayton and Austin Box, which I miss terribly since I've been living in California.
Lendy Holmes and Nic Harris make for a formidable safety duo that will tackle well and ball hawk all single move routes. All double moves where the rush doesn't get there will be met with the sound of Nic Harris screaming,"Awwww Sheeeeiiiiiiiittttt!" and a sideline visor slam. OU - oh you is so 'gressive! It's just cute how 'ggressive you are! The corners are untested. I don't mean that they had someone else take their SAT for them like the majority of OU's players. I mean they haven't played much. This is concerning for every Sooner except for Stoops who compares Dominique Franks to Champ Bailey, Brian Jackson to Night Train Lane, and Jim J Bullock to Daniel Day Lewis.
Their special teams return game should be outstanding, though their placekicking will look like a lemur fucking a volleyball.
Look, this is an OU team. They will be physical, coached up to tendency, and focused for their big opponents. They'll probably win the Big 12 and get whipped in a BCS bowl. Not that I'm taking a cheap shot. This year, I'd like very much like to win the league and lose a BCS bowl.

To err is Sooner; to forgive yardage, Devine