" Layne is not the best passer in the league by a pretty long margin," a Detroit observer remarked. "He's certainly not the best runner, either. But he damn sure is the best winner."
"Some guys prayed that nobody would be hurt. Others prayed that they do their job well. I prayed for a win."
-Bobby Layne, on a pre-NFL Championship chapel visit
"I didn't come here to shake the SOB's hand. I came to beat his ass."
-Bobby Layne, coach of the victorious Texas HS All-stars, on giving the cold shoulder to the Pennsylvania All-star coach who had insulted Layne's coaching ability before the game.
"When I was a rookie, I went with Layne to get a tube of toothpaste, and didn't get back for three days."-Harley Sewell.
I don't think many Longhorns really appreciate who Bobby Layne was. He combined amazing athletic ability and competitiveness with a charismatic but self-destructive personality, and dominated every team or environment he was in. His athletic achievements have faded as the game has changed, leaving his statistics dwarfed by modern journeymen. The media during his career was not allowed to fully explore his life story, and presented a narrative of him that fit the molds of "ordinary" players. I'm going to try to tell his story, presenting the bad with the good, and hope to leave you with a better understanding of this flawed, but truly great player.
Layne was born in west Texas. His father died when Bobby was a toddler, and his mother, overwhelmed by it all, left him to be raised by a childless aunt and uncle in Highland Park (a solid middle class neighborhood at the time). By all accounts they doted on Layne, and he had a great affection for them his entire life. He played football and baseball at HPHS, teamed with his younger (by two weeks, but also one grade behind) buddy, Doak Walker. HPHS ran a wide open single wing, coached by ex-Masonic Home coach Rusty Russell. Despite having two future All-Americans and NFL HOFers in the same backfield, HPHS never won the state title. UIL football would be the only league where these two would be denied championships.
Layne had just turned 17 when he enrolled at Texas in time to play baseball in the spring of 1944 (he graduated early from high school early to do so). He joined a war-depleted Longhorn football roster in 1944. Due to manpower shortages, freshmen were eligible, and Texas had two promising single-wing tailbacks (in the single wing, the tailback had primary passing responsibility, and the wingback had secondary passing responsibility) - Bobby Layne and Y.A. Tittle, from Marshall. Two weeks into fall drills, Tittle transferred to LSU, where he would be a 4-year starter, 1st round NFL draft pick, NFL champion with the Giants, and eventually a NFL HOFer. Layne was drafted earlier, won more championships, and was voted into the HOF quicker. Tittle said that after his first encounter with Layne's competitive nature, he could see that he would never beat him out. Layne became the starter, and at 17 an immediate star, making All-SWC his first year. He remained the team leader and dominant personality even as the older war veterans began returning to campus. He liked winning, drinking, and music (especially jazz). That was a raucous, wild Longhorn team, made up of young talents and grizzled war veterans, and Layne was the ringleader.
That was a different Longhorn program back then. DX Bible was the first professional coach UT hired. His predecessors were all men that had playing experience, but no head coaching experience. Texas' SWC competitors had all started hiring professional coaches in the '20s, and built their programs to a competitive level sooner. Bible ran a single wing that emphasized power running, and conservative passing. Texas had only been one of the nation's most talented teams since about 1940. SMU, Rice, TCU, and Arkansas all had powerful teams and elite coaches.
Texas' chief rivals were OU, TAMU, and ... SMU. Yes, SMU. SMU had won a MNC in 1935, and had as much talent as any team in the southwest. Layne's old buddy, Doak Walker was a running tailback in the wide open SMU single wing, who could throw a little (Layne was a passing tailback who could run). The lifetime friends had great, legendary battles in the Cotton Bowl and Memorial Stadium, with other great players like Hub Bechtol, Tom Landry, and Kyle Rote participating. Walker was considered the best runner in the nation, and Layne was thought the best field general. Texas finished 10 - 1 in both '45 and '47; in each season the only loss was by one point in road games. Texas was the highest scoring team in the SWC from '45 - '47.
His teammates marveled at his ability to make the key play when it was needed most, playing his best late in the games. In the 1946 Cotton Bowl, he was involved in every scoring play (Texas won over Missouri, 40 - 7), either as passer, runner, receiver, or kicker. In 1947, Bible retired and strict disciplinarian Blair Cherry took over. His first order of business was to switch to a pro-style "T" formation, with Layne as the QB. Layne took to the "T" like a duck to water, and led the Horns to a 10 - 1 record (the only loss to SMU in Dallas, by one point; Landry slipped on the key late 4th quarter drive), a 27 - 7 Sugar Bowl win over Alabama and rival QB Harry Gilmer.
In the single wing, Layne was an All-American. In the "T", the new offense that was taking over football and retiring old offensive coaches, he became one of the pros' most valuable prospects. The single wing needed tailbacks with the ability to throw to the open man, or run through a hole at the line of scrimmage. The "T" required much more of the quarterback. He was expected to read the defense at the line, take the snap under center, and make fakes and split decisions about whether to hand off to the fullback, the halfback, or keep. Everything happened within a couple of seconds (in the single wing, the ball was snapped into the backfield, and the backs would try to create something out of the chaos), and having a sharp, disciplined quarterback made all the difference.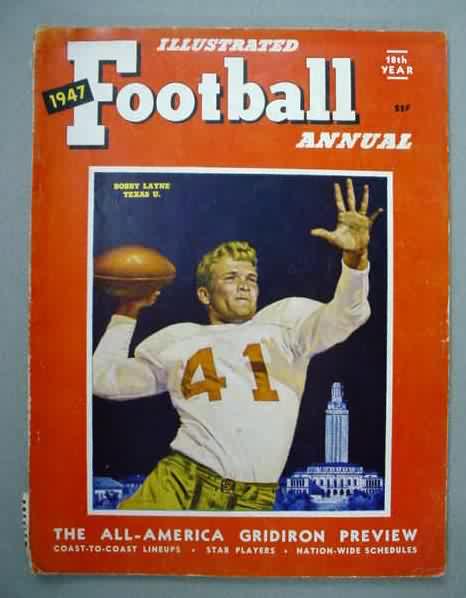 In the '40s, great athletes needed corny nicknames. Layne's was "the Blonde Bomber"
Layne was also a hell of a pitcher for the Longhorns. This was before the College World Series started, but Texas had one of the nation's best teams, and Layne was its best pitcher. His overall record was 40 - 7, with a 28 - 0 record in the SWC. He had to spend the spring of '45 in military service, but resumed playing in '46. A funny story- he and roommate Rooster Andrews were horsing around and Layne cut his foot on broken glass, requiring stitches. He was scheduled to pitch in College Station the next day, and after showing up lame for a start a few weeks earlier (due to rolling a car), he didn't want to let Bibb Falk know he was hurt. He instructed Andrews (the student manager) to bring him beer during the game to hold the pain down during pitching. The Ags could tell he was hurt, and beat a drum at every limping Layne footstep. Layne pitched a no-hitter, and at the conclusion gave the Ags a "gig 'em" with his middle finger.
That story is illustrative for a number of reasons. It shows Layne's great athletic talent, his great tolerance for pain, and his dependency on alcohol as a coping mechanism. I mean, come on- beer as a pain suppressor? Layne, in his career, made friends wherever he went, and few were willing to come out and call him an alcoholic. Andrews, Walker, his teammates from the Lions and Steelers- they all treasured their post-playing road trips and parties with Layne. Yet there were so many stories, so many DWIs.
Undoubtedly, he was a complex figure, blessed and cursed by the gods. He partied a lot, and used his status as quarterback to "lead" his teams into team-building exercises (parties at bars). He was one of those individuals who only needed about three hours of sleep (such people exist; Jerry Jones is one), and he filled his extra hours awake at night with friends and drinking.
Articles about Layne take one of two approaches- either they soft pedal the drinking ("Ol' Bobby sure liked to have a good time..."), or they moralize ("If only he had not drank, there's no telling how good he could have been"). I think both are mistaken. I think that sometimes genius is like a house of cards, dependent upon an intricate arrangement of supports, and it's naïve to think that one facet of a personality can be taken away while still retaining the exceptional. Bobby Layne drank, probably too much, and was one of the most remarkable football players ever. That's the whole picture.
Layne was the third player selected in the draft, by Chicago. He got lost in the shuffle (Sid Luckman and Johnny Lujack were the other QBs), chafed at not playing, and was sold to the second rate NY franchise, the Bulldogs. That franchise won only one game, but Layne was playing football for a living and reasonably content. The franchise collapsed and he ended up with the Lions. He immediately struck a chord with fellow Texan and drinking man Buddy Parker, and started leading the Lions to championships.
The key thing to know about Layne's NFL career is that his contemporaries had a much, much higher opinion of him than modern fans. The modern fan looks at his record, sees three NFL championships, mediocre passing stats, and figures he must have been like Terry Bradshaw- a bus driver on a dominant team. Otto Graham, now there's a quarterback. Look at his passing stats; why they look good even today.
What you need to understand is that to the NFL fan, writer, or player of the '50s, there was no comparison. Layne was the superior QB, the best in the game as a matter of fact. Reading Time or SI archives reveals why. For one thing, Layne and the Lions almost always beat Graham and the Browns. For another, the NFL understood the two teams operated differently. Layne played for a hands-off coach, and called his own plays, while Graham played for "ur-Belichik" Paul Brown and ran the plays Brown called via his guard shuttle. Layne actually helped create the game plans during the week, and was considered a master at calling plays during a game. He would use running plays to set up the long pass, take advantage of gimpy defenders he noticed, and explain to his huddle what he was trying to do.
Layne and Parker were the first to practice the 2-minute drill, and the first to master the routine of squeezing the most plays into the last few minutes of a game. He led the Lions to several late game comebacks, including one of his NFL Championships (over the Browns), telling his huddle before the winning TD pass, "You jest block a little for ol' Bobby and we'll win this thing."
This was the face of the NFL
He was considered the finest leader in the game. Despite growing up in a segregated Texas, he was color-blind with respect to his teammates. He generally picked up the tab at team gatherings, and always had some cash for needy teammates. He was considered one of the toughest players in the NFL, eschewing all pads except the smallest shoulder pads he could find, and playing his career with just the single bar face mask (he said the others obstructed his vision too much, and the pads hindered his movement).
The Lions had a reputation as the tightest team in the league. Layne organized regular Monday night meetings during the season at the Stadium Bar near the Lions' field, and everybody attended, even the teetotalers. The Lions could also have a good time on the road- they had a famous brawl before the 49ers game in San Francisco one time, clearing the bar of rowdies, and then whipping the 49ers off their field the next day.
He was not a touchy-feely leader on the field; rather he was notorious for chewing out any teammates that made mental errors. One time a rookie guard started up before the snap. The defense didn't jump offsides, and Layne slapped the rookie on the back of his helmet and told him to get into position. Despite his rough ways on the field, he was loved by his teammates. In the book, "Paper Lion", George Plimpton wrote about how Layne dominated the Lions' locker years after he was traded to the Steelers. Good quarterbacks like Earl Morrall and Milt Plum could never match up to "how Bobby did it".
He finished his career in Pittsburgh, playing for his old coach, Buddy Parker. Parker had quit the Lions, and the new Lions coach was not willing to give Layne as much control as Parker would (and Layne demanded). The Steelers had been an awful franchise, and Layne led them to their most successful seasons to that point. They only had a few decent players- Ernie Stautner, Big Daddy Lipscomb (until he od'ed), and John Henry Johnson. Layne built team unity, threw the ball all over the place, gave rookies hell, and basically dominated the locker as he had in Detroit.
The Steelers had winning records with Layne, but were never real contenders. Layne found his fun another way. At Pittsburgh, he was finally able to run the "What's Going On?" play he had invented. With the ball in the red zone, he walked under center, the line set, he called signals, then backed away and walked to the side to yell at a flanker for something. The fullback, John Henry Johnson, stood up, said, "What's going on?". That was the cue for the center to snap directly to Johnson, who ran for a touchdown through a startled defense.
He hung around to get the NFL career TD record from Sammy Baugh (he also got the career interception record), retired, and was placed in the Hall of Fame the first year he was eligible. He coached the Texas All-Stars against Pennsylvania (he put in a pro-style offense, practiced without pads, got the ball into Jerry Levias' and Bill Bradleys' hands as much as he could, and won by huge margins) until Pennsylvania got tired of being embarrassed. He wanted to be a college coach, but his reputation as a carouser prevented that from ever happening. He spent his last years in Lubbock, drinking and golfing with friends, and occasionally organizing a road trip for the old timers. He died in '86 from liver issues.
Over time, his memory has faded. His passing records at Texas lasted until the '80s, and the Steelers' success in the '70s eclipsed his accomplishments in the '60s. They may still remember him in Detroit, where they point to "The Curse of Bobby Layne" as the reason for no championships since his departure, but to most fans he is just one of those old time players from the pre-TV era. His son Rob was a punter on Royal's late '60s teams, and hopefully he will be at the number retiring ceremony.
Hopefully you will be, too. He wasn't an icon, a symbol for some ideal or principle. He was a real person, a wonderful athlete and perhaps the game's greatest competitor ever. He was also ours.
"In my next life, I want to come back as Bobby Layne's chauffeur. He stays out late, goes to interesting places, and tips well".- Don Meredith