Perhaps a fitting sign of where things stand in Ames, Iowa with football season just two weeks away is the cover story at cyclonereport.com which features a recent commitment by some dude named Melvin Ejim – to the basketball team. CloneChronicles.com is all over this breaking story as well. In fact, every news outlet in Ames is devoting its full attention so they don't have to talk about the sad state of the football program.
I guess when a player in any sport commits to Iowa State it's a pretty big deal. Sincere congrats to Melvin but he's making research on this already impossible task harder than it needed to be. He should have taken that offer from Boston College because I'm discovering that Ames, Iowa may not even exist.

This was not in the job description.
The Cyclones' victory total has declined by one in each of the past three seasons: 4,3,2 ... 1. One supreme victory to rule all others in 2009! It's like one of those under-promise / over-deliver motto's they give the hopeless addict on an episode of Intervention. "Just please try to make it one day living in Ames without smoking crack, okay Arnaud?" Considering the fact the Clones have an entirely new coaching staff and few game-changing players on either side of the ball, maybe realistic goals are a good thing. I'm just not sure where that one wins comes from. Maybe Kent State on Sep 19th. I'm guessing Pay-Per-View for this epic tilt.
Look at where the program is now versus three years ago and you have to wonder: maybe that whole Gene Chizik hire wasn't such a good idea? It seems like the Gener left Auburn for Texas and u-turned with just enough of a detour in Ames to set back the program a few more years with more of his simplistic and outdated defensive schemes, lazy recruiting, and pro-active job searching. And oh the sense of humor! Guy could hold a room. Of processed cattle.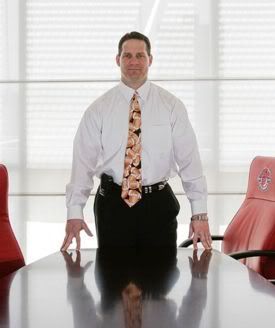 What's uglier? This hideous tie or my base 4-3 defense?
These are traits Texas fans temporarily excused because he also helped deliver a championship in his first season. Cyclone fans were going to need a bit more patience. Not that it would have mattered -- The Chiz never even unpacked his bags in Ames. All I know is he must have one hell of an agent to parlay a fat contract at Auburn out of those few dismal years on the plains.
So what does Iowa State AD do next, other than cry at the TMZ-style press conference while pretending to be shocked at Chizik's midnight disappearance in an unmarked SUV en route to Auburn's private jet lurking in a nearby cornfield?

Thanks for picking me up.
AD Jamie Pollard promptly hires another DC from Auburn! Hey, it worked for Texas, right? The Clones are already grooming a War Eagle sophomore grad assistant/hydration management specialist to take over in 2012 ... which just happens to be the 100th anniversary of their last national title. Because Midwesterners love kitchy historic symbolism like buried time capsules and irrelevant monuments, ya know. And did you know the Dubuque County Court House is the only one in the country with a real Golden Dome? This calls for a fucking road trip to Ames.
So that's what I did. Expense account jingling in my pocket ...
When you arrive there after three connecting flights and a long bumpy ride on a tractor, you'll see a big banner in the airport that says: "Come meet the new coaching staff!" I think it's been up there since the mid 1970s and it's probably one of the more exciting offers in town. But plan on staying a while, wear some Ecco's, and bring a pen.
Chizik cleaned house upon departure and the SID has been working overtime ever since scraping together a Who's Who of D1 coaches in Paul Rhoads, Tom Hermann, and Wally Burnham; along with a collection of dudes off craigslist. Ten new coaches in all and most of them still don't know each other's last names. Here's what I was able to coax out of an Athletic Department intern after feeding her a bucket of fried chicken, three Xanax, and some Beaujolais wine coolers Sailor Ripley turned me onto last weekend:
DC Wally Burnham, who comes in after a 10 yr stint at South Florida, faces the task of fixing a unit that ole'd 36 ppg and 450 ypg. His son Shane came along to coach Defensive Tackles. Don't mess with guys named Shane. New secondary coach Chris Ash was part of the staff that led the Cyclones to bowl games from 2000-2005. So there's that. Every year coaches pour into Austin to study the wizardry of Greg Davis' mutating offensive schemes. Every year coaches pour into Ames to study the art of the missed tackle. And HenryJames' lineage.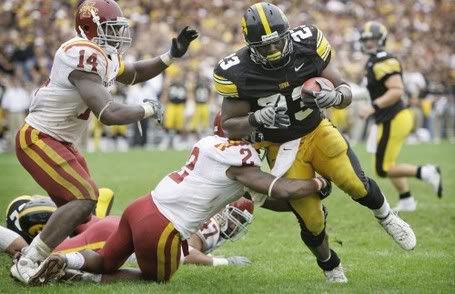 Nobody flails at shoestrings like the 'Clones.
Former Sooners WR coach Luke Wells apparently played QB for the Sooners under Mangino, was eaten, then regurgitated in the form of a WR coach at Louisiana-Monroe before surfacing in Ames as the answer to the post Todd-Blythe era.
But good luck convincing Rhoads -- a veritable spewing fountain of turnaround hyperbole -- that this Crazy Train doesn't have a mountain of upside coming off a 2-10 2008 season, highlighted by zero wins in conference play.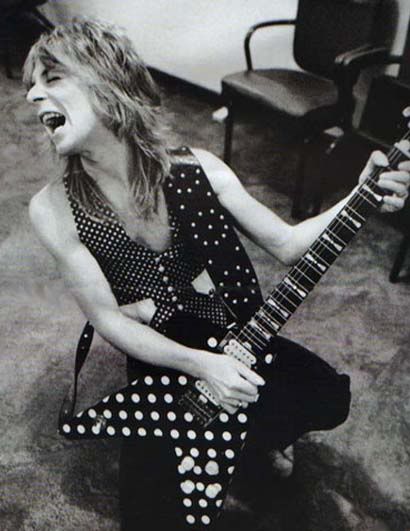 We're going off the rails in some place called Ames!
In order to know where you're going you need to know where you came from. From Rhoads' Big 12 Media Day:
I think the challenges are you inherit a program that has no tradition ...
Nice start, Paul.
...so to speak, in collegiate football, since the Big 12 was formed in 1996, I believe.
Yes, you are speaking. Correct sport. Right conference and date. Ya gotta believe, Paul!
Every victory is going to be important for us. It's been a while since I've had one.
I'd say the Paul Rhoads era is off to a great start. Boosters, after you slit your wrists, please open your wallets.
Lets take a look at a few of the guys on the team worth knowing about:
QB Austen Arnaud, whose francophile surname should give you a fairly accurate approximation of his career winning percentage, is actually one of the few guys on the team with some upside. At 6'3, 224 he's basically Garrett Gilbert with more melanin. He also lacks the accuracy, arm strength, and NFL pedigree. Arnaud did have an excellent game against K. State last year in a 38-30 loss, dicing up the Wildcats' secondary for 440 yds on 30 completions and 3 TDs/2 INTs.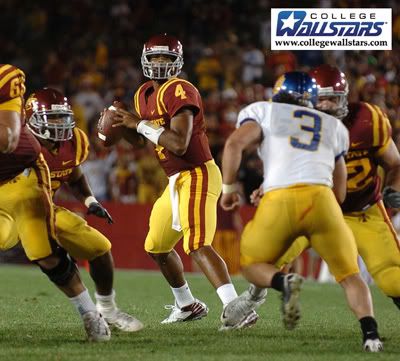 Not bad, Austen. Not bad.
Arnaud's go-to guys will likely be Sr. Marquis Hamilton and Soph. Sedrick Johnson, a 4-star kid from East Texas who is probably fast as shit but lacks Todd Blythe's clutchiness. JUCO transfer Darius Reynolds will also be in the mix at WR and factor into the return game. Arnaud should continue to improve under new OC Tom Hermann, whose high-powered spread attack temporarily powered Rice back to college football relevance in a geographic range spanning from Sunset all the way to Bissonnet.
One guy to keep an eye on is sophomore stud DB Leonard Johnson. The only Cyclone fan I know told me so and they aren't capable of telling lies. You learn to accept the truth and move on.
One thing you better have at Iowa State is an all conference punter and they have that in spades with Mike Brandtner, extra useless punter consonant and all. He's already been voted pre-season MVP by his teammates. That's a lie but I could see it being true if there were some fucking way to know these things. Not much comes in or out of Ames except head coaches, John Deere parts, crystal meth, and victorious opponents, who are always greeted with a friendly goodbye:

Thanks for kicking our ass! Come again soon.
Like every Big 12 North squad, Iowa State brought in two promising JUCO guys in Matt Taufoou, who is backing up Sr. Jesse Smith at LB and David Sims who will start at SS. The Clones play strict nickel as their base as a big Fuck You homage to Chizik.
You don't mention players that left the team when you didn't win one conference game. Sorry guys.
Four returning starters on OL should help improve protection for Arnaud. Reggie Stevens slides over to Center from wherever he attempted to block people last year. Sophomore OTs Haughton and Osemele have good size on the edges but will struggle against elite DEs. They have a decent back returning in Alexander Robinson, who finished last year with 700 yds at 4.6 per and 6 TDs. His numbers improved later in the season against better competition.
Clearly not worried about his 68% FG accuracy last year, Kicker Carey "Grant" Mahoney returns after filming Police Academy 6: Short, Wide, Left And/Or Right during the off-season.
Let's summarize: New HC, DC, and OC. No Troy Davis on the roster. No Todd Blythe defying the limits of his own athleticism. No Larry Eustachy banging drunk co-eds in the stands. A paucity of depth at nearly every skill position. A smallish defense with average speed. That may be enough to beat A&M but fortunately for the Aggies, Iowa State is not on the schedule this year. Wait, they are. On Halloween! If both teams dressed as axe murderers and played to the death, the Big 12 would be stronger for it. We'll call it The Big 10 and make those rust belt troglodytes change the name of their conference to match the actual number of schools that play in it. For Tech fans that can't count over ten, that number is eleven. It's like they pretend Northwestern just doesn't exist.
It comes down to this: The Fightin Prawns of District 9 have a better chance of a winning season this year than the Cyclones.
I do think Rhoads and Hermann might be able to put something together in 3-4 years if they bust their ass on the recruiting trail in blatant contempt of the Ghost of Chizik Past. Here's hoping they can pull a Baylor and turn things around, which in Waco means 4-8 and some premature shaftstroking for Art Briles. More on that tomorrow...
Until then, in Ames, there's always Melvin Ejim.
_______________________
Please also see dedfishcer's 2008 Iowa State State of the Union here and Scipio Tex's 2007 version here.