If I'm looking at the upcoming football season through the prism of a Baylor fan I can't help but be hopeful. And I'm not talking Shawshank Redemption hopeful where I'm worried about prison rape and crawling through a mile of raw sewage, I'm talking legitimate hope, although it has probably seemed like a prison sentence for the last 15 years or so for the fighting Mike Singletaries.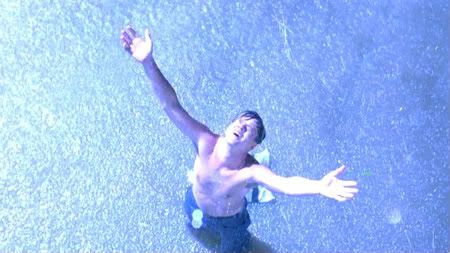 Hope Springs Eternal
Based on some things that happened in 2008, Baylor nation has a lot to look forward to. They were semi competitive with the big dogs in the conference--Texas and Oklahoma. They also beat the Aggies and gave the Red Raiders all they wanted on the plains. From a player standpoint, they had a top 10 NFL draft pick in Jason Smith, and return several all conference caliber players including what may be the most electrifying player in the conference, Robert Griffin. Throw in a coach that has Aggies up and down the Brazos green with envy, and this hope seems to be justified with expectations grounded in reason.
So, in the spirit of most Baylor coeds, let's start breaking down the units.
In the offensive backfield it all starts with everbody's all-American Robert Griffin. He's a QB with off the chart athletic ability, good leadership skills, and a solid ability to deliver an accurate football for a sophomore. But Griffin's bread is buttered with speed, quickness, and elusiveness, and as Texas fans can attest, a freakish athlete at the quarterback position can cover up a lot of blemishes.
In the run game, Griffin's athletic ability forces defenses to account for one more man which in essence is like having another offensive lineman on the field. For instance, Briles has the luxury of leaving defensive linemen unblocked on the weakside because they have to contain Griffin, which gives the Bears superior numbers on the strongside.
In the pass game, Griffin can buy time with his feet and take pressure off a group that is missing one of the best offensive linemen in the history of the school. If you're a receiver and need extra time to free yourself from a DB, just continue to work and Griffin will find you eventually. So, yes, I'd say Griffin makes every facet of the offense better, which is good news for a school that has struggled to recruit talent at every position. Blake Szymanski is a senior backup who has a ton of game experience if something were to happen to Griffin.

Star Power.
Joining Griffin in the backfield is do everything back Jay Finley, who's compactly built at 5-11 205 pounds. The junior averaged 5.8 yards per carry and caught 7 balls for 141 yards on the year. Finley was a big beneficiary of Griffin's athletic prowess, especially down the stretch in 2008 as he topped the 100 yard mark against Texas Tech and Texas A&M. He's backed up by sophomore Terrance Ganaway who goes 6-0 250 pounds. He'll be counted on in short yardage and goalline situations.
The wideouts on this club are a strength. They are a talented and deep group headlined by David Gettis and speedster Kendall Wright. Gettis is a senior with all the tools, 6-4 size, quickness, and 4.4 speed, but he's been inconsistent for a number 1 guy and Briles has challenged him to put it all together this season. Kendall Wright is a slot guy who excels after the catch. He's a perfect fit for a Briles offense that yields big plays by creating space for playmakers. Lanear Sampson and Earnest Smith round out the offense which is a base 4 wide receiver look. Look for 6-6 freshman Willie Jefferson to Harold Carmichael his way to a couple of goal line TD reception scores, while fellow freshman Darius Jones could get some playing time in Briles' aerial circus.
If this were 7 on 7, I'd make Baylor a favorite in every game except Texas and Oklahoma. Unfortunately for the Bears, however, offensive line play is as vital to a football team as a private school is to a conference. Baylor is woefully lacking talent and experience in this unit as evidenced by a 9 sack performance in its scrimmage this weekend.
With the departure of Jason Smith and 3 year starting tackle Dan Gay, the Bears are left with gaping holes to fill on the edges. Redshirt freshman Cameron Kaufold gets the call at RT while JC transfer Danny Watkins, your starting left tackle, goes from Butte College to replacing one of the best left tackles in school history. Ouch. The interior lineman are solid especially if compared to anyone from Butte College. John Jones is a first year player and he'll man one guard spot. Junior center JD Walton and guard James Bernard are the units only returning starters. These guys will need to do a lot of holding and praying. No dancing and drinking please.
On defense the men in the trenches are a different story. Talented Penn State transfer Phil Taylor gives Baylor an earth moving difference maker at one interior line spot. His addition means the Bears have at least one all conference caliber player at every level of the defense. Joining Taylor at the other tackle spot is returning starter senior Trey Bryant and he's a solid player that would start at Texas. This tandem should take away body blow ground game yardage that has traditionally plagued the Bear defense. The defensive ends are green but both Zac Scotton and Tracy Robertson saw game action in 2008. Scotton and Robertson go 6-7 and 6-4 respectively which could be helpful disrupting the short passing games which have become prevalent in the conference.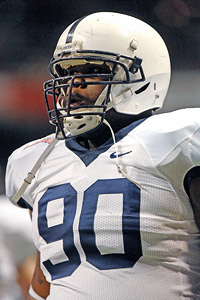 Phil Taylor the Anchor.
The Bears return their entire linebacking two deep from last year including 3 returning starters. The headliner at linebacker is Joe Pawelek. He's an all-American caliber player. An athletic pair of Antonio's, Johson and Jones make this group one of the most solid units on the squad. They give the Bears some options rushing the passer.
In the secondary, the Bears enjoy talent and depth they haven't had in more than a decade. Jordan Lake is the QB in the secondary and he's certain to net some all-Conference honors. The other safety spot is manned by returning senior starter Jeremy Williams. Ataeris Bryant and Tim Atchinson give the Bears a pair of big, physical senior corners. Like the linebacking unit, the entire two deep returns from 2008. It's a unit that held a pass happy Tech team to just 309 yards passing in Lubbock.

Pawelek is Jesus' Co-Captain.
As for the season itself, this is how it shakes out:
Baylor at Wake Forest
Wake returns nearly its entire offense including Senior triggerman Riley Skinner. The defense however isn't nearly as stout as it has been in the past. Wake can't play its prototypical ball control game and the Bears jump on Robert Griffin's shoulders and shock the Deacs on the road. 28 to 24 Baylor.
Baylor vs. UCONN
UCONN rolls into Waco with the best athletes money can buy, but without Donald Brown or a capable QB, this game will be a dogfight. Wacoans and students alike will be lathered up on Mike's Hard Lemonade, because, well, undiscerning Baptists will think it's lemonade, and Baylor wins in a low scoring affair as their two DT's get a stalemate against the experienced Husky Oline. 24 to 17, Bayla, playa.
Baylor vs. NWST Demons
Northwestern State comes into Waco but they're fucked from the get go as the Baptist Blue hairs douse the Demons with holy water as they run up the tunnel. Seriously? Demons in Waco? The boys at the Waco Tribune won't be able to layoff the exorcism angle. Hide and watch. Big Green, well, wins big. God 45. Demons 10.

Cover for the NWST Game Program?
Baylor vs. Kent State
The fighting Rioters from Kent State get rolled up and smoked by the Baptists. 38 to 24.
Baylor at Oklahoma
Just as dudes like Ann Richards, Mike Singletary, Gary Baxter, and Jerrod Douglass come out of the wood work to talk about a Bears MNC run, the Sooners take the Bears behind the woodshed. With Bob Stoops about to punch in another TD with a fumblerooskie to make it 70 to 21, Jackie Shipp points out Briles' 2008 coach's poll ballet. Stoops nixes the play, and Bradford has Brody Eldridge take the snap and a knee to avoid hurting his rushing stats. 63-21 Sooners.
Baylor at Iowa State
Baylor gets a scheduling break with this layup of a roadie. Why? Because it's fucking Iowa State. 42 to 28 Baylor.
Baylor vs. Oklahoma State
This is where I get serious and call my shot. Oklahoma State has Texas the following week, which amounts to the biggest game the Cowboys have had, well, since ever. Zac Robinson makes a few bone headed mistakes after OSU realizes they can't just line it up and run down Baylor's throat. Griffin runs for 200 yards and throws for 200. Gundy's spray on tan runs better than Pokes do that evening. Baylor with a 35 to 31 upset.
Baylor vs. Nebraska
Shooting their wad the week before, the Huskers roll in and manhandle the Baylor Oline. Griffin has a rough outing. NU wins 31 to 17.
Baylor at Mizzou
It's cold in Columbia and the track athletes at Baylor aren't ready for it. This is a game that the Bears marked down as a win early in the year, but they're still not good enough depth wise and in the trenches to mark road games down as wins. Mizzou with the mild upset by a field goal.
Baylor vs. Texas
Nope. Not after ballot-gate. If I'm Briles I get the Polish QB in earlier than normal.
Baylor at TAMU
Remember what I said about penciling in road wins. This is the exception. There's not an Aggie unit on the field that I would take over the Bear's. Baylor wins handily. And so does humanity.
Baylor vs. Texas Tech
This might be the equivalent of a group interview for Art Briles. I suspect he'll be up for this'n. Baylor has enough depth in the secondary, and talent in the LB unit to harass Taylor Potts. Robert Griffin runs through Tech like penicillin at a Lubbock frat house. Baylor with the mild upset. 42 to 38.
Mark it down. 8-4 with a trip to the Alamo.

Sic 'Em
For more on the Bears check out Baylor goes bowling.
Also, see Scipio's 2008 Baylor SOTU and 2007 Baylor SOTU.