Beating OU is sweet nectar. Longhorns who don't view Sooner as our natural enemy are as strange to me as the concept of no-fault auto insurance.
We have a fire-breathing coaching genius directing our defense, a QB that will take a Last Temptation of Christ style beating and keep playing on, and a team with heart and guts. We're 6-0, have won 4 of the last 5 against OU, and offered a recruiting infomercial reminding prospective Sooners that Bob Stoops couldn't give a damn about you beyond what you can do for him on the football field. OU now journeys on to a record somewhere around 8-4 +/- 1 and may book their reservations for the Holiday Bowl with comfort.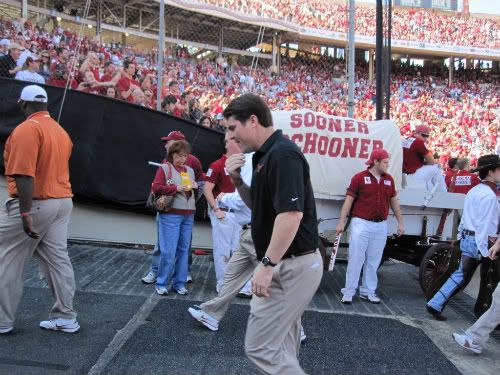 Just another day at the office.
I'm proud of our effort and the majority of our staff who aren't sitting dumbly in the excrement of their own smug self-satisfaction. In an alternate universe, Greg Davis is employed as Process Manager Grade 3 at the Port Arthur DMV. This is the guy who goes on break when you're next in line and sits staring at you at his desk slicing up an apple during the noon hour rush knowing full well that he could take a longer break one hour from now when no customers are in line. Longhorn fans who still carry his water are Gunga Dins of irrationality.
Consider the following list:
* Bet the Under massively
* DeMarco Murray will be OU's leading receiver
* Emphasis on Chris Brown in running game over Murray (12 carries vs. 5)
* Gerald McCoy will pass our interior OL through his stool
* Lamarr Houston will pass the interior Sooner OL through his stool
* The Sooner safeties will line up two deep on every play
* OU will dare us to run
* Venables blitz reflex
* Marquise Goodwin breakout game
* Heavy carries from Colt
* OU D's ability to scout and destroy tendency while being exploitable when you break yours
* Turnover fest
* Misdirection running game effective against OU
* John Chiles' utter irrelevance and absurdity as a WR
* No punt return plays for Shipley to be made in this game
* Dominique Franks is a bad decision maker in the return game
* The predictable failure of our offense
* Defense/special teams sufficient to win the game by themselves
* OU will score 14 (oops...sorry, 13)
* We will score 23 (Sorry again - thought we might convert five possessions starting inside their 50 and 2 inside their 20 into more than 16 points. I won't overestimate Greg Davis again)
* This team will define itself in all real football games by defense and special teams
* Colt's "problems" wear a headset
These were just a few of my (and Peter Bean's) predictions coming into Sooner Saturday via post and podcast and though I'd like to claim that I had these revelations fasting in the desert thus allowing me to start a lucrative cult with a special emphasis on sex between nubile women and the cult leader, I relied on watching our games and understanding that what floats against UTEP sinks against real(ish) football teams.
At the end of last week's Colorado post-mortem I wrote:
I wrote this summer – and have emphasized in every piece of analysis throughout the year – that the strength of this team would be defense and special teams. If we want to journey to the Promised Land (Pasadena) or even it's nearby suburb of Very Good Season (Big 12 Title, Phoenix) they need to take us there because our offense can't be trusted.

We're basically an elite SEC defense/special teams paired with a Mountain West offense. That can win a lot of football games, but you'll need a management strategy for your ulcers.
Never minding the fact that quoting oneself is an act of supreme absurdity usually reserved for politicians and actors, I'm wondering if we're yet all agreed? Or is this going to drag on like the running game personality cult?
Defense
Our play was the stuff of Icelandic Sagas. We forced five turnovers, set up our offense with field position on a platter (which we sent back to the kitchen), destroyed the Sooner rushing game (-16 yards), and contained the pass. Knocking out the starting QB and holding OU's offense to 3 out of 15 on 3rd down was gravy. We had only two real hiccups - the early 64 yard screen play to DeMarco Murray on 3rd and long (apparently a player bust) and Broyles' TD scamper up the sideline (Aaron Williams, later redeemed). Ryan Broyles is big-time, by the way. But you knew that.
DL
The Sooner OL was a prostitute that wouldn't pay and Houston and Kindle wore a large feathered hat. Lamarr Houston dominated - and has all year - and I feel for him that he has to share the same All-Big 12 team with McCoy and Suh. Kheeston Randall gave us great minutes and can still take a gap at will and Ben Alexander had a gorgeous TFL. Ben Alexander has now won this year's Russell Gaskamp/Brandon Healy Award (Where did that come from 5th year senior). No debate. I'm so proud of 5 foot 10 Ben. Like teary-eyed proud.
Much is written of Sergio Kindle's talent, but may I just mention that he is the biggest effort guy in the Mack Brown era? Only 2001 Ahmad Brooks can rival his sheer effort on every snap. Kindle's 4 TFL and a complete domination of the Sooner running game resulted. If I had any critique: he's got to work on his hands and sprawl when someone cut blocks him.
This was a quiet game for Sam Acho/Eddie Jones which is to say that they played with perfect competence.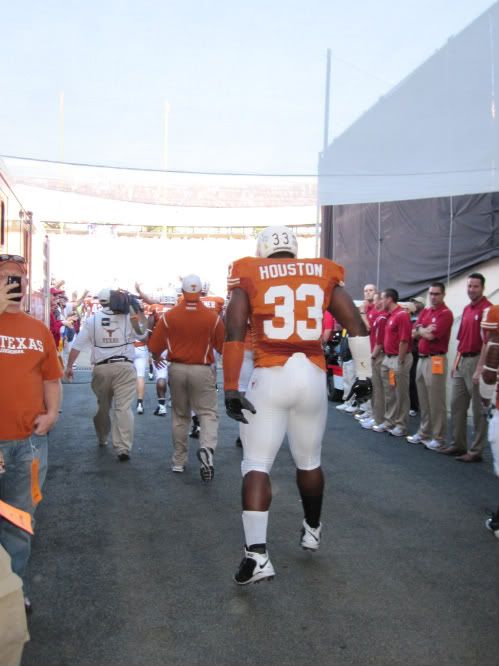 Lamarr Houston on his way in to wreck shop..
LB
After weeks of reminding us of the '86 Giants, our boys were a little quiet. E Acho gave us two fumble recoveries (if an Acho walks by a waiter in a diner, they immediately drop their tray) and Keenan Robinson was clutchness down the stretch. Muckelroy was uncharacteristically quiet and we even saw Dustin Pleasant Earnest snaps.
DB
What I love about Aaron Williams is that when he could have gone into the tank after the Ryan Broyles missed tackle for a TD he buckled down and dominated down the stretch, including his walk up the ladder interception on Broyles inside the Sooner 20. The fact that he also notched a sack and a Sam Bradford re-separation was sort of cool. Nice call on the CB blitz, Vasherized.
Earl Thomas is the best safety in the country not named Eric Berry. Florida's Ahmad Black can suck it, IMHO. Earl's toughness, leadership, and intangibles are off of the charts. If you don't love what this guy is about, we will forever be strangers.
Blake Gideon had the toughest game of the starting 11. His physicality did not match his teammates and he didn't finish on four tackles. That written, he didn't make any crippling errors. Lack of lateral range in two deep is a recurring issue.
I thought Chykie and Curtis played well. Several of the passes made on them were of the great throw/great catch variety. You tip your hat and line-up again. We put them on islands more than once and that's a tough thing. You have to appreciate that we asked a lot of them and they delivered.
Deon Beasley! You physical son of a gun!
Offense
Our Big 12 offensive output:
Texas Tech - 340 yards
CU - 313 yards
OU - 269 yards
This is known as a trend. 307.3 yards per game against Big 12 opponents: one bad defense, one average defense, and one good defense. Any questions? And if you insist on averaging those numbers with our output against UTEP, I can only pray that you one day drown in six inches of water.
QB
Worst passing performance from Colt in some time. Perhaps ever? OU knows all of our route adjustments, they know what stimulus will provoke a certain response, and we mailed it in from a game-planning standpoint in the passing game. If you think Colt's struggles were because of flu, a fingernail etc. then I'll add that to previous weeks where we also used altitude, flu again, and "putting too much on himself" as explanations. Listen, I should also tell you that there is no Santa Claus.
RB
Misdirection and down blocking is a lovely thing. Perhaps we could try it again? Or stick with it when it's working?
Fozzy played hard, Cody ran hard (I began screaming Nickel Cody Rides!), but the holes were the thing. Greg Davis demonstrated poor patience in our running game and abandoned it, but we saw good things. I would like to see Fozzy finish runs, but I understand his hesitancy given his injury history.
Fozzy isn't great at blitz pick-up but he is our most talented back when healthy.
WR/TE
Greg Smith may have had as many first half snaps as Dan Buckner. Ponder that (as microhorn has here). John Chiles continues to uphold the predictions I made for him back when he was actually doing well. Football is a dynamic game, people. James Kirkendoll is now officially a head case and should be benched. Jordan Shipley fought double teams all day like an aspiring porn star. Malcolm Williams and Marquise Goodwin are our rays of hope here and lining up real threats next to Shipley are the only way to open up our Tecmo Bowl passing schemes beyond making the running game work. Marquise's catch on the sideline is the best I've seen in college football this year. I love that kid.
OL
OU has an elite Front 7. McCoy, Beal, Lewis - monsters. Colorado has a weak front 7. CU shut down our running game totally; OU had some trouble at times. If you can understand why, you're on your way to enlightenment. Obviously we were abused for much of the game, but it's amazing how misdirection creates holes, indecision, and puts OL at advantage, even allowing the traditionally moribund zone running schemes to open up. This is why scheme is so inseparable from evaluating player development and performance. You don't put Peyton Manning in the wishbone.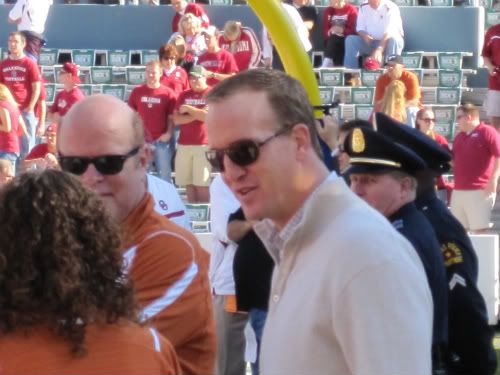 Do I look like Thomas Lott?
Ulatoski gets quite a bit of a criticism for (seemingly) giving Auston English open shots on Colt. I'll lay even money right now that those were protection call errors. We run some very simplistic schemes on the OL in pass protection that allow zone blitzing overloads while not having to sacrifice coverage. That's how an All-American caliber QB ends up with a Cody Hawkins stat line.
The OL is coached and conditioned to fail and they're impossibly meek. When Jeremy Beal tried to hurt Colt, a real OL would have stood Beal up on the next play and disciplined him. See what Washington did to DeMarcus Granger in 2008. Instead, we milled around meekly. Remember a couple of years ago when Auston English took a dead whistle cheap shot on Colt and our OL worked to avoid eye contact? If the happened on the defensive side of the ball on Earl Thomas, Sergio Kindle would attempt to sever an OU player's neck with his cleat.
Special Teams
I knew Shipley wasn't going to have a chance in the punt game against OU, but we still played OK here. I thought we came close to a block but couldn't make it happen. Hunter Lawrence was clutch and his ten points cannot be understimated. 40+ yard field goals in a rivalry game are not lay-ups. Great job, Hunter. Our punting game was very solid and Malcolm Williams, Antwan Cobb, and Deon Beasley were particularly good. A good, winning effort here in total. We'll get back to bringing back kicks soon enough.
Parting Thoughts
It's Saturday Morning Live and our coordinators are the hosts. Greg Davis can only read from cue cards. Will Muschamp does Improv. In a dynamic game, I know where I'll put my faith.
Let's go get a win @ Mizzou.