I've given Mike Gundy quite a bit of grief around here regarding his wardrobe selection. However, most of it is largely undeserved as typical individuals tailor their outfit selection to appease superiors. Can you imagine the dilemma created on a daily basis working for Mike Holder and T. Boone Pickens?
On a daily basis, you face extradition to a country club to shag range balls or a Learjet to shag Bob Whites in the sage brush north of Pampa.  What a beatdown.  And, that's merely protocol for authorizing purchase of a $25K outdated Will Lyles recruiting package.
So without further ado, I present you with the 2011 version of Coach Mike Gundy:
2 Parts Golf Prick, 1 Part Tackleberry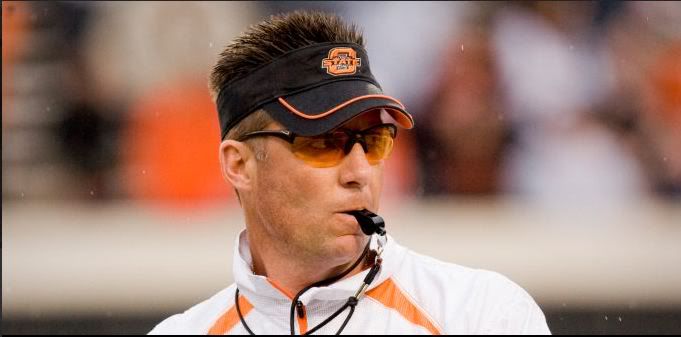 "That's a Blue!!! You better run your ass off, Shitbird!!!
Offense
I don't think there is much I can write about the Cowboy offensive personnel that you don't already know.  They've got all the pieces returning to have an explosive unit once again. Namely Weeden, Blackmon and an experienced OL.  The big question will be the odd situation of QB Brandon Weeden teaching new OC, Todd Monken, the Dana Holgorsen system.  Monken has a serious task ahead of him that can physically and mentally take a toll on a man. Sean Sutton sympathizes. Don't underestimate the discipline required to maintain your sequence in a 1-3-2-6 unit system on 12 Long Island ice teas.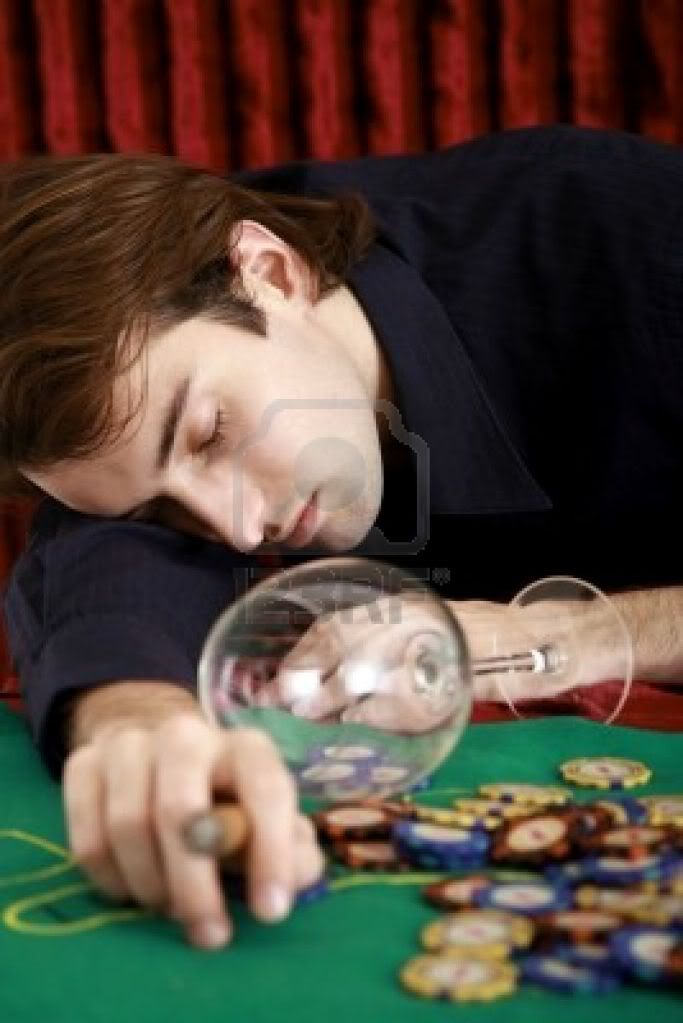 Weeeeeeeeeden!!! What the fuuuuuuuck!!! Three or sixth???
QB
This is certainly a strength with senior Brandon Weeden returning after throwing for a gazillion yards in 2010.  Although, his disposable income level is being threatened for 2012 by the Tea Party movement.
RB
Replacing Kendall Hunter won't be as big a task as Holgorsen, but I question whether Joseph Randle brings the same quality of lemonade to the table.  He'll still most likely crack the 1100 or 1200 yard barrier behind a veteran OL and lethal passing attack.  The kid definitely possesses some star ability and should upgrade team GPA at a minimum.
WR
Justin Blackmon is a household name at this point and should benefit from the inexperience at CB across the conference. Odds are he won't match last year's numbers due to the amount of attention he'll receive.  However, I suspect he'll still have a big season and the Biletnikoff hardware will be a Big 12 showdown with Broyles.  Josh Cooper, Hubert Anyiam, Michael Harrison and Tracy Moore round out as solid a supporting cast as you'll find anywhere in the country.
OL
Joe Wickline always pieces together a serviceable unit and JUCO sensation Levy Adcock at tackle is the strength of the outfit.  The four other starters aren't as talented as advertised, but typically excel with solid technique.  They can be pushed around on occasion in the run game and Holgorsen's schemes somewhat masked this quality.  Pass blocking is their forte with the unit yielding only four sacks in conference play.  I don't expect them to be a weak spot, but they also didn't display an assert-your-will quality last year.
Defense
Bill Young has built his reputation on doing more with less, but thanks to Gundy's recruiting efforts, Young has more than he ever had at Kansas for his bend-but-don't break Cover 2 scheme.  Unfortunately, he doesn't have a Big 12 North schedule, which was reflected in the numbers allowing 433 yards of offense and 28 points per game in conference play.  However, these figures were offset by finishing first in turnover margin.  If the Cowboys can't duplicate the same kind of luck this season, look for them to drop a game or two they won in 2010.  They've got some big shoes to fill in the front 7 losing DE Ugo Chinasa and MLB Orie Lemon.  I still expect them to finish as a middle of the pack or better unit based on returning talent.
DL
I like DE Jamie Blatnick the best out of this group and consider him one of the more underrated defenders in the conference.  He has a decent first step, but punches his meal ticket based on motor and technique.  Richetti Jones has been running as the other starter at DE coming into fall camp, but I think TE convert Cooper Bassett will be in the mix by league play.  I liked what I saw from Bassett late in 2010 lining up at DT and it won't shock me one bit if he's one of the big surprises this year.  I'm impressed with his speed and length giving him potential as a 3-4 end prospect down the road, but need to see more of him as a starter before I make up my mind.  The Cowboys are replacing both starters at DT, which could pose a problem.  Nigel Nicholas has received good reviews in fall camp and Chris Littlehead had an impressive offer list coming out of high school as an OG prospect.  As a group, they could be susceptible to the better offensive lines in the conference, but sufficient to blow out weaker teams.  The pass defense seemed to suffer last year due to the Cowboys inability to hold the point of attack in the middle and they're starting the guys who couldn't beat those guys out. I'm thinking this could be the Achilles' heel of an otherwise solid Cowboys' team. That and Gundy's liberal use of hair gel that rivals the Situation.
LB
Hybrid OLB/Safety Shaun Lewis is good enough to start anywhere in the country.  MLB Caleb Lavey showed promise last year as a true freshman and former baseball player Tyler Johnson has given him a run for his money.  I'm not sure who the 3rd starter will be between Joe Mitchell, Alex Elkins and Kris Catlin, but given Young's resume' at Kansas, I expect this to be a solid unit overall, although Lemon will be missed.
DB
I'm a big fan of FS Markelle Martin and think he's playing for 1st to 3rd round money this year.  Johnny Thomas has finally found a home playing SS in Stillwater after transferring to 37 different high schools.  He's done well for himself and proved to be a big hitter.  I feel this is the top safety duo in the Big 12 and stacks up well nationally.  The pass defense numbers in 2010 were somewhat deceptive due to their required services in the run game.  Feisty CB Brodrick Brown was a mixed bag of nuts last year, but stays somewhat protected by scheme.  If he stays healthy and retained his speed, I have Justin Gilbert marked as future all conference potential at the other CB.  He looked like an outstanding athlete as a true freshman prior to being sidelined by a knee injury.
Summary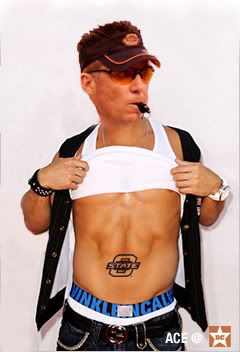 9-3, holla at ya boy!
For further insight into the Fightin T. Boone's, check out the excellent Okie State blog Cowboys Ride For Free.