I'm sitting in a crowded sports book with Vegas Kyle and Kevin taking in the NCAA Tournament.
He really is called Vegas Kyle. Mostly because he's a professional gambler, his name is Kyle, he lives in Las Vegas, and I can't be bothered to learn his last name.
More on him another day. Just know that he looks like the actor David Koechner and once sold several cases of Natural Lite won in a poker pot for 20 cents on the dollar to a bent Pakistani convenience store owner.

Actual photo
Back to the sports book.
Trollops are bringing us drinks, we wager on the jump shots of 19 year olds, and I try to ignore the fact that we're orbited by so many degenerates that an internet sex predator search would yield a satellite image of the Rio Sports Book captioned with the words: FOUND 'EM.
I bet two games: UConn +2 over San Diego State and the Arizona-Duke Over. I bet with authority. I do not bet apologetically, hoping to win. Win is made of iron filings and my loins are an industrial magnet. I will not disclose the amount of money I wagered as that would be gauche, but just know that it had a zero in it.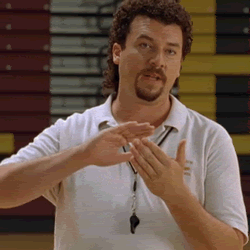 I'm certain about these bets. I'm Contemptuous Betting Line Disbelief Guy, arching my eyebrow at the absurdity of Vegas' handicapping. What is your system, Vegas? Deviled eggs branded with team logos offered to a Bernese Mountain Dog? Then tallying its farts over the next minute to set the point spread? I'm going to dry hump you, Desert Macau. I own you on these lines.
UConn handles San Diego State handily. I mock the SDSU bettors throughout the game, screaming out Kemba! at key moments. Like TV timeouts. Thank you John Q. Betting Public. Didn't need the points. But it was fun. I collect my bet, chuckling to myself. The chuckle of contempt. The semi-guffaw of derision.
Duke-Arizona hits the Over with 6:00 left in the game. It was never in doubt. Vodka, whiskey, and Hai Karate make my head swim. I will move to Vegas and become a professional gambler. The empirical evidence, the clear trend line of two winning bets, is irrefutable. Project that line out to just winning a hundred more bets in a row and, well, you can do the math.
Once my reputation gets out - and that process started with my morning bet paired with the general manner with which I go about my business - I'll be introduced to Steve Wynn. When we shake hands he'll try to turn mine over in some bullshit power play, but I'll reverse his mind-judo with supple dexterity. Or throw him off with a unexpected curtsy.

All I do is Wynn, no matter what
He'll invite me to a secret office hidden behind a classy mirror and pour me classy brandy from a classy decanter that looks like a classy tall ship. There will be rich wood paneling and tasteful pictures of fox hunts. I light the cigar he offers with the replica Colt .45 on his desk. The bullet blows the end off of my cigar and shatters a chandelier. Not. A. Replica. I compliment his mounted condor collection.
Steve - he wants me to call him Steve - walks me to the window - forty one stories high - hand thrust in his breast pocket, and we look out at the shining cityscape. The view is extraordinary as the window had been recently Windexed. I see a fat man in a fanny pack run over by a pedi-cab. Circle of Life. We are wordless. First man to speak loses. Wynn breaks.
"Three decades ago I would have had you buried in the desert, you know that?"
He lets the words hang. Like an aborigine elder's balls. He continues:
"That Was The Old Way In The Olden Times of The Old Breed. Beat you to death with a tranny femur and then shoot you in the taint with a flare gun. You killed me at the sports book. You murdered me in Go-Fish, despite the house odds. And all of my best dancers are heartbroken pining for you. Even the guys from Thunder Down Under. Plus, you're classy as fuck. I haven't seen a man tip with chocolate coins in a long time."
I nod. Truths. I am often told I'm classy as fuck.
"But this is the New Vegas - the Vegas that I built."
He moves his arms expansively to demonstrate the scale of what he built, then ends the gesture with a tiny hammer flourish with his thumb and forefinger to show one of the activities that construction involves.
Hammering.
I nod. And chuckle. A private joke. Maybe I'll tell Steve later.
"You're good. Real good. Too good. I'd rather have a super-classy sonofabitch like you working for me rather than against me. What do you say to me naming you Duke of The Strip and paying you millionty dollars?"
I grasp his flawlessly manicured hand. Up high. Down low. In the middle. Too slow. We have concluded our business. I had 20 and I asked for a hit. Got an ace. The percentage play.
Steve Wynn gives me a walkie-talkie and the keys to a penthouse with a lazy river and a fireman's pole.
My very realistic daydream ends as Kevin punches my shoulder. Time to collect my bet. The second bet I've won that day. Two bets in a row, if you'd like to score at home.
I reach into my pocket to find my betting slip. Binaca? Check. Lucky honey badger foot? Check. Velcro wallet? Check. Buffet coupon at Circus, Circus? Check. Organ donor? Check. Apropos of nothing. Just am.
The betting slip isn't there. I've lost it. Impossible.
I begin to scream No! Noo! Noooo! in escalating fashion, my voice growing in pitch with each keen, like a pixie ass-buggered by a hornet. Kevin and Vegas Kyle try to soothe me. Even tones. Patting. Drinks. Their condescension is meant as a mild sedative, but it is a strait jacket. I break away from them and walk among the Keno tables seeking solace.
The slip is gone, Steve Wynn is gone, the dream is gone. Again, I do not wish to talk sums. Just know that it is an amount of money with which one could purchase a classy meal for two if the lady will order a reasonable ice tea instead of a snooty 2010 varietal.
The smug inner-warmth of collecting money from opinion wagered 'pon has fled. That money is gone and my dreams are dashed. I'll never have the chance to mastermind a Whist professional tour. And now Vegas Kyle knows that I'm no pro. He is disgusted. Who loses their betting slip?
A sucker. A square. That's who.
I have no angles. No juice.
Vegas wins again.