If you're a fan of college basketball you've been looking forward to this weekend considering there are a handful of games with NCAA tournament seeding implications. One of those games includes the final game in a 4 year series between the Texas Longhorns and Michigan State Spartans played at the Palace in Auburn Hills, MI home of the Detroit Pistons. Texas can further solidify its place at the table in the number 1 seed conversation while a Michigan State win would give the Spartans that signature out of conference win that the selection committee covets. With an ugly loss to Grand Valley State in an "unofficial" exhibition game, and a heartbreaking loss to UCLA coming back from a double digit deficit, Michigan State almost faces a must win situation for seeding purposes. The main question on virtually everyone's mind is whether MSU takes the floor at The Palace playing a style Rick Mahorn could be proud of, or instead continues newfound offensive minded Tripucka-ball minus the pornstache.

Freddy Mercury never met a shot he didn't like.
As I mentioned in my "MSU concerns" post , as a Longhorn fan I would prefer the Spartans to continue to run and gun, eschewing their advantage in depth, size, and rebounding ability. And I'll explain why based on the following matchups and personnel for both squads.
Texas Backcourt vs. MSU's Backcourt
DJ Augustine (36 min, 19.9 ppg, 6.5 ast) vs. Kalin Lucas (23 min, 7 ppg, 3 ast)
AJ Abrams (35 min, 18.5 ppg, 41%3P) vs. Drew Neitzel (29 min, 14 ppg, 45%3P)
J. Mason (33 min, 9.5, 4.5 reb, 4.2 ast) vs. Travis Walton (21 min, 3.5 ppg, 4.5 ast)

Personnel.
Travis Walton is a nice compliment at the lead guard position opposite Drew Neitzel. A big problem with the 2006 Spartan team was getting Neitzel off the ball and allowing him to play his natural shooting guard position where he can run off several screens in a possession Steve Alford style. With Walton providing solid minutes at the point, as evidenced by his 4.5 assists per game, MSU is simply a better basketball team now than they were just a few short weeks ago. Walton is also a good on-ball defender which will obviously be needed when facing arguably the best point guard in the nation. Walton, however, is a liability shooting the basketball sporting a mediocre 40% from the field and missing his only 3 point attempt on the year.
Drew Neitzel. The senior pre-season all-american can straight up stroke it from anywhere on the floor and is a threat as soon as he leaves the lockerroom. He shoots a sizzling 45% from 3's and also has a decent midrange game as his 45% overall field goal percentage attests. The underrated part of Drew's game is his ability to create shots or find open teammates. He's averaging nearly 5 assists per contest and you can't help but think playing the point some of his career has helped round out his overall game.
Kalin Lucas. This 6' 0" true freshman is lightning in a bottle from the lead guard spot. While he's looking to get the ball and push to create opportunities for himself and teammates, he has a tendency to turn the ball over and play a bit out of control. At this stage in his career, he's not a significant threat from the perimeter shooting 38% from the field and 2 out of 13 from 3's. But, if MSU truly wants to get out and run, by all means, he's your man.

Texas' Scouting Report.
With Texas playing predominantly a 3 guard lineup of Mason, Abrams, and Augustin, matching up with the Spartans interior players on the defensive end is your biggest problem. We know Drew Neitzel can fill it up so I'm not lending help to the bigs with him. Leaving him for any reason is instant offense for MSU. When in man, I suspect Texas will want to put either Mason or Abrams on Neitzel so as not to subject their best player and floor general Augustin to running through screen after screen.

Augustin and Walton should see alot of one another Saturday.
In an effort to keep Augustin fresh, I'm betting he guards Walton playing soft looking to help on set plays to Neitzel as well as lending help to Mason on one of MSU's big athletic forwards. The bad news with man will be more than likely the easy to screen Abrams will be on Neitzel, which isn't an appealing option.
So, when in man if I'm Texas, I'm inviting either Walton or Lucas to shoot it, defending dribble penetration first and foremost, but looking to help/double where necessary. If I'm assigned to Neitzel, job one is to close out on his shooting hand to make him put it on the floor. Remembering to stay under control because he's got point guard skill and can create for their athletic frontcourt. Help has to be aware of the volume of screens he'll be getting, and if I'm Barnes I give my guys the greenlight to switch guard to guard more than halfway through possessions to make sure this guy doesn't go off.
On offense I'm interested in seeing how MSU solves the three guard issue and I'm doing that by pushing tempo make or miss. Mason should be able to penetrate vs. his frontcourt counterpart and if Augustin can beat Walton off the dribble with consitency it will be a long night, because so much of what Izzo wants to do defensively depends on Walton's ability to guard. If DJ and Mason are penetrating, Izzo's wing denial pressure is shot, exposing his aggressive frontcourt who is prone to get in foul trouble. Walton's a good to defender so I'm interested in seeing this matchup as well.
Texas Frontcourt vs. MSU's Frontcourt
Damion James (30 min, 11ppg, 9 rebs) vs. Raymar Morgan (27 min, 17ppg, 7.4 rebs)
Connor Atchley(31 min, 13 ppg, 5.6 rebs) vs. Goran Suton (26 min, 9ppg, 8.5 rebs)
Alex Wangmene/Clint Chapmane vs. Marquis Gray (18 min, 8ppg, 5 rebs)

Personnel
Raymar Morganis probably MSU's best overall player. He's almost the stone cold equivalent of Damion James, perhaps a little more athletic without as much shooting ability. He's a very good defensive player and rebounder so James will have his work cut out for him on both ends of the floor.
Goran Suton, the 6'10" junior center is a versatile player who's deceptively quick and has good touch around the basket for such a big body. His problem is he's prone to foul trouble and seems to have trouble with players that can match his size. He was shut out vs. UCLA.
Marquise Grayis a strong 6'8" 235 pound forward that is tough to root out of the low block. His width compliments a variety of low block moves that make him tough to guard around the basket. He'd probably be considered MSU's 3rd option, but he makes the most of his opportunities shooting a stellar 67% from the floor.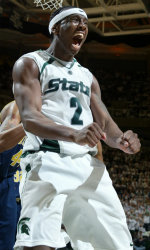 Morgan could give the Longhorns problems on the glass.

Texas' Scouting Report.
Of the 3 significant frontcourt players the most dynamic by far is Morgan. He's a threat to put the ball on the floor and get to the rim where he's a terrific finisher given his athleticism. James and/or Mason will have to move their feet and respect Morgan's quickness. Enticing him to shoot 17 footers isn't a bad idea either since he's a ferocious offensive rebounder and not nearly as adept at shooting it.
While Gray and Suton are above average low post players, the biggest offensive threat this group poses is its rebounding ability. MSU averages 15 offensive boards per game and that type of ability can sap the energy of a thin team like Texas. Keeping good defensive rebounding position is one key for the Texas frontcourt, but the Texas backcourt must get into the act here as this is the biggest mismatch in the game. It's important to note that this group was held to just 3 offensive rebounds vs. UCLA and 7 total for the game.
Prediction
The game is going to come down to who can best manage their defensive matchup liabilities. Can Texas find a way to either be able to stay in their 3 guard personnel by zoning or playing some sort of junk defense? Can they rebound out of a zone without the benefit of defined defensive blockout assignments?
For Michigan State, can they effectively man-up when they're at a quickness deficit at atleast 3 positions on the floor? If they zone, which they're not accustomed to doing, can they be active enough to bother one of the best shooting teams in the nation considering 1 through 5 are decent to great perimeter shooters?

State wins if they pass five times before every shot.
My answer. It depends. I feel strongly that Michigan State has both the blueprint and personnel to beat Texas if they slow this game down and turn it into a half court affair. They're big enough to give Texas fits on the offensive end and bludgeon Texas on the offensive glass which will wear the 'Horns down similar to what occured in the second half of the UCLA game. On defense, Michigan State will give up buckets because Texas is the quickest, best shooting team they've faced. If MSU can hang around taking jabs from Texas on the defensive end while running clock and pounding the interior of Texas on the offensive end with their depth, MSU will pull away down the stretch barring an unconcious shooting performance by the Horns. My only question is, will they have the patience? Will Izzo read this post?
If Texas can turn this game into a track meet or entice MSU to run, because Texas doesn't have the depth to pressure and force MSU to run, then Texas will win comfortably. Why? Because they have much better skill at nearly every position, and a track meet amplifies the impact of skill. If UCLA couldn't handle Texas' quickness and skill (see the first half of that game), then how will an inferior skilled Spartan team handle them? The fact is, the second half of the UCLA game showed Texas' weakness which is depth and size. So, if the game is played in the 80's, I like Texas 88 to 78. If it's played in the 60's call it 72 to 68 MSU. Heck, whoever wins, it will be entertaining. And it's only December.