Overview
After Les Miles' departure, Oklahoma State's strategy seems to have been hiring a young, hip alum that combs his hair with a cup of hot fat and a firecracker. Then, spend a couple of hundred million to enter the facilities arms race in efforts to recruit better talent and have T. Boone foot the bill. It seems to be working in some cases and not so much in others. Gundy may be a man, but it's hard to say he's the man for the job at this point.
One thing that has worked out is the recruiting better talent part of this plan. Gundy and staff have been able to pull some top tier talent out of the state of Texas. Not to the extent of OU, but more so than any other out of state teams in the Big 12. Bringing Trooper Taylor on staff might have more to do with it than a metrosexual head honcho. Gundy also dresses like a golf prick. If he worked in an office environment with you, he would be that guy who wears one of those copper bracelets, and stands outside your office, air swinging a 7-iron, while engaging in half-disinterested conversation. Gundy managed to burn some bridges among Texas high school coaches with the Kody Spano recruitment spectacle, which may come back to bite him.

Enjoyed it Bob, if you wouldn't have nutted that 3 wood on 14, I would have kicked your ass. See you on Monday.
The Noodlin' Wranglers finished the 2007 season 7-6 for the second straight year, a disappointment considering the preseason expectations for the squad (and featuring a loss to Troy which has some people talking...). This season may not be much different for the Pokes, not so much due to the quality of this team, but the quality and experience of the teams they will be facing. Factor in road games at Mizzou, Texas, Texas Tech, and Colorado, which they'll lose all by a combined score of 208-196, while new coach Danny O' Grady effectively switches between man-to-man and zone defense to keep it a one possession game at the end. Plus, they open at Washington State, who isn't a pushover, and executes an extremely efficient motion offense. As always, the Cowboys will be good at rebounding and low on turnovers making them a hard team to beat. With Kadeem Hardison doing the scoring and Marlon Wayans doing the dishing, they should provide just enough offense to finish in the upper half of the Big 12. Expectations are high in Stillwater after the lynching of Sean Sutton, and the NIT will not suffice. Welcome to Oklahoma State Mens' Athletics, the land of the universal box score.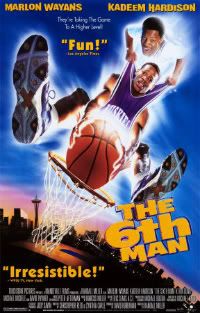 A&K all the way, baby!!!!
Offense
At the quarterback position, it's understandable why Gundy went with Zac Robinson over Bobby Reid last fall. The now junior Robinson is just a better football player for this offense and his appetite is much easier to appease with the local cuisine. It's arguable that he's the best zone read QB in the conference. Stephen McGee is a working man's Zac Robinson. I really like the balance that OSU achieves on offense and Gunter Brewer will have big shoes to fill in replacing OC Larry Fedora, who moved on to be the skipper at Southern Miss. Robinson was the only other QB in the country besides Tim Tebow to rush for over 800 yards and pass for over 2800 yards. Brewer just needs to not fuck this thing up. The Caballeros are in good hands with Mr. Robinson.
At RB, sophomore Kendall Hunter from Tyler is listed as the starter going into the fall. He's a 5'8", 190 lb, waterbug type player with decent speed. Junior Keith Toston and JUCO transfer Beau Johnson are bigger backs and will see some carries. Johnson particularly looked good in the spring. If he had one word to describe himself, Johnson would say "swag". There's one thing for certain about Johnson, at a minimum, he'll be giving Big Red Sports a run for their money once he's done. Again, evidence of OSU's commitment to making it to the next level. Highly touted recruit Kye Staley may have an impact as well. I would imagine they platoon in the non-conference unless someone just dominates the position in two-a-days, and then go with the most productive player for 20 carries a game by the time conference starts. It doesn't really matter as one of these guys will end up with 1200 yards and average 6 yards a carry.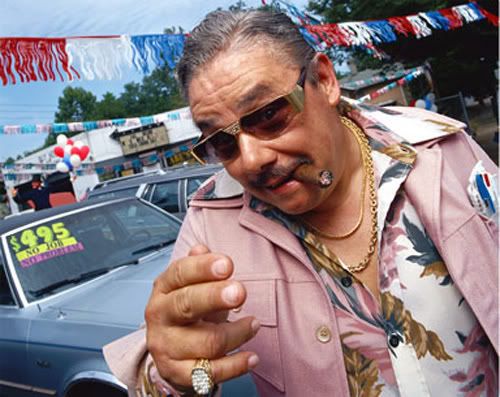 I got you a gig at Big Orange Sports making 30Gs a year. Part time.
The Dexter Manley Literary Achievement Award Winner Dez Bryant returns for his sophomore season at WR and he's a dandy indeed. Were it not for some academic concerns, Bryant probably would have been the top ranked WR in Texas, when coming out of high school. In the same mold as Crabtree, the guy just looks like he will be playing in the NFL some day. Or operating a ferris wheel for The Angelina County Goat Circus in the Minute Maid parking lot on Aggie Night. Don't be surprised when he pulls down 75 catches for 1100 yards and 12 TDs, and lands on the all conference team. Sophomore Damian Davis, a 6'5" physical specimen from Mart, TX, will more than likely man the inside receiver position. Junior DeMarcus Connor is in line to start at the other WR position, and that's all I know about those two guys. Jeremy Broadway may also factor in here, and if he had one word to describe himself, he would have to say "dank". I saw sophomore William Cole play in high school and can confirm he is a grade A badass. He bounced around several positions last fall as a true freshman and finally settled at the WR position behind Connor in the spring. Cole was impressive and I have a hard time not seeing him getting significant playing time as he was one of the top athletes in the state of Texas as a senior. About 66.7% of OSU's passing production will be generated through Bryant, Pettigrew, and screens to the backs, and the other 2 or 3 WR corpses will account for the remainder. OSU coaches would be wise to try and use a talent like Cole in a Jeremy Maclin role to balance out some of this production. He's legit.

Come on out to Minute Maid Park, Texas A&M Fans, for Aggie Night at the Ballpark on Thursday, Aug. 28th as the Houston Astros host the Cincinnati Reds. The Angelina County Goat Circus will be performing during the 7th Inning Stretch.
At tight end, Brandon Pettigrew made Joe Garcia look like a fat, slow Mexican last year. [Editor's Note: As longtime fans of the Federale Plate at El Arroyo, this is considered a compliment.] Pettigrew is such a beast he once had to be tranqued in downtown Stillwater by Oklahoma Parks & Wildlife officials after he mule kicked a police officer, who was trying to slip a muzzle on him. The guy will be playing on Sundays, if he stays out of trouble, and should be considered one of the best in the country at his respective position. Pettigrew is a great athlete for his size (6'6", 260 lbs), not a bad blocker to boot, and the school colors look natural on him. Cooper Bassett is the backup and the only real interesting thing about him you need to know is that his dream dinner would be with Jesus, his dad and Jason Witten, while the sweet sounds of Linkin Park's "Live in Texas" album softly played in the backgound.Jason Witten: "Jesus, can I ask you something and you promise you won't get offended?"
Jesus: "Of course, Jason."
Jason Witten: "How great are Jessica Simpson's bare tits?"
Jesus: "Hold on one second, Jason. Brad Delson has a solo coming up here I don't want to miss."

You don't want this running through your secondary.
OSU returns 4 starters from a solid OL that only allowed 11 sacks, while leading the Cowboys to a Big 12 rushing title. They are led by junior tackle Russell Okung, who is an underrated talent with great feet and all conference potential. David Washington also returns to the lineup at center after breaking his leg the 3rd game of the 2007 season. He's was playing pretty solid football at the time. The rest of the lineup is filled with mostly big, burly noodlers from places like Enid, Garber, Guthrie, and Vinita, whom they signed along the banks of the Arkansas River by passing out free RealTree cammo caps. A very solid unit overall. There's no reason why this offense shouldn't put up 200 yards a game on the ground and through the air, once again. Defense is where things get dicey.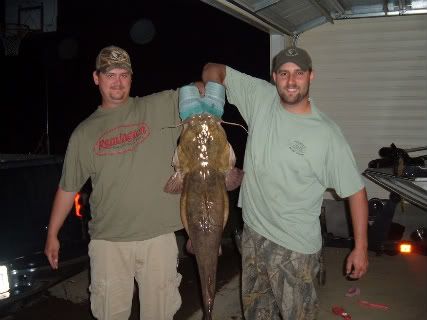 Brady Bond and Noah Franklin were a package deal.
A drunken angry dwarf that operates under the name "Tim Beckman" returns for his second season at DC. Beckman built his resume at Ohio State by successfully utilizing WWF wrestling prodigies to contain Northwestern TBs named Alex, who routinely crack 3.9 on their GPA. Beckman found some of his schemes were obsolete when using Greco-Roman wrestling prodigies to contain brothers from Port Arthur named Jamaal, who routinely crack 3.9 on their FYD. It was a disaster, and combined with Beckman's blood pressure, he reportedly snapped after the Kansas game last year.
Welcome to the Big 12, motherfucker.

Beckman breaking down film of Baylor.
Beckman has gone to more of a 4-2-5/base nickel look this season, which is starting to appear as the scheme of choice when defending the balanced spread attacks across the country. This makes sense as it would seem to be the most balanced defense, providing versatility when threatened by air and land. Beckman dialed up Coffeyville Tradio in the offseason to leverage 2 used Bowflexes, 4 rear tires off a 4010 John Deere, 1200 ft. of cotton trotline rope, and the frame of a one-way disc that had been converted to a squat rack during the Pat Jones Era into 6 JUCO re-treads to plug the sucking chest wound of this team. I don't care what part of the country you're from, that's damn good value for some obsolete training equipment, used tires from a tractor that requires ether to start, some fishing gear that rots in the winter, and a plow that washes out the corners of your field every time it rains. However, one could argue that they lost more functional value in that trade than in the 5 starters to graduation. At a minimum, they didn't have anywhere to store all that shit once T. Boone's check cleared unless the Ag Mechanics school could have converted it into some piece of abstract art for campus. It was a win-win situation. Most notable is highly regarded DT Swanson Miller (6'4", 300 lbs), who is allegedly pretty quick for his size. He appears to be the frontrunner for one of the tackle positions. Donald Booker also nailed down one of the starting LB spots in the spring.

Shit was kind of piling up outside the old weight room at Okie State.
I found it surprising at how much talent the DE platoon actually has. They're two deep with 4 star recruits in starters Derek Burton (Jr.) and Ugo Chinasa (Soph.) and backups Richetti "The Machete" Jones (RS Fr.) and Jamie Blatnick (RS Fr.,actually a 3 star). All are from the DFW area except Burton. Eventually, they'll be an upgrade from Nathan Peterson and Marque Fountain, but for now, they're young and will be the subject of routine pantsings by Chase Daniel, Graham Harrell and Colt McCoy this year. Jeray Chatham had a good spring and a pulse at the other DT position to hold off the Pacific Rim version of Crystal Light for the starting job opposite Miller.
The aforementioned Donald Booker and Patrick Lavine appear to be the starters at LB with Orie Lemon and Justin Gent providing backup. Lavine, Lemon, and Gent were Texas Top 100 recruits coming out of high school. The starter at SS last year, Andre Sexton, will take over the "Star" back position (code for Rover) and excelled at his new role. The other safeties will more than likely be manned by another JUCO in Lucien Aurelius Maximus Commodus Antoine and Ricky Price. At CB, Jacob Lacey has received preseason accolades and most of us are familiar with Perrish Cox on the other side.
Youth will play a factor as they get pounded on the ground by Texas, OU, and Mizzou for 200 plus yards again this season. And of course, they'll be the subject of abuse in Lubbock when Tech and OSU square off for the annual Flag Football Championship of the Big 12. If Beckman can make some progress with the youngsters throughout the year, they've got the pieces to be pretty salty in 2009.

Jake Ratliff dives for Dantrell Savage in the 2007 championship game in Stillwater
If Gundy is the answer for OSU, an 8-4 season followed by a 14 point win over Purdue in the Alamo Bowl should be considered a screaming success to Cowboy fans. They'll swap spots with Tech in 2009 and be a serviceable threat to OU and Texas for bragging rights in the South. If Gundy goes less than 7-5 this season, I might start wavering on him a little, if I were an OSU guy, given the talent coming back. This is a very dangerous team capable of beating anyone they play, but too inconsistent and young on defense to legitimately contend this season. If the defense is somehow young enough to not believe they suck, they could be a sleeper in the Big 12.