It was interesting to read the national media yesterday, and discover a few things. Namely- everybody saw the UT-TT game, everybody thought it was a terrific game (really a great promotion for the B12), and people are impressed with both teams. I got to thinking about where it ranked in the history of big games in Texas, and this is what I came up with. Here follows a list of the greatest games played in Texas between Texas teams. The standards for this list include national stakes, national attention, and star power. I'm putting them in chronological order.
1. SMU @ TCU in Fort Worth. For the first time, SWC teams had national recognition. It was understood that the winner would be MNC (pre-bowls). Reporters like Ring Lardner from NY came to Cowtown to see the game. The winner would be invited to the Rose Bowl, which was the only significant bowl game at the time. TCU had Sammy Baugh and Ki Aldrich, SMU had Bobby Wilson and Harry Shuford. SMU won 20 - 14 on a Hail Mary, went to the Rose Bowl (the Rose Bowl payout retired SMU's stadium debt, saving the program), lost, and TCU was named post-season MNC.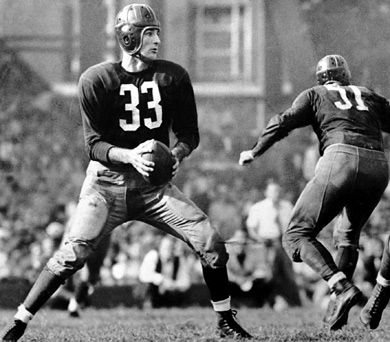 2. Texas @ SMU, 1947. Bobby Layne, Tom Landry, Doak Walker, Kyle Rote, top 5 teams. This was the first game to make the Cotton Bowl seem too small. SMU won 14 - 13 when Tom Landry slipped before receiving a 4th down handoff late in the game. Hang in there, Blake Gideon; you're in good company.
3. TCU-TAMU 1955. This was an early season matchup of top 5 teams. TCU had Jim Swink, and TAMU was loaded with future NFL stars (Pardee, Conrad, Crow, etc.). The game was noteworthy for being played in a hurricane in College Station. It was a crazy game that the Ags won 7 - 6. They were not allowed to go bowling, so TCU went to the Cotton Bowl that year.
4. 2008 UT @ TT. Wow. 50 years between #3 and #4. There have been big games in Texas, but they generally involved UT and OU. I was tempted to add one of the early '80s Texas/SMU games, but the '81 game was untelevised (SMU probation), the '82 game didn't have an elite Texas squad, and the '83 game lacked James and Dickerson.