The AP and the ESPN Poll start out like so.
For our purposes I'm not going to split hairs with respect to the two polls disagreeing on slot number 10. Gonzaga, Purdue. Purdue, Gonzaga. Meh. In fact, in King Solomon fashion, let's split the baby or in this case the Gene Keady combover and Mark Few hemp boxers by putting Oklahoma at 10. It makes sense. The Sooners are regional, they play Texas, and have a bi-racial superstar. The polls.
1. UNC. They return everyone. Remember the Eric Montross and Donald Williams senior dominated club that had an influx of superstar talent with Rasheed Wallace and Jerry Stackhouse. Now imagine Dean Smith armed with 12 cc plungers full of horse testosterone in the locker room. Imagine it figuratively of course. Boom, there's your 2008-2009 North Carolina squad. This team, even with a dinged Hansborough, is a nasty 10 deep. If they can find an identity early, look out.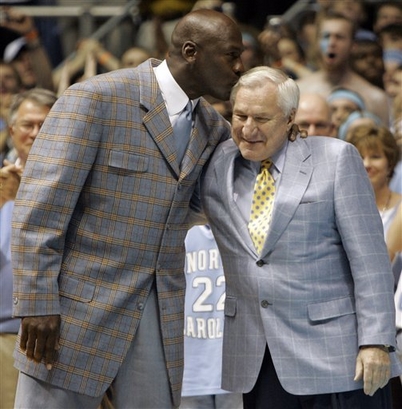 The only man that could stop Michael Jordan.
2. UCONN. I'm not sold, and even inclined to drop them down a couple spots in favor of more accomplished and dynamic offensive teams like Louisville and even Texas. I don't know that Jerome Dyson is the tonic to get talented bigs like Jeff Adrien involved more consistently. How will AJ Price handle playing without the ball? Has Thabeet developed as an offensive player? Talented Frosh guard Kemba Walker and the rest of the crowded yet talented backcourt would thrive in an up tempo attack style, but what then happens to plodders like Thabeet? Too many questions for the second spot, imo.
3. Louisville. They're my odds on choice to give the Tar Heels a run at the title. With lumbering do-everything center David Padget gone, look for this deep Cardinals squad to press and break in classic Pitino style. One question would be how does this Cardinal club react when it gets bogged down in a typical Big East 56 to 53 body blow struggle without its glorified Center/Point Guard Padget to run offense through? Well if Pitino's talented press and shoot Kentucky teams are any indication, I'm guessing the Cards will figure it out, because this personnel group is Old Kentucky talented.
4. UCLA. I'm kind of inclined to drop them a notch or two as well. If you saw them struggle against the Redhawks last night you would to. With Josh Smith and Darren Collison, they still have one of the top 2 or 3 backcourts in the nation, but how will they replace a huge difference maker like Kevin Love inside? Having the number 1 incoming recruiting class is a good place to start. But this team might have to rely on young frontcourt talent like Center J'mison Morgan contributing sooner rather than later in order for the Bruins to get where they want to go.

Budding star Nolan Smith should open things up for Duke.
5. Duke. We'll go with the ESPN poll here and give the 5th spot to the fighting Dick Vitales. For a top 10 team, the Devils seem to be flying under the radar and that's not a bad thing. Kyle Singler is a star on the wing and he's complimented by super athletic Gerald Henderson. Duke immediately upgraded its quickness in the backcourt by giving super soph point guard Nolan Smith starting duties over Greg Paulus. Paulus provides valuable depth and leadership, but Smith's ability to break down defenses and provide open looks for Duke's talented wings might be the salve this team needed. Still, the biggest question is finding bigs that can clean the glass and keep teams from playing volleyball on the offensive boards. Seven foot junior center Brian Zoubek and talented 6'7" freshman forward Olek Czyz could be the answers, if the questions are what is polish and lacking in vowels. Insert Taymon Domzalski joke here.
6. Pitt. They get the nod over Michigan State because of the 3 headed monster of senior wing Sam Young, senior PG Levance Fields, and soph sensation post Dejuan Blair. It's similar to having talent at all 3 levels of the defense in football. Solid point guard play, baseline scoring, and a competent post up game are ingredients for offensive efficiency. And you know the Panthers will defend. Only question mark is depth.
7. Texas. Definitely the team with the biggest beta of the top 10. If they can find an answer at the point guard position, this team will be nasty. Here's a more in depth preview.
8. Michigan State. The fighting Tom Izzo's have some questions after losing hot shooting guard Drew Neitzel. Can Raymar Morgan be a star? Has Kalen Lucas found some range? Is Goran Suton going hold up in the low post? Expect a lot of zone until they find the answers to these questions.
9. Notre Dame. The Irish have a great inside/outside combination in Luke Harangody and Kyle McAlarney. Tory Jackson is an electric penetrating point guard that would be devastating if he could find any consistency from deep. The problem the Irish have is their inability to guard people. It takes athletic ability and a modicum of want-to and I'm not sure the Irish have enough of either. When they're hitting their shots they're deadly, but can they slow anyone down on the other end?

The Irish can score, but can they defend?
10. Oklahoma. The Sooners have a player of the year candidate in hybrid forward Blake Griffin. The Sooners back court woes should be resolved with improvement from Tony Crocker and Austin Johnson, as well as the edition of newcomer of the year candidate Willie Warren, a highly touted McDonald's All American combo guard. The problem for the Sooners is finding someone to run the show as none of the aforementioned guards have shown the ability to make plays for teammates. Perhaps Capel will opt to run the offense through Blake Griffin. If so, the talented wing must get better at taking care of the basketball.
Thoughts?