Will Muschamp will be the next head coach at Texas at some point in the future. Deloss Dodds just announced it.
We pulled a Jimbo Fisher.
That scream you just heard came from Minnesota.
I can't remember the last head coach hired at Texas that didn't have previous head coaching experience. f srr50
Have we hired the next Bob Stoops?
Will Greg Davis get a raise as well?
Muschamp mentioned how much he and his family love Austin. Duh.
Brown talking a lot about continuity. Mike Campbell just rolled over in his grave.
Muschamp called the Texas job 'an awesome responsibility.' He has no idea.
Applewhite for OC!
I think Muschamp is an excellent coach, and I'm sure he'll make an excellent head coach. But we're Texas. Coaches would have come from the forks of the branch to interview for this job. I don't think it's something that should have been bequeathed.
OTOH, when Brown does step down, Muschamp might be the hottest candidate in the country for any head coaching job. And we've already got him.
h/t to our friends at BurntOrangeBeat (pay) for breaking this story. We were sworn to secrecy. Here's their free write up.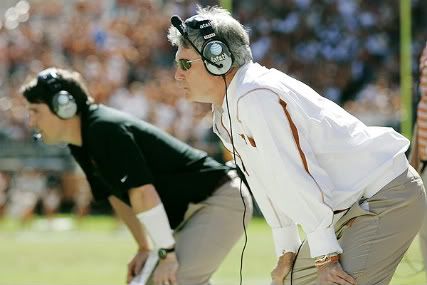 Brian Bahr/Getty Images