When Texas plays Ohio St in La Fiesta, the Horns will have had 40 days rest since their 49-9 dismemberment of Texas A&M; Ohio St will have had 45 since administering a 42-7 mercy killing to Michigan.
Injuries and aches heal, skills and timing grow a fine coating of rust, and the prideless (see Texas '00 Cotton Bowl against Arkansas; Texas '92 Cotton Bowl against Miami, '06 Ohio St against Florida) will find ways to sabotage themselves at the buffet table and on the party circuit. Ohio State DE Nathan Williams looked like he may have jeopardized his participation in the game and offered a distraction for the Buckeyes with a shoplifting charge, but Tressel relented on suspending him when he found out that they were sweatervests. In Tressel's view, Williams exhibited bad judgement, but excellent taste. And that counts for something.
So who does the football sabbatical favor?
Focus won't be an issue for either team. Don't confuse the ticket sales torpor of both fanbases with the relative motivation level of each team. This is a chance for Ohio State to demonstrate a new era of Buckeye football with a mobile playmaking QB at the helm and shake off their rap as an overrated product of East Coast/Midwestern media hype. Ohio State is 4-2 in BCS games. With some key personnel changes, their last two BCS losses are no more predictive of this contest than the previous four wins. Different teams, different stakes, different dynamics. The narratives in college football are fluid: Ohio State can become New Era Team Clutch with a win. Texas has demonstrated a consistent level of preparation and pride all year, one half in Lubbock excepted. We have a considerable ax to grind with the BCS cognoscenti who relegated us to a perception bowl while elevating a team we beat on the field based on the ballot process of High School Homecoming King. I'm sure we'd like to make a statement. I'm also convinced that the first time Beanie Wells hits you, you're just playing football and all of that goes out of the window.
From a personnel standpoint, we get back C Chris Hall (who may or may not start for Snow), DE Brian Orakpo gets fully restored, and the Buckeyes get back nickel back Jermale Hines and a mediocre in DT Todd Denlinger. Beanie Wells will have healed his litany of ailments, but his NFL draft status may be the greater distraction. Jordan Shipley and Quan Cosby will have recovered from their numerous nicks and scratches. On balance, this layoff might seem to favor the Buckeyes except for one thing: with six weeks rest, Colt McCoy will longer resemble Rocky Balboa near the end of Rocky 14. That means his legs - our running game - gets a serious shot of B-12. If Ohio State defends us the way I think they will, Colt's legs will probably be the primary factor in our offensive success.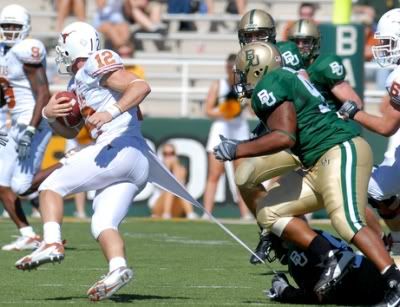 Feets don't fail us now
There's precedent to this: running QBs always look beaten and run a little more like Todd Boeckman near the end of the year, then magically rejuvenate themselves during bowl season. Contrast Colt McCoy's aggression, speed, and elusiveness during the Florida Atlantic and Arkansas games and then think of the shots he took against OSU, Texas Tech, and A&M and his demeanor in those contests. We'll see a spry Colt McCoy against Ohio State and that will mean a lot for our ability to improvise and ride him on QB draws, get movement in the pocket on bootlegs, and even run some zone read.
For a recent example of what fresh legs have meant to Texas QBs in bowl games, see VY vs. Michigan (21 for 192), VY vs. USC (19 for 200), Colt vs. Arizona State (16 for 147, but a net of 84 because of a long negative play). And given that this is the last game of the year, there's nothing to save him for: if a our winning effort necessitates 15-20 runs from the QB position, it will happen.

Fresh legs = legitimate running game
Won't Terrelle Pryor benefit from the same fresh legs/healthy body dynamic? Of course. Just not as much. Pryor is a 235 pound kid who is better able to take the slings and arrows of a LB shot and he also represents a much smaller percentage of Ohio State's offensive output. He took nothing like the beating that Colt took all year.
If you're looking for a small edge going into this game, this will be a key one.