Ask anyone that pays attention to the sport of college football about 2009 and you'll hear a relatively consistent POV.
"Florida is #1 and no one else is close."
"Texas and OU are #2 and #3."
"The sweat off of Tim Tebow's balls can cure shingles."
"Kirk Herbstreit's eyebrows connect to his hairline."
"Erin Andrews is Trev Alberts dressed in drag."
"USC will be top 5. So will Ohio State. The ACC will be down."
Etc., look, the list is fairly consistent no matter what boards you visit, no matter what articles you read. While I can't disagree with Texas and OU being #2 and #3 to start the season, or Kirk Herbstreit's eyebrows, or Trev's magnificent undercover move to get back on ESPN, the other stuff is debatable.
I am often wrong, but rarely in doubt, and while this post is early, that's hardly a hurdle. With that considered, what are the other powers, or alleged powers, losing this year? Who is really going to be a challenge to play for it all besides UF, Texas, and the blowkies?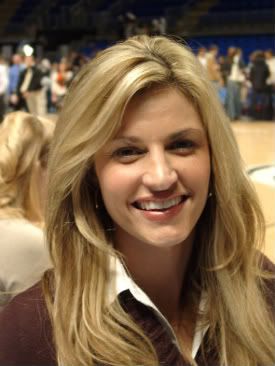 "I'd rather be on the sidelines than seated next to Lou Holtz anyway."
USC
The Trojans had a historic defense this season. That defense damn well should have been good, as they started 9 seniors. That does not include Taylor Mays, the All-American safety that happens to be a junior. I remain stunned that he didn't go pro. There is a strong case to be made that had he elected to go pro, Pete Carroll was going to teabag his face at the press conference. I guess with that considered, it shouldn't be that stunning. Kevin Ellison was hurt and didn't always start at SS, so splitting hairs, someone might say that they only lose 8 seniors on defense as Will Harris is a junior that started in his stead. USC obviously has a ton of backup talent that played a lot, including Michael Morgan from Texas and Everson Griffen from Arizona. Whatever the case, the defense has no choice but to step back from this year.
On offense, don't let the numbers fool you, USC sucked out loud. Bearded ladies at the carnival look better, even HenryJames' mother. The love affair for Pete Carroll's coaching minions baffles anyone paying attention, but it is humorous nonetheless when one is hired elsewhere. Luckily for everyone, even if the weak coaches don't return, at least most of their offense does. Byers was an excellent OL and he's gone. The overrated Patrick Turner exits as well. Never underestimate a USC player's ability to overestimate, and we saw this again with Matt Sanchez declaring to go pro. I honestly laughed out loud. One scout was quoted saying "I have never seen a college player make more NFL throws than Matt Sanchez did against PSU". I don't even remember where I read that, nor do I care. It is hilarious. The USC halo effect on their skill position players within the NFL is something to behold. Surely there are teams moneyballing this shit and winning in the draft as a result. I realize that everybody loves USC in the media and the pros, but consider some simple data disguising itself as names. Matt Leinert, Reggie Bush, Lendale White, Mike Williams, Dwayne Jarrett, John David Booty, Carson Palmer. Some will argue Palmer doesn't fit, but doesn't he? This guy was injured a lot in college too. That shit can translate. Anyway, this is a huge digression, but it is fun to hear about how great Matt Sanchez is going to be.
Anyone rating USC in the top 10 is getting high on their own farts. USC might wind up there, but that has to be proven. This is a rebuilding season for these guys, talent cupboard full or not.
Ohio State
Our pasty jort lovers from the Rust Belt were chock full of senior talent. As well, with Ohio State, you can pretty much bank on a junior or two heading out. Maurice Wells is a backup these days and gone for sure, but Beanie Wells was a junior and was already banged up, so not surprisingly, he split. A back only has so many runs in them. See Earl Campbell and Ladanian Tomlinson. I don't think anyone can blame Beanie, credibly, for leaving. Robiskie would play TE in the Big 12, but he was a blazer north of the Mason-Dixon line. He's gone. Hilariously, Brian Hartline left as well. I cannot fathom his impetus for leaving early. Perhaps he's got children to look after. Perhaps Tressel was forcing him to wear sweatervests in the lockerroom. It is hard to determine from afar. If he's drafted on day one I will laugh out loud. They also lose two senior OLs, one of whom is Alex Boone. He's pretty solid. My guess is that the other OL, Rehring is good too, as they usually produce quality OL, but I can't attest to having watched him much. Boeckman is also leaving, which means they won't have an experienced backup, should Pryor go down. Those are some significant losses on offense.
The Buckeyes get hit as hard on defense, which is where their bread has been buttered. They lose Nader Abdullah at DE. He was the best DL based off of what I observed before and during the Fiesta Bowl. The real problem is what they lose in the LB corp. Laurinaitis and Freeman both finally leave and they were the heart and soul of that D. Malcolm Jenkins is also done at CB and he was damned good. Donald Washington opted to leave early. I guess he decided to take his "cart me off the field now so I can heroically rejoin the fray in 6 plays and then you can carry me off again" act needs a broader audience. Somewhere, Kellen Winslow, Sr., and Antwan Kirk-Hughes applaud this move. Beyond the O and D losses, the fighting couchburners also lose their kicker and punter. Those are 2 key losses for a Tressel coached ballclub. They do bring back another kicker that was 5-5 this year, so it might not hurt too much.
I remember when OSU lost a bunch after the 2005 season and I thought they'd fall off. They didn't and they played for it all in 2006. I respect their ability to reload, so I don't doubt they'll be good next season, but that is a ton of talent to cover.
Virginia Tech
Who in the hell wants to discuss Virginia Tech? Frank Beamer has turned down interviews to discuss them. I don't blame the man, or his faux goiter.
While Beamerball is certainly overrated and thankfully less discussed these days, Va Tech is still a maddeningly consistent top 25 club. They mix in the odd year every half decade or so where you have to consider them a viable lamb for slaughter in the national title game if the favorites lose one. This could be one of those years.
Perhaps you were one of the 99% of the college football fans that Fox describes as fair weather for opting to watch porn or CSI the night of the Orange Bowl. Shame on you, or something. You missed Tyrod Taylor honestly behaving in a manner befitting someone that had people watching. I don't mean his play, as it was lauded by sportscasters yet sadly mediocre, but his sideline antics as the game was wrapped. This deluded fool acted as though his performance mattered and people cared. Unfortunately, he's got a shot to behave the same way next year under bigger spotlights. Sean Glennon was ordained the starter before the season started by Beamer after a weekend with booze, hookers, and Carl Reese. He's now done, so the backup QB spot is a problem. The starting C, an OG, and the Fullback (these are actually used in the VT offense) are also gone. All in all, the offense doesn't lose much. They are very, very young at the skill positions.
Defensively, the Hokies are always strong. Perhaps not nationally strong, but ACC strong. ACC strong will usually get your defense rated in the top 10 nationally, whether real or not. These guys lose a bit more on defense, but not a ton. They lose Orion Martin on the DL (DE) and he is a stud. Warren and Sturdivant were their top two tacklers. Both of these LBs are gone too. Victor Harris was their best DB and he's also gone. Those all may seem like big losses, but those are the only losses. The guys they return will largely be Seniors. They have to be considered an early favorite for the top defense in the country, statistically. Their opening day game against Alabama in Atlanta will be a big time match-up on paper.
VT loses some talent, but not in dramatic numbers. This is a team that can play for it all if they catch some breaks and beat Bama early.
Miami
No one is talking about these guys, which is refreshing. I guess the problem is that they should be talking about them. Looking at the ACC, most writers seem to think there really isn't much to believe at a national level for 2009 besides VT. Some will argue Florida State and they should be kicked hard in the nuts. Personally, however, I do think Miami is worth concern.
Offensively, they return everyone except Robert Marve, Reggie Youngblood and Xavier Shannon. Robert Marve had his initials tattooed on his triceps. I am not sure a Quarterback dumb enough to forget his own name and dumber-erer to then have his reminder for his name tattooed in one of the spots on his body where he can't actually see it is even a loss. Harris was pretty good as a Freshmen to end the year, anyway. I forget where Marve wound up in his transfer, but that place is dumber for it. This may define addition by subtraction. Reggie Youngblood made a mistake leaving the state of Texas to go to Miami and he deserves the suckitude he receives for being a traitor. His is a loss to the O, nonetheless. Shannon was more or less a decent OL at Center for the Canes. I am sure he's replaceable to everyone but his father.
Defensively, Miami doesn't have many pieces to pick up. They lose 3 starters, including two LBs and Dixon on the DL. That's it as far as starters go. Reddick at safety finished backing up, but he's gone as well.
Miami loses basically 6 guys out of 22, plus they return the kicker/punter. These guys might be a year away, but Miami will be back. I hate them for it.
Florida State
One of the posts I'd really enjoy putting together or seeing someone else put together would be "The College Football Dead Pool". I am not sure where I'd have Bowden in my top 5. Off the top of my head, I think it would look something like this:
1) Ralph Friedgen – this glutton could fail at any moment.
2) Joe Paterno – there is little doubt that this guy died on the sidelines three years ago and PSU simply hasn't declared it yet.
3) Mark Mangino – He's almost as explosive as his offense will be next season. In my fantasies, 6TimeBig12Champs chokes on a ham sandwich and is sentenced to being Mark Mangino's toilet seat in the afterlife.
4) Pat Summerall – This guy called this year's Cotton Bowl, so he qualifies. That he's functional is debatable, but no doubt a testament to science.
5) Bobby Bowden – In spite of wearing a diaper on the sidelines and carrying four loose skin neckrolls, he still appears pretty with it on the sidelines. I can't ignore the fact that he's literally passed the average life expectancy of an American male, however.
***Honorable Mention goes to Farley Weis. He could go due to physical problems or an attack from the stands. Weis is such a sad sack of shit as a physical being at this point that both of his knees are completely wrecked and they may have to eventually cyborg his lower extremities.
"What?! You don't think I can eat this podium? Dare me one more time!"
Where was I? Oh, FSU. There is a reasonable amount of data at this point highlighting the notion that FSU is as half-dead as Bobby Bowden. The offense this past season was as lifeless as aggie spirit and simply adding another of year of experience to that side of the ball for the most part means little. Christian Ponder is an embarrassment to the proliferation of Texas HS QBs across the country. That said, what is the allure of Jimbo Fisher at this point? He just had his succession guarantee raised to something like $5million. His offenses at FSU have averaged almost exactly the same national ranking as those of the dismissed Jeff Bowden. That's not a plea for nepotism, but an indictment on the common perception of Fisher. FSU almost certainly falls apart with Bowden's death/exit. In 2009, however, they only lose the TB, Smith, and Carr, the WR. A really young OL returns fully intact.
Defensively, I do not doubt Mickey Andrews. That considered, they do lose some key talent on the defensive side of the ball. Both DEs are gone, including Everette Brown, who declared early. They lose two LBs, a CB, and a Safety. Rolle didn't go pro, but he graduated and won a Rhodes Scholarship, so I am not sure if he's back or at Oxford next year. Whatever the case, at a minimum, FSU loses 6 of their 11 defensive starters.
Overall, FSU loses 8 of their 22 from a team that won a bowl game and looked decent at times. They still seem to recruit pretty well, especially on defense. With all of that taken into account, this could well be a top 10 team next season if the ghost of Chris Weinke inhabits the body of Christian Ponder and Bobby Bowden continues to breathe oxygen.
Notre Dame
I groan as much as anyone when I consider Notre Dame being anything more than a laughingstock. It's been nice that, of late, they're discussed in the media only as a failure and a joke. It would be nice for that continue, but they're going to be a good ballclub in 2009. Oddly, none of the folks covering college football seem to have picked up on that in their top 25 so far, at least the rankings that I've read.
Offensively, I am not sure Notre Dame is going to have a decided schematic advantage against every opponent. They will have a pile of talent. They lose only the LT, Turkovich, the FB, and Grimes, one of the WRs. In effect, if they can find someone to protect Clausen's backside, and his coif, they should be in pretty good shape offensively. Actually, the reality of it is that they'll be in a decent position until Clausen launches another laser shot into a DB's chest. If they keep him reigned in, they'll be in good shape, excepting Pear Bryant's physical make-up. The loss of Mike Haywood is a blessing for them. Has anyone ever failed upward with more fluidity than this piece of garbage?
Defensively, the losses are heavier for Notre Dame, but not devastating. They lose both DEs and Maurice Crum at LB. They also lose both Safeties. I am not sure that's much of a loss.
Overall, Notre Dame loses 8 starters from their 22 man lineup. They've brought in solid talent under Farley's tutelage, although Tom Lemming would tell you that the talent is unparalleled. I am pretty sure even that guy's hair and turtleneck mock him. Anyway, they look a lot like a top 20 team with potential to surprise even further. I will happily be wrong.
Oregon
These guys lose their best TB, two best WRs, all 5 OL, best defensive player at DE, 2 LBs, and 3 DBS. I have no clue why these guys are referenced as being able to compete next year in their own conference, much less beyond that.
Georgia
UGA loses Fatt Stafford, Moreno, Massaquoi, 3 DLs, and 2 DBs. They will not be in it to win it.
LSU
These guys are a hot pick in the way too early rankings. Not sure why. They lose 5 offensive starters, still haven't figured out QB, lost the entire DL, and Scott Derry Beckwith. They also return Les Miles. What is there to like here?
Alabama
The Nick Saban love affair is kicking it up in full force right now. Great. It will be fun watching these guys come back down to earth in 2009. I enjoy watching cheaters fail, and few schools cheat the way Alabama does. They lose the mediocre QB, Coffee, and 3 OL including Smith. Defensively the losses are less severe, but they lose Cody and Greenwood on the DL, as well as team captain Rashad Johnson at safety. That is too much to be competing for it all.
Utah
No one loses more on offense than Utah, with 7 starters moving on including Brian Johnson. They are a cyclical program and will likely not be a BCS buster again until 2010 at the earliest.
Boise State
They lose 6 offensive starters and 5 defensive starters. I have a hard time taking them seriously anyway, much less when half of their starters are gone.
BYU
These guys lose a ton on offense and a little on defense. The Mountain West falls back towards the planet in 2009 with their regression, along with TCU and Utah.
TCU
Utah loses 7 on offense and TCU loses 7 on defense. TCU also gets hit at TB and on the OL. Next year would be a good year to be playing TCU. Instead we have La Monroe.
Florida
And then that leaves Florida. I won't spend much time on these guys. They will be covered and covered and covered. It's fair to consider them the odds on favorite for the title again next year.
Defensively, they literally return the entire 2 deep. That is a disgusting embarrassment of riches. Spikes is a stud. Major Harris makes me bawl all over myself when I watch him and then think of Blake Oilers and his mongoloid supporters on the Texas boards.
Offensively, the loss of Harvin is pretty big. A lot of folks type and speak of Demps and Rainey as though they're replacements for Harvin. Ok. Tebow we know. Most of the OL comes back. Hernandez. These guys make me want to kick my neighbor's dog.
F Florida and neighborhood canines in the face.
It doesn't take much to look at some of the other schools that folks mention, such as West Virginia, Michigan. Iowa, North Carolina, Tennessee, Louisville, Rice, etc., and then dismiss those scenarios. So I will. I am sure someone else will pop up, but it isn't hard to look at the landscape as of today and feel pretty damned good about Texas' chances to play for it all.
Thoughts?