That was wild. I guess Vegas knows what they're doing, after all.
Texas has now beaten Oklahoma 7 of the last 8; 12 of the last 16.
Dexter Pittman should be in Indianapolis at the combine fighting for first round money at LT. Or appearing in the next Jean-Claude Van Damme action vehicle, for he possesses the Dim Mak. The game turned when, after playing some hellacious defense on Blake, Dexter gently (and inadvertently) brushed his hand across Griffin's face in the first half.
Sexy Dexy's sasquatch paw gave the 6-10 250 pound Griffin a severe concussion, an aneurysm, a nose bleed, the inability to look at light without a trainer's hand cupped over his brow, the inabilty to see magenta in all of its forms, covered him with a distinct beef jerky smell, and gave him the confused stare of a banjo strumming mongoloid at an Edna, OK gas station.
The theater on the OU bench throughout the game was amusing.
Blake, you are severely injured! Don't look at the scoreboard lights! They are searing your concussed retinas! But, but I must! Put me in! No Griffin, Pittman will give you another aneurysm via hamfingers across the bridge of your nose!
Seriously, I hope Blake is OK. He should be fine. And remind me never to piss of Dexter Pittman. Dude needs to go find the Kumite.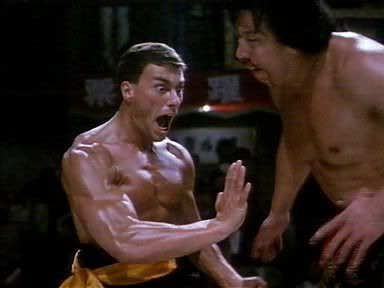 Willie Warren destroyed us. In every way. Like, with cramps in his calf and whatnot. He is sick. He gave a great preview of why OU will be pretty good next year even without Blake Griffin. He and Juan Patillo should form a quality combo.
Austin Johnson continues to be one of the best sorry players in college basketball. He's pretty good. But kind of terrible. I really can't make sense of him. His Delta Chi pledge name is now...Platypus.
There is a great learning from this game for Oklahoma - specifically, they have a better basketball team when they don't force Griffin as a weapon. Truthfully, I hope Caple missed it.
There was learning for us as well: Damion James proved again why he's a very good college 4. He's too quick for big guys, but he's strong enough to finish and bang inside. We need to drop all pretense that he's a 3 and let him be what he is - NBA projections be damned. I hope he does come back and I hope we start him in a DDM offense featuring a two-headed Lucas/Dogus point, Bradley, Hamilton, James, Pittman. I would fear only a Boeheimian zone and we would rock.
AJ Abrams was spectacular in the second half, making big shot after big shot. His game was Biblical: trials, tribulation, redemption, desert wandering, locusts, honey, salvation. Rest well tonight, Abrams-child. Thou hast freed thy people. Dude will step up and take the big shot time after time. Nice to see it fall when it mattered most.
Dogus flashed his ability and athleticism once again. He didn't play a perfect game, but his ability to attack the rim and create shots for others is not inconsiderable. 10 points, 8 rebounds, 9 assists, 2 turnovers - that's a way to fill up the stat sheet in Jason Kidd-like fashion. I'll take that to the bank all day, even if it is a wheelbarrow of Turkish lira.
And just like that, hope is reborn, we've guaranteed ourselves an invitation to the Big March Sock Hop, and we're all indulging insane fanatasies of how we'll advance past the first round as a 8/9 seed.
This is why sports are fun.
Be sure to read Trips Right's post-mortem.