"I've seen you guys can shoot, but there's more to the game than shooting. There's fundamentals and defense." --Norman Dale
Yes, that's correct, coach. But the ability to shoot the basketball makes everything else on the basketball court much, much easier. Teams that can shoot can cover up a bunch of warts. Teams that can't shoot, need to be more efficient at everything else to win. They must rebound, take care of the basketball, and play defense like nihilist marmints to beat good teams. Shooting is like throwing strikes in baseball or blocking and tackling in football. Do it and it makes everything easier. Don't and it's like eating soup with a fork. "Now Scipio, put Bragg on your shoulders and measure from the rim to the floor. Ten feet? Good."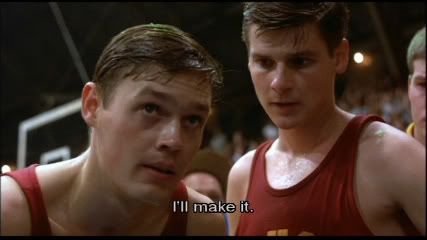 Bottoms...
On to the players...
AJ Abrams
Watching AJ Abrams last night was like a watching a recovering alcoholic at a wine tasting seminar. I suppose having four other guys on the floor who couldn't beat HenryJames in a game of HORSE if he was spotted the H and O, gives "the Sleeve" license to run around and jack shots that Vinnie Johnson would be embarrassed taking. It's tough to blame AJ though when Mason is shooting jumpers with forward spin and Balbay is threatening women and children in courtside seats with menacing rockets. This raises an interesting philosophical question about shot selection. Is a contested 25 ft. fadeaway jumper from AJ Abrams really a bad shot compared to an uncontested 15 footer from Justin Mason or Dogus Balbay? After some deliberation, the answer is still yes because the latter would rather dribble out the shot clock than shoot that shot. AJ Abrams is just looking for an excuse. I won't lie, I was humming Third Eye Blind's, "Can I Graduate", everytime the Sleeve touched the ball. And I hate Third Eye Blind like Sailer Ripley hates athleticism.
Damion James
I'd love to see Damion on a team where any and all decision making in any form is taken away from him. Let him roam the baseline and give him a two way go. One power dribble to finish or a simple little pull up. It's tough to rail on a guy that went 18 and 18, but DJ's bone headed play makes it so frustrating to watch. He needs to come back and allow his misgivings to be insulated by skilled basketball players that will make the game easier for him. Then James will get drafted in the first round and Mike Mamula some poor NBA franchise that saw his 50% from the field as a resounding improvement and a credit to mature dedication going into his senior year. To their horror, that franchise will realize that Hamilton, Bradley, and Lucas weren't included in the draft pick.
Connor Atchley
Connor showed flashes on the defensive end with a couple big blocks and some nice positional help defense on would-be penetrators. But Bob in Houston had more points than Connor last night. Bob's were found in the comments section of last night's game thread. I see a big goose egg next to Connor's name in the boxscore.
Justin Mason
Another glue guy that needs something to glue together. His defense on James Anderson was great, and he'll be a good role player on next year's squad. But right now our glue guy's play is tantamount to being unceremoniously eaten by a 1st grader.
Gary Johnson
We really missed him last night. From the four spot, his ability to operate as a face up player from 15 ft makes him the only truly dynamic offensive weapon on the squad.
Dogus Balbay
It's true that Dogus could be Khalid El Amin or Mateen Cleaves on a team that surrounds him with skilled players and shooters. The problem is the aforementioned "non-shooting" point guards could hit a 10 foot pull up and Dogus can't or at least hasn't. He'll need to if he wants to remain on the floor next year. Dogus' inability to score is costing guys like Dexter Pittman touches inside, and that can't happen on a team that wants to be elite. Defensively, however, Dogus is elite in every sense of the word. His on ball checking of a Eaton was as stifling a performance as I've seen on Byron. Balbay's improvement shooting the basketball will determine whether he's a starting point guard next year, or backup point/defensive specialist.
Varez Ward
Ward is in the process of having his confidence coached out of him. He gets ripped for taking an open 3 late in a shot clock. Defensively, he's turning into a shell of the player that defended so well early in the year. It wouldn't shock me to see him transfer.
Harrison Smith
You do realize that Harrison Smith is the antithesis of what's going on with Mason, Atchley, and Ward? Cortez burned Harrison's ship early on in his career. Harrison has nothing to lose by coming in and jacking 3 after 3. And he's hitting some of them. Hell, what's Barnes going to do, double bench him? It's this nothing to lose confidence that needs to be instilled in players that are vital to any offensive success your team might have. Mason, Atchley, and Ward need to be granted the sacred cow that is the green light. Certainly Mason and Atchley have earned it at this point in their careers.
Clint Chapman
Seven shots in eleven minutes for the Oregon big man? Wow. He's either been green lighted, he's auditioning for a transfer, or both. I had as many rebounds as Clint Chapman did last night, though. But in Clint's defense he was playing against one of the elite frontcourts in the nation.
Dexter Pittman
If you want to feel sorry for someone, feel sorry for Big Dex. Nothing's come easy for him. He's dropped a Dennis Kucinich to get down to a decent playing weight, and now he's being guarded by, with deference to Sailor, his man, Dogus Balbay's man, and Dogus Balbay. Dropping 12 points in 20 minutes while double teamed the entire time is pretty good.
Coaching
I love him for being tough, but this ain't the team to coach tough with. Next year's team will certainly be different and benefit from Rick's fire. Look no further than the success this team has when it presses. Quite frankly, we aren't a very technically sound pressing team. Athletically we're suited for it, but you can tell we don't spend a bunch of practice time with pressing nuances like pinching the middle, stopping dribblers, spacing, etc. The reason we play better when we're pressing has everything to do with psychology. When Texas is pressing the players stop thinking, and instead they just play instinctive basketball, especially on the offensive end. Rick should really look into playing playground ball the rest of the way. It'll loosen the kids up and it might result in less 18 point stanzas.
Other than that, here's to next year.
Thoughts?
Also, check out PB @ BON.