Taking our canine carnival to the South to do some old fashioned whoofing. Pending plantar fasciitis issues this should be a cake walk for the Heels into the regional final. If Lawson can't go in the second round or beyond, the top side is up for grabs. But assuming he plays, the weakness in this part of the South is apparent. Illinois is the weakest 5 and Gonzaga is arguably the weakest 4 next to Washington. This is how things shake out up top assuming Lawson is dinged.
I like Butler's three headed monster of Matt Howard, Shelvin Mack, and Gordon Hayward. Howard is a premiere pivot man, Hayward is that coveted small forward that can shoot, and Mack is a scoring guard. Think of these three as a poor man's version of Pitt's Blair, Young, and Fields. Like Pitt, Butler brings some terrific role players to the party with deep shooting specialist Zach Hahn and athletic wing Willie Veasley. These 5 defend like their hair's on fire, and other than Howard, they all shoot well from deep. I like them to knock off LSU because eventhough the Tigers have better athletes, Butler plays better team basketball.

Howard must control the middle for Butler to advance.
I've got UNC beating Butler by the the cuticles of their big toes. Howard will simply be swarmed by athletic bodies fouling out in the end. For a visual, see the bath house two blocks south of Scipio's flat.
In the other topside foursome, I'm still trying to figure out why the Illini got a 5 seed. They are absolutely atrocious on the offensive end and while you can win games with defense, you have to be able to ring the bell consistently because your tournament opponent will at some point. Also, I have a hard time putting my money on any team that is held to 33 points at home vs. Penn State...or Michigan State...or the '89 Pistons for chrissake. WKU is getting to atleast 60 with shooters/scorers like AJ Slaughter, Orlando Exxon-Valdez, Sergio, Kerusch and Steffphon (got all your letter F phonic bases covered) Pettigrew. Western Kentucky starts 4 similar sized G-F's that can all score, and 6-9 Jeremy is the only headtopper for the Hilltoppers. He'll clean the glass. There are too many offensive weapons for the Illini to deal with, and they've proven that they can't hang in a shootout.
I like Gonzaga to handle Akron now that Josh Heytvelt has returned to the level he was playing at prior to being caught selling the Alice In Wonderland Experience out of his car.

The force has been with Heytvelt lately.
Heytvelt should also be the difference when facing a game WKU club in the next round. Boldin, Day, Pargo, and Gray matchup well with WKU's perimeter gang of four, and with Heytvelt, they should be able to exploit the Hilltopper's weakness inside and rebounding the basketball.
So Gonzaga gets a Lawson-less UNC after Ty re-sprains his toe for the 3rd consecutive game early in the first half. Boldin and Pargo control tempo, keeping UNC out of their patented break, as UNC reverts to their patented Loyola Marymount style defense of lets worry about pulling the ball out of the net instead of blocking out or showing helpside. Somewhere Adonis Jordan and Rex Walters are laughing. Ditto for Eddie Rivera and Prince Stewart, albeit for different reasons. The Bulldogs are too much and they advance to the regional finals.
The lower bracket in the South is top to bottom the best 8 teams in the tourney edging out the West's lower half. Clemson should be a five, Michigan has two NBA players and they're a 10, OU's been vying for a number 1 seed all year and they have the best player in the nation, Syracuse is the hottest team in country, and Dionte Christmas of Temple wins games by himself.
I think ASU's matchup zone will neutralize Christmas much like the Grinch and commercialism. Harden will take a starring role, and Herb Sendek will play the little dog dressed as a reindeer pulling the sleigh. Syracuse will remind SFA that they're still just a party school.
Then, in a battle of zones and bald coaches, Syracuse will outlast the Devils on the glass with Onuaku and Harris doing damage against the Sun Devils' interior one man gang Jeff Pendergraph.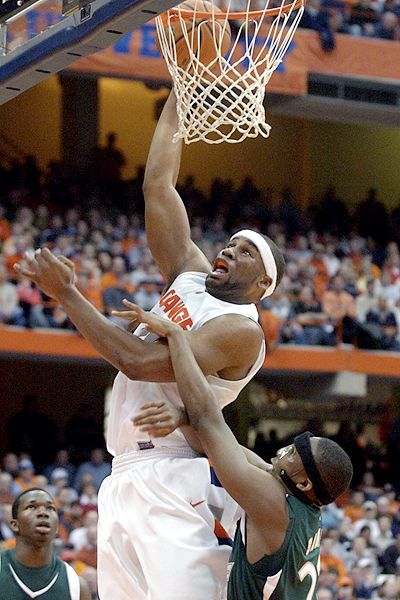 Onuaku is the Cuse's secret weapon.
In Kansas City, I like Clemson to speed up Manny Harris and Michigan to the point where they're out of their element. Sykes and Booker will own the glass because of the lack of block out assignments in the Wolverine zone, while Demontez Stitt probes the Beilen's defense for open looks for shooters like Ogelsby. Bad matchup for Big Blue.
In the other game, Blake Griffin will dunk on Morgan State's would-be charge taking point guard, reach down and quickly extract the guard's pituitary gland, inject his biceps with the gland's contents using the proper aspiration, and still get back on defense. Sooners get the W as Bears fans look on in horror.
I like the Sooners to knock off Clemson mainly because OU will have 3 or 4 decent to good ball handlers on the floor at any given time. Clemson makes the decision making process really easy on you if you can break their press. I like the fact that the Sooners can hide Blake Griffin on Sykes, why Taylor Griffin and Juan Pattillo take turns guarding Booker. Sooners will have a field day breaking and finishing against the press.

Superhuman.
Sooners then face the Orange for the right to play Gonzaga. Onuaku is the key in the middle of the zone because he's similar in size and ability to Dexter Pittman, a player that has had tremendous success against Blake Griffin. Something else to watch is Syracuse's defensive improvement. They've played a much better team zone of late and it's led to a resurgence that has garnered a 3 seed. As you know, ball movement is the key to beating Boeheim's defense and I'm not sure the Sooners have the kind of chemistry necessary to exploit the zone's gaps.
If Warren is standing and watching, or Griffin is standing and watching Warren, it will be a nightmare for OU. Plus, Syracuse is athletic enough that they won't be giving away cheap possessions on the glass. I really like Cuse's matchup with OU and I think they'll get the upset.
In the regional final, Gonzaga will have the same problems that most people have with Syracuse. Paul Harris at the 4, Onuaku at the 5, Rautins at the 3, Devendorff at the two, and Johnny Flynn running point put 5 complementary players on the floor that make them a team that's hell on wheels to guard. Harris, Flynn, and Devendorff can get their own shot, Rautins is a pure shooter, and Onuaku is shotblocker and rebounder extraordinaire. Their zone is like facing a knuckleballer.
Plus, the Cuse is hot, like Jim Boeheim's wife. Cuse to the final four.
Bracket Sleepers: Western Kentucky, Butler (if Lawson can't go)
First Round Best Bets Against the Number: Butler +2.5, Clemson -5, Western Kentucky +5, Arizona State -5.5, Syracuse -12.
All Regional Team: Johnny Flyn, Jeremy Pargo, Blake Griffin, Paul Harris, Trevor Booker.

Overachieving with Mrs. Boeheim.