My two year old came up yesterday and in his broken English/Mork from Ork dialect he asked me why his two older brothers beat up on him. After careful fatherly consideration I replied, "Because they can, son."

Tyreke Evans is a big brother.
And that about sums up the West Region. Paternal pearls of wisdom not withstanding. The two big brothers in this region, in my book, should be seeded 1A and 1B. UCONN certainly deserved their nod, but you can't tell me that Memphis, going undefeated since December, and holding its last six opponents to 39, 49, 41, 47, 60, and 42 points, didn't deserve a 1 seed. But that's neither here nor there at this point in the game.
In deference to the Memphis slighting, however, we'll switch things up and start at the bottom of the bracket and work our way up. It's the least we could do for Coach Cal. Y'all think I should invoice him for it? Anyway, Memphis will catch a 1 seed worthy second round opponent when it faces an overseeded Cal team or the Terps who probably didn't deserve a bid. I'll give the Terps the nod because they play in a better conference and get better guard play.
Memphis should be able to lock down the human rain delay point guard that is Grievous Vasquez. Yes, I didn't misspell his first name, it's just that Vasquez is grievously slow. You think the Tiger greyhounds will have trouble staying in front? Neither do I. Memphis rolls.

Demarre Carroll is usually a matchup headache.
Moving to the Boise side of things, Mizzou is an Ivy League school's worst nightmare. Usually teams have to do artificial things like press to speed the Ivy's up. Not Mizzou, it's part of who they are and they'll crush Cornell.
The other game features everyone's glamor upset pick Utah State vs. a reeling Marquette team. Not so fast, Maurice Acker is just now starting to round in to form as an answer at pg for the injured Dominic James. He's a better distributor of the basketball and he's a better shot selection player than the injured James. Maurice is not the player James was, but the Golden Eagles aren't as bad off as folks think. Utah State can't exploit Marquette's lack of size, and guards and perimeter scoring win games early in the tourney. Gimme the runnin' Al's.
Al McGuire once told me that if you're about to get into a fist fight, never worry about the guy that takes off his jacket. Worry about the guy that takes off his watch. I don't know what that means, but sitting there in my living room watching the game of the week on CBS, I thought it was pretty f'cking cool at the time. When Mizzou plays Marquette, the Warriors will be taking off their watch. Why? Because Mizzou plays a style that is quite accommodating to Marquette's frontcourt personnel and style of play. Lazar Hayward and Dwight Burke have been searching the Big East over to find two suitable covers and Carrol and Lyons are a perfect match. Wesley Matthews and Jerel McNeal will be a different story for Mizzou. These two super-stars have NBA bodies and games to match. They'll also thrive in the open floor that Mizzou is sure to provide. I like Marquette to win a high scoring affair.

No watch for Al.
Marquette actually matches up really well against Memphis for the same reasons it matches up with Mizzou. Dozier and Taggert are decent covers for Burke and Hayward, but the difference is Memphis' ability to d-up opposing guards. This game will be a low scoring affair, and that favors the team with a better interior presence on the glass and in the paint. Memphis in a nailbiter.
The top side of the bracket will likely have UCONN squaring off against a BYU squad that has vanquished the Aggies by deploying 4 perimeter shooters on offense backed by a stifling zone on defense. Josh Carter can't do it all from the perimeter but UCONN's Robinson and Price can with BYU paying so much attention to Thabeet and Adrien. UCONN will funnel all those nifty shooters to shotblockers and BYU won't have an answer.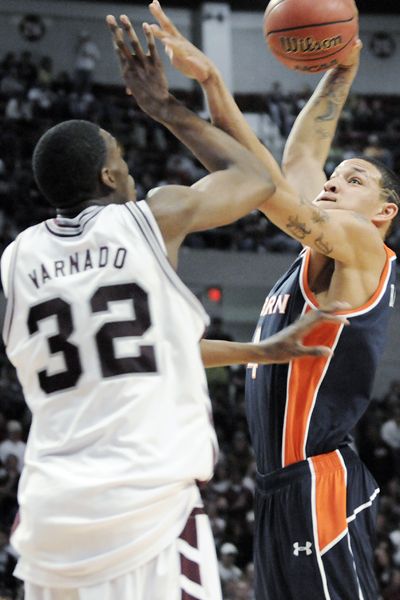 Jarvis Varnardo gives the Bulldogs a shotblocker's chance.
Washington is overseeded as a 4 and they're running into one of the hottest teams in the country and the Bulldogs have a ton of ability to boot. Jarvis Varnardo is a special inside player while Barry Stewart, Ravern Johnson, and Dee Bost can flat out light it up from deep. Dee Bost is the freshman that makes things go at the point, and after having a whole year under his belt he's almost all grows up. But the real story is Varnardo, who not only averaged a double double in the SEC tournament but had 3, 6, 7, and 6 blocks respectively in those four games. MSU wins.
Now that Robbie Hummel's back is healthy the Boilers should easily handle NIU. That'll lead to a matchup of MSU's shooting attack plus Varnardo vs. Purdue's grind you down defense. I really like what the Bulldogs have done, but the Boilers are good at a bunch of different things. They guard you, they have perimeter shooters, they rebound, and they have folks that can take you off the dribble.
More importantly, from a matchup standpoint, if Purdue replaces Calasan with Cramer, it will force MSU to guard Purdue's dynamic post JaJuan Johnson with Varnardo. Johnson should be able to pull the shot blocker away from the bucket, and that will really hurt the defensive psyche of a team that has been taught to funnel penetration to the bucket all year. Purdue wins by 8.
The game to get to the regional final won't be as close. Remember big brother little brother? Thabeet and Adrien are going to gang up on Johnson and Calasan. It won't be pretty. Stanley Robinson is the key in that not only can he guard Hummel and chase him, but Hummel is going to struggle guarding Robinson's inside/out game when Hummel's looking to help to UCONN's posts. Plus, Price and Walker are just better guards than Purdue's tandem. UCONN in a rout.

Hasheem Thabeet is the biggest brother.
In the regional final, the matchups once again favor UCONN. They'll be too much for Dozier and Taggert to handle inside, and the Memphis frontcourt isn't talented enough offensively to exploit any quid pro quo mismatch on the other end. UCONN will be quite content to let Dozier and Taggert shoot jump shots over Thabeet and Adrien. Bad draw for the Tigers. UCONN to the finals.
Bracket Sleepers: Marquette, MSU
First Round Best Bets Against the Number: Miss State +6, Purdue -8.5, Marquette -4.5, Maryland +1.5, BYU -3.
All Regional Team: Tyreke Evans, Robbie Hummel, Hasheem Thabeet, AJ Price, Jerel McNeal.