It's a good day to be Longhorn basketball fan.
Avery Bradley & Tristan Thompson's Las Vegas Findlay team just won the inaugural NHSI Rise ESPN Championship (a tournament of eight of the most elite high school basketball teams in the nation played in Maryland) dominating prohibitive favorite and #1 seed Oak Hill Academy in the final. The 74-66 final score wasn't revealing of the degree to which Findlay controlled the game.
You can watch the replay here on ESPN360 assuming your broadband provider is ESPN360 friendly.
Pretty much every player on the court was a high level Division I basketball player...and Texas signee Avery Bradley was the best player on the court. Bradley was the MVP of the tournament. In the semi-final against Montrose Christian, Bradley had 27 points, 6 rebounds, 4 steals, and 3 blocked shots.
For the tourney, I have Bradley averaging 20.7 ppg and 6.7 rpg. Also, the best defender in the tourney.
Against Oak Hill, Bradley scored 20 points and had 8 boards while playing lock down defense on the Warrior guards. Bradley is a strong finisher with a smooth mid-range game (open 15 footers are layups) and is fully capable of dropping threes on a sagging defender. I've already described some of his other physical attributes in the McDonald's All-Star Game. Despite the bright lights of ESPN cameras and the pressure of a national high school basketball championship, he played within himself and rarely forced a bad shot and never engaged in selfish play. His facial expression changes as often as Jennifer Garner dipped in Botox. He is an assassin without an ego.
Oak Hill used some Duke style flopping and Avery's own hyper-aggressive play to foul him out with 2:30 left in the game. That's when Tristan Thompson took over.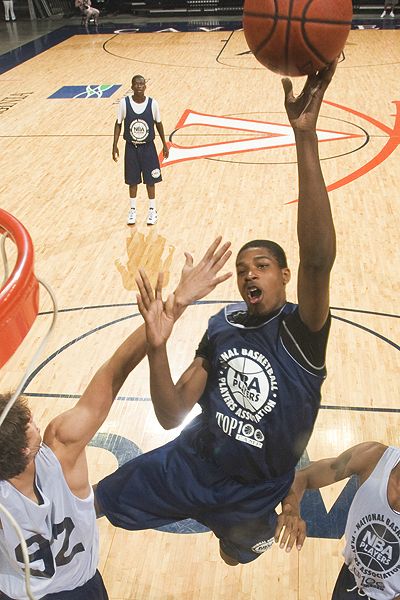 Tristan Thompson is a true 6-8 junior with a developing body. He runs the court very well, has a great feel and understanding for the game, and wanted the ball down the stretch scoring most of Findlay's last points on the free throw line and on dunks in transition. He had 12 points and 11 rebounds and will clearly be the focus of the Findlay offense next year.
He also had a couple of beautiful assists and played willing defense inside on Tiny Gallon in the second half despite giving up 70 pounds in the paint. He's a very promising kid and I'll be curious to see how much he improves over the next year and a half. I'm sure he's not done growing so we're likely to get a 6-9 230 pound guy who can handle and shoot when he arrives at Texas. Kevin Durant and Mike Wacker are the only other two players in Texas basketball history who remotely fit that description. If he's somewhere between those two in ability, I believe I'm a happy camper.
I should mention that when Bradley fouled out he stood encouraging his teammates and directing traffic on the sideline. Every timeout he met a teammate with a word of advice, a towel, water. You see his inspired play on the court paired with a total absence of ego and it's pretty clear to me that we've got a great one on our hands.
Both Thompson and Bradley have very high hoops IQs. Bradley understands defensive principles the way Bobby Knight punches chalkboards and Thompson repeatedly made the right decision and presented himself several times on offense for easy buckets that Findlay teammates missed.
Oak Hill star and OU recruit Tiny Gallon was very impressive in a number of areas. He dominated the paint rebounding and dropped down a NBA three. He has a great skill set and can handle and pass impressively for a guy his size (6-8.5 280). That written, he's not a very willing or capable defender and he tired down the stretch. Several hustle baskets were scored by his man in transition and he has no interest in team defense. Still, a crazy offensive skill set for big boy.
Be very excited about the future of Longhorn basketball.