Ah yes, that annual Spring rite where for every great play another teammate gets ridiculed for a missed tackle, lazy route, or for getting slammed to the ground by your own kicker who happens to be wearing the same color jersey. That special teams chicanery was just a clever new wrinkle from your friends in Belmont to keep you dazed and confused - the preferred state for buying decommissioned stadium grass at 50 cents a blade.

Ed Reed just called for my autograph. I let it go to voice mail.
Colt, it's not your fault Earl Thomas jumped that route for a pick six like a Pro Bowl safety. Earl was playin on Sunday like a Sunday playa. Fortunately, we know what we have in Colt and his paltry stats from the game can be summarized by high winds, dropped balls, Garrett Gilbert's looming presence, and duct tape coverage in the secondary.
Assuming the development of Scott/Brewster/Gideon continues and we refrain from getting too excited about No-Brew's gimme INT, we will be fielding an elite secondary this fall in the vicinity of the group that won a crystal ball in 2005. And these are still some young pups we're trotting out there.
Curtis Brown is getting his shit together, even if he still tackles Trachea-first. Michael Huff perfected that style but it was accompanied by a jiu jitzu grappling hook takedown at the ankles. Combined, the two moves earn you a Thorpe Award. With just one, you tend to get dragged down the field by wide receivers, which doesn't bode well for playing time. Still, it says a lot that Curtis came out with the 1's over Deon. The high-flyer from Gilmer is just getting started.
After watching Deon's punt return in the second half, the thought may have crossed your mind that he should have been playing WR all along. Or maybe you were cringing knowing a Brackensized hit could send him into your daughter's lap in the third row. But you also got the sense he's finally fighting for his job and the ball-hawking playmaker we saw at West-Orange Stark could still emerge as that much needed 4th DB. Instead of watching a guy who didn't want to hit anybody, on the punt return (no live punts in the orange/white game, Deon!) we saw a guy looking to be hit.

I'm looking to be hit ... the name is Tex but you can call me Scipio.
I had written off Dravantti Johnson as this year's most likely Disappearing Tweener Candidate but he showed far more lateral movement and instincts than I had ever given this formerly prized Aggie decommit credit for. He even showed a nice burst off the edge in the coverage sack. Props to #43 for sticking out on an otherwise lackluster 2nd team DL.
Bruno's take: E. Acho is muy macho. Dude certainly looks the part and plays meaner than his big bro. Keenan Robinson was also active and seems to have bulked up in the off season. Or could it be our formerly talented high school linebackers are building on said talents once in college now that they are getting proper linebacking instruction? When is the last time we even had quality depth at linebacker? Are these heretical questions? Do you think it maybe has something to do with the guy who dares you to make fun of his snakeskin & wicker weave loafers because he has zone blitzes up his sleeve that would make Monte Kiffin weep? (This is Taylor Potts' life your empty threats are playing with, dedfischer.) For all the excitement about the secondary -- and the hype is legit -- I'm equally interested to see this linebacker crew hit people and send them backwards. It's been almost a decade.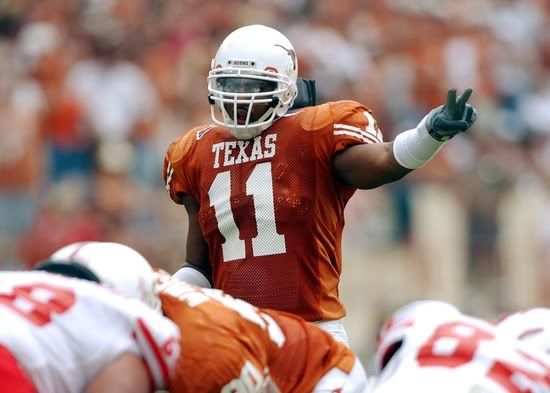 Reincarnate Thyself Promptly
What happened to Britt Mitchell? We got us an instant oatmeal backup tackle out of nowhere and it lets Tray Allen start earning those five stars back on his helmet as a guard.
Put Aaron & Malcolm Williams on KR (if only to help out Dave South) and Shipley on PR and be done with it. I don't know if I was more impressed with Malcolm's kick return or the fact that Earl caught him. Good problem to have.
The spring game is over, the offseason is officially upon us and Hammurabi's burnt orange code insists there must be more questions than answers:
So which one of you sick bastards just re-sodded your lawn for $7500?
Because it's guaranteed to be dead by the day after Thanksgiving.
But enjoy it for now, while hope springs eternal ...
Life is good and so are these Longhorns.