Get ready single women in Norman. Justin Chaisson is back on the market. After pleading no contest to two counts of false imprisonment, one count of conspiracy to commit coercion and one count of malicious destruction of property, Chaisson was sentenced to probation and will be enrolling at OU.
Come on. It's not like he talked about his deeds on Youtube.

"Babe, screwdriving is what dude's call spooning."
According to a police report, Chaisson "forced his 17-year-old ex-girlfriend into the back seat of his sport utility vehicle," "punched her in the ribs and drove her into the desert," "put a screwdriver to her neck and threatened to kill her" and then dropped her off at a storage facility after two of the victim's friends called 911.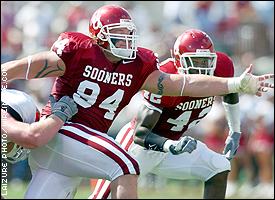 "I'd hit it. With a bat."
So what's not to like, ladies? Justin likes romantic drives, public displays of affection, vodka and orange juice and will get along great with your friends.
Oh, and he's in touch with his emotions.
"Anybody who remembers their first emotional relationship can understand those types of feelings at 18 years old," Chaisson's lawyer, Michael Cristalli said. "She was never placed in a position where Justin was going to hurt her. She was not injured."
OMG! Except for a broken heart! LOL!
Did I mention Chaisson's charitable work? That's right. He'll be putting in 120 hours of community service over the next three years.
Better get him now ladies. Before he's gone for a mandatory 10-15 good.