Ah, you just knew that was going to happen, didn't you?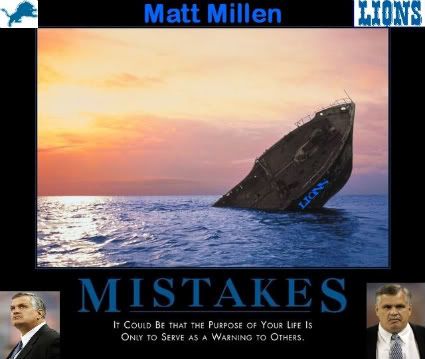 In a society that increasingly values name recognition over accomplishment and where dumb notoriety is The New Compelling, Matt Millen has been named as one of ESPN's lead college football studio analysts and will also contribute to NFL studio shows.
You'll remember, dear reader, that we saw him last on the Super Bowl broadcast where he was attempting a deftly executed career resuscitation in the spirit of Nicolae Ceauşescu.
Never mind that Millen is - without question - the worst GM of the last two decades, the sole architect of last year's record-setting moribund 0-16 Detroit Lion team, led his franchise to a 31-84 record over a seven year reign of terror, and whose last name is used as a euphemism for colossal fuck up by all Michigan residents, such as "Jesus Christ, this state is a Giant Millen!"
Don't tell that to one of ESPN's forty three executive vice presidents, Norby Williamson:
"Matt will play a major role in our NFL and college football coverage and fans will enjoy hearing the strong, candid opinions which have made him one of the absolute best analysts in the business," said Norby Williamson, ESPN executive vice president, production.
It appears that naming their child Norby was only the first of the Williamson's long litany of child-development offenses.
Matt Millen, I wish you the best. Your ability to break down players is second only to your ability to break down organizations.