Here's a great commentary on the comical, care-free Rocket post game lockerroom by J.A. Adande.
Some great quotes from a team that doesn't sound real worried about traveling 1300 miles to play the Lakers who are 41-6 at home.
When Aaron Brooks was asked about his 15-point second half, he responded, "Let's talk about the beginning, when Luis [Scola] started it off."
Yep, Scola was the key to setting the tone early on.
Brooks, analyzing Scola's impact, said, "They started doubling him," then chuckled. Luis Scola, commanding double-teams.
You can tell this Rocket team genuinely likes and respects one another. You can't say the same thing for the Lakers which is part of the problem of patching together a collection of over-paid all-stars. See the New York Yankees, Dallas Cowboys, and Oklahoma Sooners.
"We're playing with a couple of guys that are injured," Jackson said. "Lamar's out there, half a guy. That's difficult for him."
Ummm, Phil, would you rather start Shannon Brown, Andrew Bynum and Luke Walton, while you play grab ass on the bench with injured Kobe Bryant, Pau Gasol, and Lamar Odom? Or, harkening back to your Chicago days, try winning ballgames substituting Michael Jordan, Scottie Pippen, and Horace Grant with BJ Armstrong, Brad Sellers, and Dennis Hopson. Cry me a f'n river.
And then this interesting closing comment from Phil Jackson...
"You know what, you've got to just grind these things out," he said. "We could be playing much better. But we're not. Right now, it's just win by any means necessary, just win the damn series, get the hell out of this one and try to get ready for the next one."
First, the Lakers don't strike me as grinders. Second, I'm not sure you should be "zenning" your way to victory with Malcolm X quotes. And finally, the last sentence comes off like Jackson thinks it's a foregone conclusion that they win the series, which it very well may be. But it doesn't make since for a head coach to be feeding this type of attitude. You can tell Jackson doesn't know what buttons to push with this squad.
And finally, this gem of a quote from Artest...
"'Five Dollar Foot-long' is one of the best songs," Artest said. "That's a hot song. You've got the FreeCreditReport.com, and then 'Five Dollar Foot-long' comes on. When 'Five Dollar Foot-long' comes on, they should play that in the club. They should play all those in the club."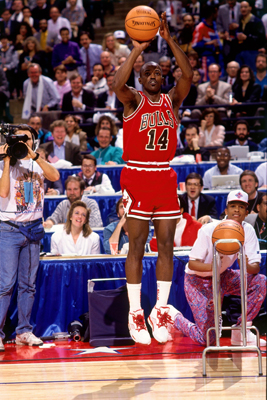 "Starting at Guard!!! From North Carolina!!! Number 23!!! Craig Hodges??
I'd say this Rocket team is loose, and a little bit looney. Artest may not know Kung Fu, but he knows crazy.