Since 1919, when Sir Barton became the first three-year-old to capture the Kentucky Derby, the Preakness and the Belmont Stakes in a single year; only ten other horses have duplicated the elusive Triple Crown, and not a one since Affirmed in 1978.
In that year, Affirmed beat rival Alydar by a nose in all three races, with the finish at Belmont being perhaps horse racing's pinnacle moment and one of the most defining moments in Sport for that century.

No Caption Necessary
My Dad started working for the New York Racing Association (NYRA) in 1976 as its head of marketing. We spent countless weekends at the track at Belmont and late summers in Saratoga watching the horses run. It was a young kid's dream playground but also the hallowed ground where owners like Ogden Phipps, C.V. "Sonny" Whitney, and Alfred Cornelius Gwynne Vanderbilt cemented their legacies, and where the world's greatest sportswriter, Walter W. "Red" Smith, worked his magic.
Whether he was covering baseball during its peak in the 40's and 50's or telling tales from the track in the 60's and 70's, Red worked seven days a week because he thought writing a column was very hard work. ''Writing is easy,'' he once said -- all you have to do is open your veins and bleed.'' He was the first sportswriter to win, in 1976, a Pulitzer Prize for Commentary.

"The name is Walter, but you can call me Red."
Thoughts on Red from his good friend and fellow accomplished writer, David Halberstam:


"Red Smith's work was not merely unrivaled on the sports page, it tended to be the best writing in any given newspaper on any given day. He wrote simply and in a supple, understated way. His wit was deft, and he brought as well to many of his columns a fine, intuitive historical sense for what was at stake on a particular day. Unlike most newspaper writing (and, especially, sportswriting), his columns stand up exceptionally well; they are the work of a true craftsman who has mastered his form. Unlike a lot of sportswriting done on deadline, particularly in Smith's era, his columns are largely devoid of the overheated emotion of the moment.
During peak racing season, Red spent every day at the track roaming around Belmont's stables and paddock with fellow beat writer and best friend Bill Heinz. This was where the big decisions, last minute hunches, spontaneous fistfights, and secrets that somehow end up in tomorrow's paper were spread. When Milton Gross, a colleague who worked for The New York Post, came back from World War II and was given a sports column, he went to see Smith to ask how you did it. ''Be there,'' Smith answered, "Go out to the games and the races and hang around and soak up everything you can."
Thanks to Red's skilled reportage for the New York Herald Tribune and later at The New York Times, horse racing had sustained its allure in the public eye since the epic Triple Crown season five years earlier when Secretariat set records that appear unbreakable -- winning the Belmont by 31 lengths in 2:24. No horse since then has broken 2:25 and one tick of the clock is a long time in horse racing.

The Shot
Wandering around Belmont and Saratoga as a kid, Red always gave me a cuff on the ear and a pat on the head. One time I got a thumbs up after kneeing Vanderbilt IV's grandson in the balls for making too much noise in the paddock. Instant street cred. Then we'd scuffle off and go see which horse could take the biggest dump. That's who we'd always root for. Secretariat traveled light.
One month before the 1978 Kentucky Derby, on March 24th, Red wrote a piece called He was named for Aly, Darling that explained the origins of Alydar's name:


"Alydar," John Veitch said, and a chestnut head emerged from a stall. "He knows his name," the trainer said, offering a cube of sugar. The names of horses often are suggested by the names of one or both parents, as in the case of Believe It, the son of In Reality that Woody Stephens in preparing for the Derby, but Mrs. Gene Markey, the mistress of Calumet, named Alydar for the late Aly Khan, a great favorite of hers whom she addressed as "Aly, darling."
Alydar was vanned to Gulfstream yesterday and pleased his trainer by working three-quarters in 1:10. A one-mile work is planned for Monday. Then if all goes well in the Florida Derby, the colt will go to Keeneland for the Blue Grass Stakes 10 days before the Kentucky Derby.
"I sort of hope Affirmed stays in California," Veitch said, "and I don't think Mr. Barrera is anxious to hook me before the Derby."
If they only knew ...
Along with Affirmed and Alydar, I was also a promising three year old at Belmont on June 2, 1978. But they weren't dressed in some strange throwback sailor outfit made for the Sound of Music. All I can remember (influenced mainly from countless tellings throughout my youth) is clinging to a rail near the finish line while pulling on my Dad's pant leg for him to give me a boost. Eventually I hoisted myself up for a better view, hypnotized by the sheer beauty of these two beasts. The deafening noise was punctuated by thousands of camera flashes as the horses came around the turn and complete hysteria ensued in a slow-motion, 20-second expanse of time where greatness was captured. The two stallions barreled side by side neck-and-neck down the backstretch, jockeys literally rubbing knees. The crowd was split almost evenly in their affections, and for seven furlongs they were equal champions.

Having fun yet?
The NYRA camp was collectively pulling for Alydar despite the attention a Triple Crown would bring to the track. The 1200-pound chestnut stallion came from the cachet farm, Calumet (of Citation and Whirlaway's Triple Crown fame), with the socially pedigreed trainer (Veitch). By contrast, Affirmed was bred and owned by a convicted felon (the vulpine Louis Wolfson) and was trained by an equally sketchy Californian (Berrera). But with each win, Affirmed grew in popularity with the masses despite the fact that their rivalry didn't start as three year-olds. The year before, as two-year olds, they finished 1-2 in all six races with Affirmed taking four of them. As he progressed through the epic wins at Churchill Downs and Pimlico as a three year-old, the media frenzy escalated around this wonder horse and his 16 year-old jockey Steve Cauthen.

"I don't have a driver's license yet but I just won the Triple Crown."
Could Affirmed really beat Alydar three times in a row? Let a lone by a nose in yet another heart-arresting photo finish?
And there will likely never be another duel between men or beasts quite like it.
Watching these two thoroughbreds accelerate down the backstretch race after race created a kinship that was unique to any pairing in sport because the two competitors were mere animals, destined to do nothing but race against each other. The range of emotions foisted upon their fans as Affirmed became the third horse in just five years to capture the Triple Crown – envy, rapture, regret, admiration, awe, sympathy – was only intensified by the fact that the subjects of this amazing race would never be able to speak towards their rivalry. No float-like-a-butterfly bravado. No calling the shot to left center. Just a pat on the back, a flower garland, and their favorite post-victory treat: peppermints, which I once fed to Alydar out of my hand and barely avoided becoming a young amputee.
The forgotten race that year was later in August at Saratoga during the Travers Stakes when the two horses squared off again for the final time against a short field of just two other horses (what were those owners thinking?). Once again, Affirmed and Alydar were no further than a neck's length most of the way around the track until Alydar abruptly pulled up, losing precious ground before a determined burst of speed got him back in contention. But Affirmed never slowed up, beating out Alydar by just over a length. Just seconds later, however, the tote board of the infield flashed "Inquiry". Inquisitive muttering echoed through the crowd. The film confirmed what the stewards observed in their binoculars: coming around the home stretch, Affirmed's jockey, the legendary Laffite Pincay, Jr., crowded Alydar causing him to pull up and lose stride. It was enough for them to strike Affirmed's number and put up Alydar's as the victor. The capacity crowd went nuts, sharing a collective retribution for the greatest horse to ever Place.
Alydar's camp had some measure of reconciliation from that last race but the real victory came over the next decade doing hard work in the stables. Alydar was a true stud. At his peak, he sired more than 100 horses a year at $250K per romp, nearly matching what BC's own HenryJames raked in as a male prostitute during his seven years at UT.

I am Alydar, son of Raise a Native and Sweet Tooth, care to meet me in the barn?
Unfortunately for Alydar, it was that rare pedigree that would eventually cost him his life.
Although the official diagnosis was that he had to be put down after a broken leg in 1990, further research into the bazaar incident concluded that Alydar had been murdered for $36 million in insurance money. It is certainly one of the darkest chapters in horse racing's textured past, captured succinctly in Ann Auerbach's book Wild Ride, and the incident plummeted Calumet into bankruptcy with more than $100 million in debt within a year of Alydar's death. Skip Hollandsworth, one of Texas Monthly magazine's great scribes, wrote a prolific piece called The Killing of Alydar in June, 2001 after a five-year long inquiry by a young Houston attorney named Julia Hyman Tomala had finally borne unsavory fruit. Ironically, her background had nothing to do with horse-racing. She had been investigating the financial collapse of the Texas banking system yet somehow managed to horse-collar Calumet owner J.T. Lundy, who had tried to stave off bankruptcy by killing his prized horse.

This didn't go according to plan.
In an ironic coda, one of the farm's prized offspring of Alydar, Criminal Type, won seven races in 1990 and hauled in $2.2 million. And just before Alydar died, Lundy paid the owners of Affirmed a handsome fee to lease the stallion at Calumet and breed with its mares. Hollandsworth on their last summer of fun: "When the two chestnut-colored horses were out in their paddocks, they would stare at each another, their manes flicking in the breeze. Occasionally, Affirmed would start running on his side of the fence, and Alydar would take off after him on the other side. Even then, twelve years after their races, they remained competitors."
Capitalizing on the groundswell of attention that the recent trio of Triple Crowns had brought to the sport, on the 75th anniversary of the Belmont Stakes in 1980, NYRA put on "Who Shot J.R. Day?" and everybody showed up wearing period clothing from 1905. Larry Hagman, decked out in one of Scipio's snakeskin hats, and Cab Calloway, looking cool as ever, were the featured guests.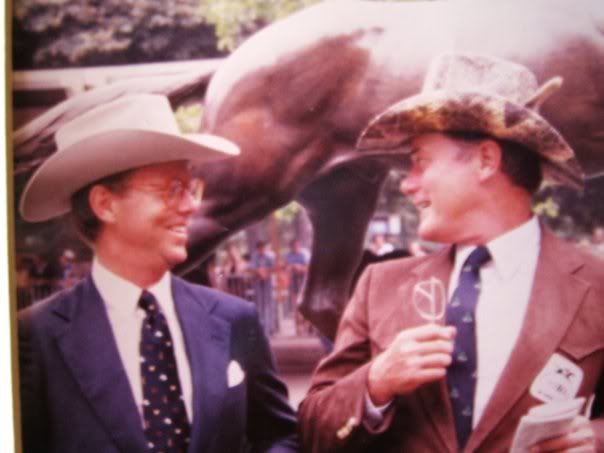 J.R. with Pa Vash.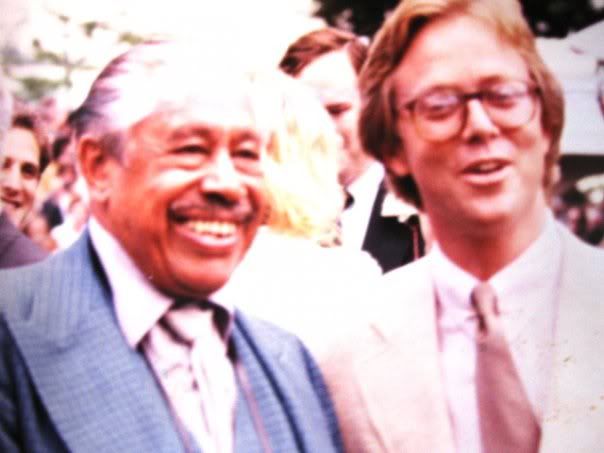 A fine day at the races, Mr. Calloway!

Ma Vash on the cover of the NYT.

Alydar's Biggest Fan. Have at it boys, I've heard it all...
Since those halcyon days of horse racing, we've seen some great horses come close to capturing the Triple Crown only to fall short at Belmont's grueling mile and a half long track. Of the 46 horses to win two of the three races, 16 have been stymied there with 10 of them coming in the last 30 years, starting in 1979 when Spectacular Bid fell short of delivering the first back-to-back-back Triple Crown.
Just hearing the names Pleasant Colony, Alysheba, Sunday Silence, Silver Charm, Real Quiet, Charismatic, War Emblem, Funny Cide, Smarty Jones, and Big Brown evoke painful memories of lost Exacta bets (should have boxed it!), skull-fracturing mint julep hangovers, on-track euthanizations, and cruel delusions of oh what could have been ...
This afternoon, you'll most likely see a filly named Rachel Alexandra win the Preakness with crazy Calvin Borel on the saddle. He's the first jockey to switch mounts after winning the Derby and he did so without hesitation: "She's the best horse I've ever ridden," said Borel yesterday, less than two weeks after winning his second Kentucky Derby on a 50-1 longshot, Mine That Bird. Rachel Alexandra was held out of the Derby because her owners thought she might get roughed up on a muddy track as the lone mare in a field of formidable stallions. The day before the Derby on the same track, she went on to win the all-filly Kentucky Oaks by a record 20 lengths with Borel in the saddle.

This girl's legit.
While we won't see a Triple Crown this year (Mine That Bird is a small, light modern day Seabiscuit that flew over the mud but won't keep up with stronger horses on a regular track), we will see a horse that had Triple Crown potential, a truly rare filly that will hopefully fare better than her distaff predecessors of recent past. Over the span of 133 years, only four fillies have won the Preakness, with the last victory coming in 1924 by Nellie Morse back when the race preceded the Derby. She wasn't allowed entrance that next week at Churchill Downs but her owner, H.C. Fisher, got the last laugh by creating the Mutt and Jeff cartoons.
If we get a muddy track today (some rain is definitely in the forecast), Calvin Borel will have a chance to make history of his own by winning two Triple Crown races in the same season on different horses. A little advice from Red Smith to the other jockeys, "Just don't give him the rail."

I'm all gums n' gristle, now bring me a blanket of black-eyed Susans!
Everybody has a horse racing story and this one's mine. So let's hear 'em.