Nuthin' But A G Thang
Garrett Gilbert has been crowned Gatorade Player of the Year. In addition to being awarded miscellaneous satrapies, he gets to hang with Kevin Durant (@KevinDurant35), who was on hand at the ESPYs to snap and tweet this pic.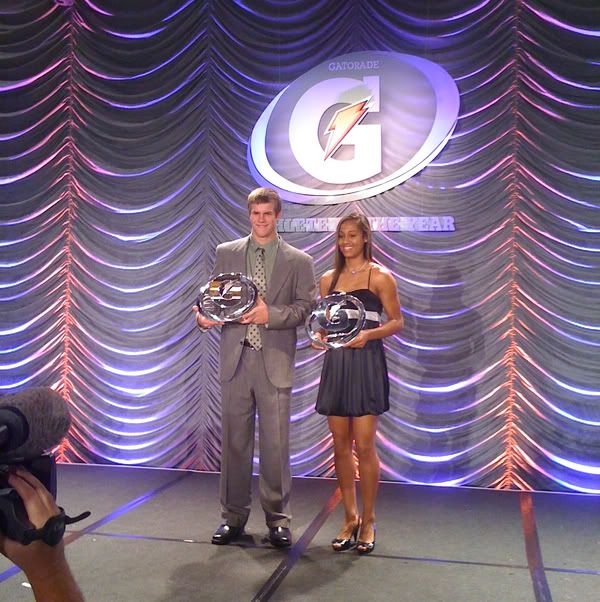 Burnt Orange Hydration Conspiracy
As we've recently heard from a third cousin of Scipio's, David Vine may be required to commentate on Gilbert's play in the future. Is there a latest party line about redshirt or not?
Marty B
Ag_in_TX recently took Marty B to task for his competing in the Black Olympics:
We are huge fans of Marty B here at the Carnival. We think his brand of comedy and grasp of new media makes him a comic force rivaled only by Andy Kaufman and Mike Leach.
Jason Whitlock, however, did not find it humorous AT ALL!!! In my experience reading sports online, it's become clear to me that Jason Whitlock is at a minimum two things. A gas bag and a black man. He may also be a narcoleptic.
I am not easily offended. Perhaps it's my size and affinity for food, but I take virtually no offense to good-naturedly delivered jokes about food stereotypes. Everybody I know — black or white — loves properly seasoned fried chicken. Watermelon is extremely healthy and very tasty. And it wasn't until I was in my 30s that I kicked my Kool-Aid habit.
First of all HenryJames is a vegan and he's pissed. Also, I actually ate half a watermelon tonight. No shit.
Anyway, doesn't this story make you think Jason Whitlock has no sense of humor? Maybe we're at a point where people are almost desensitized to certain things like this and maybe that's a good thing. And to think we have Eazy E to thank.
Drew from Deadspin does a good job on this as well (Deadspin).
Rounding up this nonsense here.
Jordan
Burnt Orange Beat tweeted this message tonight:


Hearing Jordan Hamilton has been terrific so far. Not a surprise. Elite level talent.
I spoke with Gerry Hamilton the other day and Trips Right today and the word is this kid has really put a whipping on some established guys. Looking very much forward to checking out whatever missives come our way via BOB. Gerry knows what's up like few others. Trips is in Hawaii doing some advance resort scouting for the Maui Invitational but we should hear more from him soon as well.
Texas @ Nebraska
Lastly, I really enjoyed this post from Burnt Orange Nation. That @ Nebraska game Mack's first year was really great. Sure, we poke fun at Applewhite Cultists but that kid absolutely loved/loves to compete. Glad he's on the staff. Ricky. What a horse. Mack Brown certainly has an ability to say the right thing a lot of the time. After this game, Mack said something like "There may be better football players but I haven't seen 'em."
Mahalo.