If you accept the premise that our DL will be the weakest component of our defense - and I suppose that depends whether you define Sergio Kindle as a traditional DE or a multi-positional pre-snap human mindfuck hybrid LB - and if you further believe, like me, that the DL and secondary are the two most crucial components in playing dominant defense, what precedent do the 2009 Texas Longhorns have that they can play National Championship level elite defense without a DL chock full of junior and senior NFL draft picks?
If you examine the best defenses over the past few decades, and certainly the best Longhorn defenses of All-Time, a dominant DL seems a prerequisite for great defense. But there are a handful of exceptions. Last year's Florida team might be one of them. Here's another: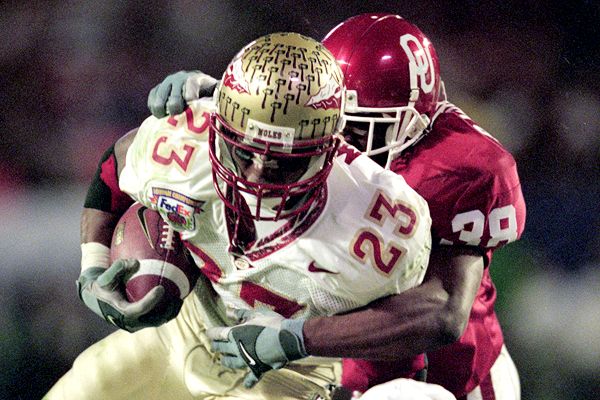 I present to you the 2000 Oklahoma Sooners.
Before you fly into a seething rage with flecks of spittle hanging from your jowls for suggesting that this is so, I'd ask that you appreciate that though I'm not exactly a fan of the Sooners, I can recognize an analog when I see it.
As Chris Applewhite instructed, having a strong back 7 can free up your DL to play simple assignments that they can handle and prosper in. That's exactly what OU did on their way to the MNC.
Without dominant DL play, you must learn to define your defense not by every down dominance - and that OU defense was not every down dominant - but in terms of situational dominance. As long as you can stone someone on 3rd and short, deliver the goods on 3rd and long, and force turnovers, you can play damn good defense.
First, the 2000 Sooner DL. Can you name any of these guys off of the top of your head? Probably not. Barry Holleyman, Corey Callens, Cory Heinecke, Ryan Fisher...these were solid players who played with tremendous effort and determination, but they were mostly marginal, undersized athletes who got by on leverage, technique and heart. They made just enough plays and they were all battlers, but the NFL ignored them for good reason.
The Sooner back 7 was another story. These guys were physical, played fast (even though some of them weren't), and lived and died by the turnover and big hit. Their ability to stuff the run or cover the pass as the situation dictated is what made them special. And they were beautifully coached by Mike Stoops.
The LBs: Calmus (tackle magnet), Torrance Marshall (bruiser and big play artiste MLB) and the forgotten, underrated Brandon Moore comprised a very good, pure LBing group. These guys could read, diagnose, and were completely reliable. They also caught balls that landed in their hands, scooped up fumbles like a Hoover, delivered big hits, and made loads of heady plays.
The secondary was big, athletic, physical, and versatile. Derrick Strait, JT Thatcher, Roy Williams, Ontei Jones and a white kid nickelback whose name escapes me. Mayhew? Strait was just a freshman, but already pretty good and Williams and Thatcher were an awesome safety pair - tough and always forcing turnovers. They were also demons on special teams. Ontei Jones was solid but undersized. Most crucially, all of them played with a chip on their shoulder and looked to punish whenever possible. Some of that was just their mentality, but much of it was physical confidence that they would win that exchange. This is a key development in our own group that we must have.
I'm not interested in making direct comparisons or arguing if AJ Williams is better than Derrick Strait or if Roderick Muckelroy can be our Calmus. It misses my point completely. We have a wealth of riches at DB and LB and though they are different riches from the '00 OU package (we don't have giant safeties that could run, or purist LBs) they sure as hell didn't have Sergio Kindle or our secondary's quickness. The point is that the same precepts that made OU good will apply also to us.
There are three of them:
1. Physical play. The weaker your DL, the more crucial this is. Michael Huff had a soft mentality until he gained 15 pounds of muscle. Then he became a bully. Same for Stanley Richard. Another year in the weight room, physical maturity, and a killer's mentality will be key for our LBs and our secondary group - particularly as we rely on nickel. Earl Thomas, Christian Scott, AJ Williams will all stick their head in with reckless abandon while still possessing enough pure coverage ability and athleticism to make plays in space. Gideon is a reliable tackler who played most of last year at 184. Fifteen pounds may do a lot for him as a turnover force. And a lack of physicality is exactly why former starter Deon Beasley will become a dime back. The ability to be physical, to relish contact and seek it out, is what defined OU's 2000 back 7.
2. Situational dominance & multiple scheme. Some teams will run against us. Whoopty do. A 12 yard run on 2nd and 7 means a new down and is no different in the grand scheme of things than a 12 yard completion. Yet fans - and I'm guilty of this - go apeshit when a team can run the ball on us. The key is being able to stop the run situationally on 3rd and 2, inside the 10 yard line, and to prevent long runs. Say it with me: yardage is yardage is yardage. That you must stop the run at all costs is a football cliche chanted by morons and Gene Chizik. You must stop the run in certain game situations at all costs. If a back runs for 120 yards against us while their QB goes 13 of 33 for 155 yards, I'm happy as a clam.
The second part of situational dominance is 3rd and long. You have to get off of the field and this is where we can use scheme, speed, and versatility to manufacture pressure with our back 7 while not necessarily having to expose ourselves with overwhelming blitz numbers. And 3rd and long is where you're also most likely to force...
3. Turnovers/Scoring opportunities. We did a lousy job of forcing turnovers last year and that's a pity because it's the most crucial component for a back 7 heavy defense to control a game. Defensive scores are the most demoralizing thing you can do to an offense and the quickest way to get inside a QBs head. If you doubt that, please reflect on our experience in the RRR from '00-'04. Ouch. Sorry for that. Shake it off....
Last year, we had an anemic 16 turnovers (6 ints, 10 fumbles). Earl Thomas created six of them. Gideon one. Christian Scott matched that total in one quarter of play. If we want to play real defense, our number of turnovers has to go to 25+ and our starting safeties have to create at least a dozen of those. In Scipio's simple world, LBs and safeties exist to create turnovers. Those that don't must find pine.
JT Thatcher was believed to be clinically retarded by the OU coaching staff and they'd periodically bench him for his bizarre miscues, but the kid was a turnover and TD magnet that they couldn't keep off of the field. I'm all for heady play, but it also needs to result in something tangible.
If you want to see the recipe for what a good defense in 2009 will look like, the 2000 Sooners are a solid aspiration.
What say you?