Our resident quipster HenryJames once remarked that the internet is only good for porn and telling people that they suck. People like bad sports announcers. Who are being produced by the sports media machine as rapidly as the Fed prints pesos. And, they..umm, suck!
Well, not today. Not all of them. I'm putting away my internet snark to tell you my favorite college football announcers. These are the guys who bring value to my game watching experience every time I see them.
Reece Davis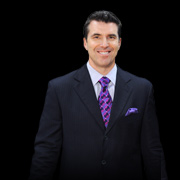 The Bama grad is smart, smooth without being unctious, frequently challenges dumb, lazy opinion, and operates a studio show surrounded by lisping dolt Lou Holtz and the smug Mark May like they're puppets dancing on the end of his string. His set ups, his transitions, his ability to deliver the emotion of college football without hyperbole, is just top notch. The guy brings the goods every week and does so with real passion for the game balanced by a hint of a smirk, just a small tilt of his head, that suggests yeah, I'm in on the joke too.
Chris Fowler
Ah, Chris is a long away from his days at Scholastic Sports America. Fowler's game is not dissimilar from Davis. He's unflappable, has a solid voice, and provides a steely spine of narrative to studio shows and a solid presence behind the mike at games. Just a solid pro. His wife is OK too.
Petros Papadakis
Yes, really. Petros is loud, has a grating voice, and sweats, grunts, and gesticulates in the booth like an Athenian grocer who just found out that his daughter is dating an Albanian. A lot of people hate him. I love his self-deprecating sense of humor, his lack of pretense, his knowledge of the game, and, when focused, his capacity for real insight.
Example:
Papadakis, a former USC Trojan team captain, remarks casually at the height of the 2005 ESPN USC Reggie Bush blowjob fest that UCLA's Maurice Jones-Drew is a better player than Reggie Bush and will be a much better NFL RB. Heresy. And transport yourself back to that time - this is madness, this is balls, this...is...SANTA MONICA!
Petros then offers a lucid ten minute explanation for why and it proves to be dead on sitting here in 2009. The sheer balls of that analysis stunned me and I've always liked him since. He has also called Matt Leinart's NFL career to date with amazing prescience.
I also like his unpredictability. I doubt I'll communicate this perfectly accurately, but I'm watching some Pac 10 late night game and Petros is talking about how good looking some kid is, his boyish good looks, but then instructs the viewer to look at the player's legs and ass, he's a developed man. He's carrying on and on about it in a joking way. His booth partner finally gently jabs him about it and Petros pauses, looks pleadingly at the camera, spreads out his hands like he's calling forth to his ancestors and remarks, "Well, I am Greek."
Craig Way
Homer pick. I don't think so. As annoying as Craig can be in an afternoon drive format - dropping the names and classification of one obscure 2A Texas high school after another until blood flows from your ears and toenails - he's also an absolutely outstanding radio play-by-play announcer. He knows the game, has a great cadence for calling the action, and sets up his booth partners generously and frequently. Listen to the homer announcers that dominate the rest of college football radio - yes, even putting aside the amusement factor of a Dave South - they sound so incredibly bush league after you've experienced Way.
Chris Spielman
Announces like he played. No wasted motion and he nails whatever he decides to tackle. He's not in the same class as these other guys as a pure voice or talent, but he's like two chord punk rock after five years of disco - he shuts his mouth and lets the game take on its own personality. Sadly, his nervous dollar-for-each-word partners generally feel the need to fill the dead air.
I'm watching a Big 10 snoozer and Spielman opines right before a field goal that it's probably a fake though nothing in the game situation suggests that it would be. It is. After the fake, he gets on the telestrator and points out that the kicker lingered too close to his head coach before the kick and they spent way too much time chatting. He then talks about situational awareness - being able to pick your head up as a defender and notice the world outside of your assignment and play your hunches. Solid stuff.
Ron Franklin
Forward this to the 1:00 minute mark, sit back, and watch how it's done. With extra Dr Jerry Punch!
Sadly, Ron has been buried by ESPN for some time now and it's no wonder that he's retiring soon.
For this:
With Notre Dame blowing out Purdue, Holly Rowe praised the defensive coordinator of Purdue for using the team's timeouts towards the end of a blowout loss. Holly Rowe added to her praise this comment: "If the coaches are giving up, what does that say to the players?"
Mr. Franklin responded with, "Holly, it's not giving up. It's 49-21, sweetheart."
Give him a medal. Upbraiding the witless Holly Rowe is praiseworthy.
Didn't Make It
I have a bit of a soft spot for Brent Musberger for his positive Longhorn mojo, but his Great Man Theory of broadcasting in which one player is made responsible for all events on the field is wearisome for me. What if...I can't even ponder it...what if he broadcasts a Florida game? Tebow. Musberger. It's like crossing Ghostbuster streams. This must be stopped.
I have no problem with Kirk Herbstreit and think he does a very solid job, but his vacillations have increased with his public profile. Don't talk in circles around a proposition and then turn it back over to Fowler having said nothing.
Now I ask you to do the same.