ChrisApplewhite's post about mean aggressors incited some existential dilemmas that have me questioning everything today. Then I read the usa-mexico futbol thread again and everything became whole.
Now I feel like Keanu Reeves in Little Buddha.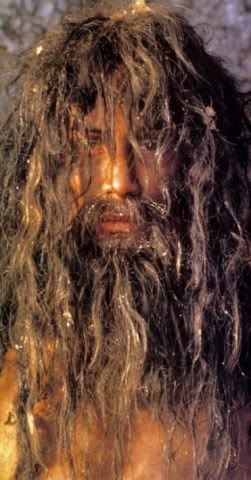 Whoa. Thank Tebow college football is back.
As HenryJames already mentioned in his Day 4 recap of neatly codified links to entirely outsourced content, many different conclusions can be drawn from the same phenomena of young men running around in shorts and shoulder pads.
Perhaps the most entertaining part of watching the season's first open practice is listening to fan dialogue:
Marquis Goodwin will be All Big 12 this season. Book it!

Why is Earl Thomas wearing pants? (Answer: Because he can do anything he fucking wants.)

Colt better watch out for Garrett Gilbert this year. FTW.

Check out that guy's monogrammed velcro leather sandals from Lands End! HJ ... sweeet.
Here's what happened:
The big news was DJ Grant's leg injury just before the end of practice. He reached behind him to catch a pass and took a weird pivot as he got hit by Earl Thomas. He had an MRI this morning and I'm not expecting good news given our cursed luck at the position. (PB@BON reports that DJ is out for the year). Here is a video of the practice with a replay of Grant's catch towards the end. Extended practice footage from a fan cam here.
It looked like a mid-season practice in terms of the timing of the passing game, route running by the WRs, and overall execution in 7-on-7s and 11-on-11s.
The players are in excellent shape save Ben Alexander and Derek Johnson but at least it's at a position where we have plenty of depth, right? The encouraging news is Kheeston Randall and Calvin Howell got a lot of reps with the 2nd unit and showed some good burst off the line. Those are your guys this year at the second tackle spot. Lamarr Houston continues to defy laws of physics with his high speed pursuits of wide receivers on the opposite side of the field. There's no way he's 300 lbs as the roster suggest but he's a pissed off missile at 285.
Your starting OL is Ulatoski / Tanner / Hall / Huey / Hix. If we can see more aggression from our guards and more consistent pass protection on the edge, it's a damn salty OL. Tray Allen has lost some weight and looks re-proportioned in a good way. Mason Walters and David Snow have some great feet for big men and play mean. The offense has the advantage in shoulder pads because the defense can only engage high at half speed but the OL still did a great job of opening up some holes for the RBs.
Vondrell is your starting RB. I was fearing he'd go Selvin Young and put on unnecessary weight from overlifting but he looked quicker than last year. Very good burst through the hole and he took to runs to the house through the center of the defense. I was impressed with the overall focus and intensity of the RBs, a credit to Applewhite. There is no star in the lineup but they complement eachother well, run hard, and don't turn the ball over. Whaley won't be a factor any time soon. He's out of shape, out of position, and doesn't know the playbook. Other than that, expectations are sky high for our only RB recruit from the 2009 class. Ouch.
The Mccoy to Shipley connection is getting Star Trek creepy. They are going to give the Big 12 a Vulcan mind meld smooth buttfucking, which to my knowledge has never been done since the conference was formed. On one play, Shipley had Earl Thomas draped all over him like a mating hyena and still hauled in a parabolic gem from McCoy in the only 12" window the ball could have been caught. Ho hum. That's what best friends that are also roommates do, Musburger.
Garrett f'in Gilbert. He's going to be fun to watch. His rapid growth since the spring seems to have woken up Sherrod Harris, who had his best day throwing the ball that I've seen. Harris also broke off a few 20+ yard zone reads. Gilbert has tightened up his spiral and is already showing some confidence in the system, throwing the ball to where the WR should be instead of waiting to make sure he runs the route correctly. There is noticeably more zip on his passes which I presume is from finally having a fully healed shoulder rather than Mad Dog's customized G90x workout regimen.
Since nobody is surprised at what Shipley does anymore, James Kirkendoll stole the show tonight. He hauled in 7-8 catches for 15+ yards all over the field, two of which went the distance. It can't be repeated enough that we're going to field a lethal WR corps perfectly assembled for college game. Quick guys in the slot with flypaper hands that run precision routes (Collins/Kirkendoll) along with an emerging dynamo on the edge Malcolm Williams and some guy named Shipley that fucks up once a decade. Throw in an athletic possession guy like Chiles and a few speedsters in Hales/Monroe/Goodwin and you have an embarrassment of riches when considering who is slinging the ball. That's assuming McCoy can hold off Gilbert.
There's been some buzz about the rapid emergence of Marquis Goodwin. I saw his film in high school and saw a natural football player that also excelled at track, not the other way around, even if he happens to be a world class sprinter. So I'm not surprised he's come in with some confidence and gained the attention of the coaches, who promptly put him next to Shipley practicing punt returns. At 5'9 180 Lb with a chiseled track body and pretty good hands, he's a potential deep threat in the DeSean Jackson mold. Dude glides across the field and has sudden breaks out of his cuts that left two of our better DBs grasping at air. Goodwin could be a surprise player at an otherwise loaded position. Or maybe he's the camp surprise du jour that mysteriously sits on the bench the rest of the year.
Another guy that stood out to me was Keenan Robinson for no other reason that he always seemed to be right ahead of or just behind Earl Thomas in run support, which isn't a bad thing. Kid has a nose for the ball. He and Muck comprise a pretty mobile, hard-hitting combo in the 4-2-5 which was our base lineup for most of the night. Marcus Davis also looked surprisingly good considering how long he's been on campus. Barnett needs a redshirt to gain some weight but he's got the Chykiesque frame you want in a DB.
This is one fan's attempt to distill reality from myth in the Jungian style for our most disloyal readers. Blame Chris Applewhite if none of it makes sense.
Fire away.