15 Years ago, OJ Simpson was in jail for murder. The Houston Rockets had just won the first of two consecutive titles in the NBA. John Mackovic was leading the Texas Longhorn football program into a 5 or 6 way tie for the Southwest Conference title. Texas lost to Rice that year. The Oilers were still in Houston and the Dallas Cowboys were actually good. The San Antonio Spurs had never won a thing. Oklahoma was coached by Gary Gibbs and they were actually a moderately clean program. ATM was still dirty and they were on probation and couldn't be televised.
And the Baylor Bears went to a bowl game.
A lot has changed since then. OJ was apparently innocent – suck it white people. The Rockets and Spurs switched identities. John Mackovic can't even hold a gig down on regional television. The Oilers were replaced by a franchise that is as pathetic, as, well, the Oilers. The Cowboys suck, just don't tell their fans that. Oklahoma is dirtier than a swamp sow again. ATM deals with street agents but is actually somewhat clean.
One thing that has been held constant for that 15 year period has been the futility of Baylor since that bowl game. There are 119 teams in FBS NCAA football. I am pretty sure at least 117 of them have been to a bowl since Baylor last went. Behemoths such as Rice, Wake Forest, Buffalo, and Vanderbilt have all been to bowls since then. South Florida didn't even exist as a program back then and they're now a bowl regular. Rutgers, holla. Ball State? Aww yeah.
All of that ends this year. Baylor goes bowling, and they won't even be squeaking in. They're going to be good.

It's Gonna Be a Cold Day in Hell & College Football
Heresy!!! Well, not really. A lot of folks have bought into the "Baylor will go bowling" concept. I saw a website poll result in July where 72% of the voters thought that Baylor would go to a bowl.
I think that was a Baylor fan site, but hey, it's the first time even they would have picked Baylor in years. I remember reading the Sic'em board (I think, it was the predecessor to their Rivals site) one time about a decade ago and there was a guy posting on there as "BrownBagOverHeadBear". He was derisive, angry, sarcastic, manipulative, seemingly manic depressive, dominant, intelligent, and resigned, almost simultaneously. He lurked over that board like a Gargoyle, swooping in to destroy hope and excitement at any turn. What hope and faith Kevin Steele couldn't demolish, this guy would. When the UNLV game happened, this guy disappeared for over two months from the board and was rumored to have been in a mental institution. He remains the single greatest poster I have encountered in CFB netdom.
Anyway, wow. Back to this year. It has become de rigeur to select Baylor as a bowl team. That kind of bores me, as I don't get quite the reaction among friends and enemies with whom I discuss college football as I did back in the winter and spring when I was claiming it. Nonetheless, I don't think people understand how honestly good this Baylor team actually has a shot at being. I don't see a 6-6 regular season bowl team with these guys. I see something better, and I am hoisting this thread up to take that position.
Why will they be good? Why is any team good? Talent, coaching, and schedule.
Coaching
In all honesty, I pretty much hate Art Briles. I think he is a piece of shit for the way he voted last year. I think he looks like a cop movie villain. I have listened to him on the radio many times in Houston and almost caused major traffic accidents from passing out while driving because of his monotone voice. He is probably a worse radio interview than Mike Sherman or Nick Saban. That takes a special kind of effort. My guess is that he doesn't bathe often and suffers from chronic halitosis without knowing it, punishing those around him that care for him most.

"I am either Art Briles or Azazel."
That considered, the guy can coach. He has won everywhere he's ever been. He knows how to put a program together and he understands the construction of a team, right down to the color and the shape it takes on. He put 4 Ws on the board last year and the team finished the year impressively. They treated ATM the way Ralph Friedgen treats buffets and they almost upset Tech. He's built an offense around one of the most dynamic players in the entire country. He has a history of putting offenses together that rack up big points and big yards. There were glimpses of that last season against ATM and Missouri towards the end of the year. They also looked like crap at times, understandably. This is still Baylor. The talent isn't all there yet and knowing how to win is an underrated, learned skill.
Briles made an interesting selection in his DC. He hired Brian Norwood, the former DB coach at Penn State. Norwood's got a decent resume and has been around some excellent coaching minds during his journey, including those at Penn State, of course. Baylor's defense behaved similarly to the offense last year, in that it showed some improvement through fits and starts. They held Tech in the last game of the season to under 400 yards. That was helped by injuries on the Tech side, but that's still impressive. I enjoyed that game and thought that Baylor showed a lot of what I think we can expect this year. They're going to be in every game. They're going to work as hard as the team they play, and they're going to give themselves a shot to win.
Briles has some other interesting assistants. Several former Texas guys, including his son. Dino Babers. They look young.
Talent
Robert Griffin is as big a stud as we're going to see playing this year. Will he be that way every week? I doubt it. The guy is a sophomore, so he's likely to have peaks and valleys. What's evident is his talent, irrespective of the ups and downs. He's as fast as probably any player in the country. He's solid physically. He's accurate with his passing and it looks like he's excellent at protecting the ball. He's a dynamic leader. Players react to him, he's composed, he's all of those lavish hyperbolic adjectives that sportswriters like to throw out there when they can't really explain what it is about a guy. The key about this guy is going to be what he's capable of during his peaks. Can he carry the team on his own? Can he will the team to achieve at higher levels than they thought they could? Will the offense rise up to his level of performance? My take is that he can and that he's going to outshine the more highly acclaimed sophomore QB at Ohio State, even though his supporting cast at Baylor isn't even close to that of Pryor's.
Baylor's offense isn't just Griffin and a bunch of guys named Brett. Kendall Wright has outstanding speed and he's going to be a year older in experience at one of the WR positions. Ben Wells hates this guy with the white hot heat of a thousand fiery suns. Justin Akers at TE is decent. We'd probably not mind him right about now. Jay Finley is a better running back than he should be, in part because of Griffin. It doesn't matter. He's solid in any event and he legitimately forces opponents to pay attention to the running game beyond just Griffin's antics. Replacing Jason Smith is basically impossible. That's a problem. They're going to have to make due. The entirety of the rest of the offense is mediocre or weak in every possible way. This is still Baylor. Can they overcome themselves on the back of Griffin and a few other decent ballplayers? In many games, yes.
Defensively, Baylor has talent at every level of the defense and more than they get credit for. Everyone knows that Joe Pawelek is a pretty damned good college LB. He's deservedly on some of the watch lists. What about his counterparts at LB? Antonios Jones and Johnson can play. Earl Patin is a backup LB and he's pretty good. They're a better overall LB crew than two-thirds of the of the Big 12. The praise that Briles has poured onto Phil Taylor, their DT transfer from Penn State, has bordered on comedic. "There are maybe 2-3 guys in the NCAA like him." Etc. I am anxious to see this guy. I haven't heard talk about a player by his own coach like that since one of the Oklahoma coaches was interviewed on Tuesday. Let's assume that Taylor is just 'good'. Well, that helps an above average LB crew. If Taylor is really great, then he makes the defense somewhat close to formidable on the front seven. Jordan Lake is "overrated", more or less because he's white and plays in the secondary. We get to experience this phenomenon at UT this year and the next few as well. Terrific. That considered, how do you overrate a player at Baylor? He's still going to be good. His counterpart, Jeremy Williams, is probably better. Baylor has an unusual amount of experience on their defense. All units have multiple year starters sprinkled throughout the positions.
Briles has brought in some talent in his two recruiting classes at Baylor. He does a good job of knowing who he can get, what he wants, and then signing those guys. They've brought in guys that ATM and Tech would like to have and they've made things more difficult for out of state schools to come in and pick up raw Texas players for their classes. All of that considered, those players are still young and inexperienced. The talent above those classes within the program isn't as bad as it has been, but it's not top tier, either. They will have to have their stars stay healthy and shine, but there is enough talent and experience within this team to gel and become a solid group.
Schedule
I had an aggie whining at me on Wednesday night about the "toughness" of Baylor's schedule. "There are no gimmies besides us and Northwestern State" he stated. I was impressed with his knowledge of the Baylor schedule, although I guess if you're an aggie at this point, you're trying to find a beatable opponent that can be termed a "rival". I recommend scheduling SMU. Regardless, the aggie's take on the Baylor schedule is off base. Let's look.
@ Wake Forest (9/5/2009) – Remember when Wake was anyone's walkover? Wake is a decent program now, but they're going to, ahem, regress more towards their historical mean this season (And They All Fell Down). A lot of talent is gone from this team. The game is at Wake. Let's assume it is a tough game, but Wake takes it. BU at 0-1.
UConn (9/19/2009) – Baylor almost took this game last year, in Storrs or wherever it is that UConn plays. This year, BU gets UConn when UConn is coming off of a game against a very good North Carolina team and BU will have had the prior week off. UConn still has Donald Brown, an experienced OL, and 9 senior/2junior starters back from a really good defense. Still, they lack experience at QB and the timing of this game does not favor them. I like Baylor to take this game, but it could actually be a pretty good game to watch. BU at 1-1.
Northwestern State (9/26/2009) – I won't fake like I know anything about this team. Baylor killed them last year, and it should be that way again. Baylor goes to 2-1.
Kent State (10/3/2009) – This is a team that was throttled by Iowa State and Northern Illinois last year on their way to a 4-8 losing record. Baylor will beat them by double digits. BU moves to 3-1.
@ Oklahoma (10/10/2009) – My guess is that Baylor has never won in Norman. My guess is that that trend will continue, although I think this is my favorite trap game for any team in the entire country this season. OU will be coming off a visit to Coral Gables and looking forward to the matchup with Texas. Little old measly Baylor comes strolling into Gayblade Stadium in between those games. This is the kind of game that a guy like Robert Griffin could come unleashed in and then will his team to victory. That is what happens in some of my fantasies. I am sure that I will post some idiotic prediction about Baylor winning this game in the week leading up to it and a bunch of mouthbreathing buffoons will take it seriously. I am guessing a loss here to Baylor. I am hoping they hurt multiple okies during the hard fought battle. Yes, I root for non-life threatening injuries to rival players on a constant basis. Like rooting for hurricanes and other natural disasters that don't happen to you, most people root for things like this, they are simply too caught up in their own bullshit to admit it. BU goes to 3-2.
@ Iowa State (10/17/2009) – Baylor controls and owns this game from the first whistle. BU at 4-2.
Ok State (10/24/2009) – I like OSU as a top 10 team this year and I will stand by that in this post. Baylor falls to 4-3.
Nebraska (10/31/2009) – An overconfident Nebraska rolls into Waco at 6-1 on Halloween. That 1 loss will be to Va Tech and Nebraska will have forgotten how normal they really are. Baylor takes their scrotum from them and revels in the warmth of their entrails. Baylor is 5-3 now, go to hell non-Baptists.
@ Missouri (11/7/2009) – I really don't understand the expectations that are being heaped onto Missouri this year. They lost almost all of their experienced talent, they are coached by a guy that is dumber than a toilet, and they're not exactly a program capable of just "reloading". Missouri will be reeling at this point, and Baylor will be looking to become bowl eligible. This game puts them there at 6-3. I hope the 11 Baylor fans that make an appearance in Columbia attempt to tear down the Mizzou goalposts. It would be awesome display of stupidity, in the vein of trying to run the ball in for one more score instead of just taking a knee for a win.
Texas (11/14/2009) – I can see the humiliation now, but I will not predict that nightmare. Baylor falls to 6-4.
@ Texas ATM (11/21/2009) – There is no reason to think ATM will win this game. Baylor is a better team across the board. ATM will be carrying the odor of a 3 day old beached whale at this point in the season. Baylor goes to 7-4.
Texas Tech (11/28/2009) – Payback is a bitch. Baylor should have won that game last year. Tech doesn't have the horses this year and at the time of this game, that will be painfully obvious to everyone except "Tim". Baylor does the unthinkable and finishes the regular season 8-4.
That's an 8-4 season that includes a sweep of the Big 12 North and a ton of hype in one of the most competitive divisions in all of college football. Prior to being formally selected to a given bowl, it wouldn't shock any of us if Art Briles is offered and accepts a job at a better football school and leaves Baylor hanging in the lurch. If he doesn't, he's clearly simply waiting out Mike Sherman for the ATM job. I won't blame him.
I'm typing 8-4 and I was tempted to go for 9-3. I needed to believe whatever I was going to type, however, because I plan on following this all year long. Any person that responds to this thread with their own record prediction, amongst anything else, can count on having their Baylor record followed on the weekly updates as well. Feel free to throw one out there, just understand that anything below 8-4 will be considered buffoonery by the time things are over and done with for the regular season.
Thoughts?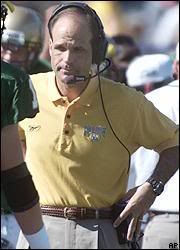 "Thoughts weren't my strong suit."