BARKING CARNIVAL PRESENTS:
Gary & The Gift of Gab
A Columbia, MO Pictures Film.
(It's like Usual Suspects meets Time Bandits meets Rudy.)
LOGLINE: You're about to learn things about Gary Pinkel that Gary Pinkel doesn't even know about.
VOICEOVER:
14 starters gone. Six to the NFL. The largest exodus of talent ever from Missouri's un-storied football program. A coaching family broken: Spread maestro Dave Christensen gone to Wyoming. After 15 years together, it seems like they have never coached apart. Like Mack Brown & Greg Davis. Actually, more like Bob & Doug McKenzie from Strange Brew. Basically, Gary Pinkel needs to find a new Hosehead -- not just the clutchiest alcoholic dog in cinema history -- somebody that can take over in the 4th quarter and ice the game. The anti-Chase Daniel.

Pretend I'm a Tiger, then call me Blaine.
INT. DAY. GARY'S OFFICE.
The 2008 Alamo Bowl trophy remains unpacked from its crate as a general malaise hovers like wet fog over a program that briefly tasted success and wonders if it was rightly earned.
ESPN Reporter Shelley Smith slams down a bratwurst seconds before interviewing head coach Gary Pinkel, who appears to be fidgety and nervous with just seven days of practice until the regular season. Did she even chew it? Wow. Good casting.

RRRRRRRRTTTTT, oh god, hot fart. Maybe wet. Are we rolling?
CUT TO: ON CAMERA INTERVIEW
Shelley: 22 wins in the last two seasons, a program record. All conference honors abound. NFL scouts swarming Columbia, Missouri of all places. Gary, how do you keep up expectations now that you are suddenly unranked and filling in so many big holes?
Gary: Ha! Big holes. Shelley, that's funny in ways you just can't imagine... anyway, we power through big holes like Missouri Tigers. We did it with Brad Smith. And we did it with The Midget -- where people see doubt, Gary sees opportunity. There's some, uh, mustard on your cheek.
Shelley: Saving it for later, thanks Gary. Now that just all seems like coachspeak to me. I didn't become a campus-roving, hard-hitting journalist overnight just by wearing diabolically ugly pantsuits, Gary. Now talk to me. One on one.
Gary: One on one I wanna play that game toniiiight...
Shelley: I find it highly offensive when football coaches sing Hall & Oates to me in a live interview setting. You're talking to the worldwide leader.
Gary: What was that? The wordwide eater? One ... ON One.
Shelley: You know this is going to air on Sportscenter in about 20 minutes?
Gary: Did you know I'll be in the film room watching porn in about 20 minutes?
Shelley: Talk to me about Blaine Gabbert.
Gary: He's the best QB in college football.
Shelley: And I'm Barbara Walters.
Gary: You know I've always had this really weird crush on her?
Shelley: Cut! Let's start over.
Gary: I've been saying that a lot too lately …

Send Gary and his Crazy Hat back to wardrobe!
Outwardly, Gary Pinkel is Direct. Focused. Intense. He received an honorary degree from the same Red Ass school of coaching attended by Shanahan, Gruden, and Stoops.
Inwardly, Gary is fighting an identity crisis. Believe us, we are paid to know these things. Behind the black eyes, square jaw, steely resolve, and remnance of a former confidence-building power 'stache lies an inner conflict that Gary wrestles with on a daily basis: "Am I the next Bob Stoops or the next Bob Davie? Am I really visor worthy?
Such are the nightmares of Gary Pinkel. Thankfully he only dreamed it in his head whereas Rich Rodriguez is living his nightmares through actual live press conferences.
Our resident Tiger Philosophe, Gene Claude, made some inroads last December after the team's disappointing 10-4 finish that lends credence to Gary's inner turmoil:
"This is a man who once ran a fake field goal on 4th and goal from the 9 under the following conditions: (1) down by 6, on the road early in the 4th quarter; (2) after taking a delay of game penalty because the opposing team was screaming "FAKE" on the first attempt; (3) and called a run up the middle. To strain the chess analogy, this is the equivalent of picking up your queen and sticking it in your ass. I could go on for pages, but suffice to say that Pinkel has had more ugly boners during his employment than Randy West."
After learning of this coaching jackassery, Mike Sherman got out his Facebook for Dummies and sent a friend request to Pinkel. And now Gary knows the real reason behind Bill Byrne's rapid decline in mental health and comparatively feels much better.
With Shelley apparently on an extended bathroom break, Gary gives Gary the ol' Pinkel Pep Talk:
So we lost a few guys to the NFL? Come on, this ain't Toledo! We're Tigers. Reload, Gary! RELOAD!!
After a quick p90x set and a few headbutts against the wall, the temporary wave of self-induced confidence fades, pills come out of drawer, lights dim as video of 2007 season highlights are replayed while the soft crooning of Pat Boone cradles him softly into an extended sleep.
QB1: Coach? Coach, wake up.
Gary: YOU'LL NEVER BE CHASE DANIEL!!!
QB1: Uh, what? Coach, were you having a nightmare?
Gary: Uh, no. yes. Just a cat nap. Sorry, Tiger nap.
QB1: I never wanted to be Chase Daniel, coach. Just for the record.
Gary: Yes, of course. Who would, right? Mooooving on now. New season. Now what do you want, Gabbert?
QB1: Uh … nothing coach. Just got the daily rub down. I came by for the ESPN interview. Coach, are you okay?
Gary: Yeah, whatever, Blaine. Do people really call you that? Where's Christensen? He usually does this shit. Oh wait, he's gone too! Heee heee hee. Here, watch some video of Colt McCoy and just do everything he does.

I make this shit look easy.
ROLL CREDITS and ... see you in Cannes!
These séances and split personalities are regular afflictions for Big 12 North coaches, typically manifesting in sound bytes from press conferences (This is Big 12 football Brotherrr!! ... I'm a man! I'm 40!!). Left alone on the plains, they don't get to be media rock stars like Mike Leach and Mack Brown so they inevitably create their own drama. Hawkins turns to Lao Tzu. Mangino is haunted five times a day by Mario Batali. Bo Pelini thinks he's an actual character on The Wire. Gary Pinkel thinks he's Gary Pinkel but just isn't quite sure. Who else coaches in the Big 12 North? That's all I got.
With most of his starters departing for the NFL and having to break in a new QB with two new coordinators, shit just got real for Gary in Columbia. We find a coach and a program sitting on a chain link fence between success and mediocrity. The myth of Sisyphus is no myth in Lincoln, Ann Arbor, Tallahassee, and Coral Gables; where the weight of building a formerly storied program back to relevance is all too real. Just ask Randy Shannon. That rock is heavy, yo! It's different in a place like Columbia that only tasted real success for a few seasons. You can't fade into lore if you never made it in the first place. Scipio lifted that one off a slide in the conference room at work. And yes, he's also a famous motivational speaker we're all embarrassed to know.
With Nebraska and Kansas expected to duke it out for Big 12 North "supremacy" (roughly the equivalent of winning a Gatti's buffet eating contest), Mizzou is a half dozen young guys stepping up from being a legit contender. Let's see if they have something in the tank that may turn out to be the Ethanol equivalent of Jeremy Maclin, Stryker Sulak, Ziggy Hood, or Chase Daniel.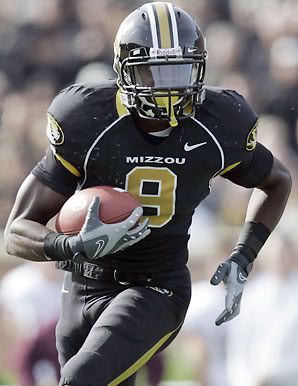 Might want to look into cloning ...
Despite what Gary tells himself in private, Mizzou does not indeed reload. Prior to the 2009 draft, Pinkel has never had an offensive lineman or a d-back play in the NFL. Okay one dude, OL Tony Palmer, was drafted in 2000 and promptly disappeared. You usually have about 25 of those guys on your roster every year. That's not an encouraging trend.
More bad news news: Mizzou's defense, while stastically acceptible according to Huck, played like the cast of Mamma Mia! in games that mattered -- OU, Texas, and KU -- with a bunch of NFL guys on the lineup.
The good news: DC Eberflus has taken his average ways to the Cleveland Browns, where he should hit the ground running. There is also some good young talent on the roster.
This 2009 Tiger defense will be led by Butkus Award favorite, LB Sean Weatherspoon. He will become Mizzou's all-time leader in tackles this season. Graduating in just 3.5 years, the Jasper, TX native somehow escaped through Mack Brown's GKWG net.

wtf, Mack!
"He's the kind of person you want your daughter to marry: He's smart. He's articulate. He's fun-loving. He's enthusiastic," said defensive coordinator Dave Steckel. And then he made a public promise to squeeze the pulp out of Juice Williams. It's hard not to root for this kid. He would start for any team in the country except USC, where he would redshirt as a senior while they cycle out their more promising Butkus candidates.
Former QB coach David Yost takes over for Christensen and they're sticking with the all-shotgun spread. Gabbert is an upgrade from Daniel in that he should at least be able to see over the Center's clavicle.
A solid, experienced offensive line of Fischer, Wuebbels, Barnes, Gregory & Hoch should give Gabbert some time to get his feet wet. They also do pro bono work as a Columbia law firm doing recovery work with short kids that got sold on the promise of Chase Daniel. When healthy, Tackle Dan Hoch is Big 12 South good and should play on Sundays.
Mizzou was 2nd in rushing in the Big 12 last year, a stat no doubt helped by 49 carries from the WR position (Maclin). Underrated RB Derrick Washington fought injuries all year and still put solid all-around numbers (1300 yds / 19 TDs / 5.9 ypc). Speedster De'Vion Moore gives them a good receiving option out of the backfield but in general you don't want to give guys with apostrophes in their first name a microphone. On his new QB: "He's going to come in and make a name for himself. He's going to be a Blaine Gabbert." The only other Blaine Gabbert is an unemployed former Tommy Hilfiger model.
I doubt Blaine Gabbert has ever heard of Blackalicious but we're going to call him the Gift of Gab anyway, given Pinkel probably wishes he was black and is their only hope of a winning season. Expect GoG to run more out of the spread and inflict more damage to opposing DBs than Daniel's canters, slides, and dressages for the first down marker. According to practice reports and the insight of local reporter Dave Matter's Matter-O'-Factz column (I'm assuming this is the name of it), Gabbert is much further along than expected, showing great touch on short, medium, and long-range passes. He's also giving a speech to the UN later this month about how to solve the Middle East crisis. Why the hype may be premature: he doesn't have the wiggle in the open field or quick release you want in a spread QB. You don't need a huge arm -- you just need to make decisions quickly and be accurate. Only Trips Right can tell you if Gabbert has the whole package ...

You might know my cuz, Jimmy Clauz?
Trying to fill the Mangino-sized hole left by Maclin will be Jared Perry, Wes Kemp, and Danario Alexander. All are above 6' but Kemp and Alexander pose legit matchup issues at 6'5 and 6'4. Will any of them turn out to be the witch that Maclin was with the ball in his hands? Doubtful, and Gabbert could end up being as good as these guys make him. True frosh WRs T.J. Moe and L'Damian Washington will likely burn shirts to give this group some depth. If Alexander can stay healthy, he'll lead the unit in yards, touchdowns, and 'tang.
Gilbert Moye, a high school phenom at Jasper and Diboll, has switched positions yet again, moving from safety to running back and is currently in a heated battle with Kendial Lawrence to see who can fumble the most. Name the last high school QB that became a productive D1 running back after switching positions from Safety ...
...
...
...
HenryJames just threw his iPhone across the room. His girlfriend caught it without looking. This apparently happens a lot.
Tight end Andrew Jones caught 20 for 176 last year. Chase Coffman probably did that in one game. Jones will lead the team in strikeouts in lazy centerfielding. Fortunately, Texas has decreed to all of college football that this position is completely expendable for the 2009 season.
The Tigers have good depth at LB with Gachkar, Gettys, Lambert, and Ebner. Along with Spoon, this is the strength of their defense. The secondary should also be a lot better by the end of the year assuming the line can generate a pass rush in under 15 seconds. True freshman LB Donovan Bonner is another promising 2 star LB out of Texas and by virtue of that is naturally being called the next Sean Weatherspoon. We'll see how that works out.
CB Kevin Rutland had a great summer and has locked down the starting CB spot across from stud Junior Carl Gettis. Safety Kenji Jackson makes up for lack of size with a cool first name and some ball skills but the scars left by Dezmond Briscoe in last year's KU game are Tupac real. Dude had a 15 yard cushion in every direction.
Another reason any decent offense torched Mizzou's secondary is because William Moore peaked as a Junior and Eberflus had these guys out of position pretty much all year. See Duane Akina as our DC. The other Safety, Hardy Ricks, is starting because he's the only Senior in the secondary and a better, younger player hasn't taken his job yet. Second-team corners Steebles and Hobson will both play a lot in the nickel and provide good depth.
Nosetackle Jaron Baston 6'1 305 is a nice plug in the middle but the departures of Sulak and Hood are downright inconsiderate considering they were barely recruited out of High School and had a chance to leap at NFL riches. Sophs Terrel Resenno and Dominique Hamilton need to help shore up a line that gave up yards in hectare chunks last year. Where that help actually comes from keeps Gary up at night.
6'6 255 Aldon Smith is a budding star at DE, backing up Jacques Smith. Aldon should be starting but Ann Coulter's bitchy little son Brian will try to sink his teeth into QBs from the far right.
K Jeff Wolfert will be hard to replace. He was automatic and now Mizzou fans can once again shiver like numb mullets in parkas when they lose a game to Colorado on a botched extra point.
The season starts fast with the annual tilt against the Illini in St. Louis. Last year Mizzou was favored by 7, this year it's the opposite. Illini WR Are-you-for-realious!? Benn is the best athlete to arrive Champaign since Simeon Rice. Only Sailor Ripley and srr50 are old enough to remember his college days. Last year Juice went nuts 450 yds on 26 completions with 2 picks to Weatherspoon in a 52-42 loss, the latter pick six icing the game with 3 min to play. That outing nearly doubled Williams' career high passing yardage, an early sign Mizzou's D had some issues. Maclin missed the 4th quarter with an injury after taking a kickoff return 99 yds and a punt return 45 yds for paydirt.
Where does that shit come from this year?
One final question is whether Gabbert will be able to stay healthy. Given he has a spotty record avoiding injuries, does he turn out to be Brad Smith, who never missed a game in four years? Or is he Kirk Farmer, who spent all four years on a training table getting serviced? For all of Chase Daniel's faults, he was a tough little pony that only missed a few snaps in his whole career.
And you know what? I already miss that booger-eating midget.
At some point in the season Gary Pinkel will probably miss him too and cry at a press conference about it. Everyone's doing it.
I'm going with 8-4, if only because strip clubs in Missouri require the girls to wear bandaids over their nips.
Sorry Mizzou, I'm going to need full frontal to give you 10-2. Show me something.