It's about damn time.
After a brutally hot summer, the payoff for the first weekend of college football in Austin was hazy skies with a high around 90 degrees -- Alaska weather for these parts and all around prime tailgating conditions which Trips Right and I took full advantage of like Scipio at a Marin High School cotillion. After I used a combination of GPS, cat calls, and smoke signals to find Trips' setup in the corner of the Jester parking garage, we kicked off the season with some Habanero fajitas (sprinkled with some grubs his kids had expertly unearthed) and ice cold beer. Plural. Then he sold me a extra ticket for $20 that included some tricky parlay and now I think I owe him about $180. Adding to the resounding success of this tailgate was the fact that HenryJames was out of town.
For those lampooned elsewhere than DKR, let me remind you there is no better place to be on a Saturday in September than the 40 Acres. Kudos to the folks in Admissions -- the talent level is higher than ever.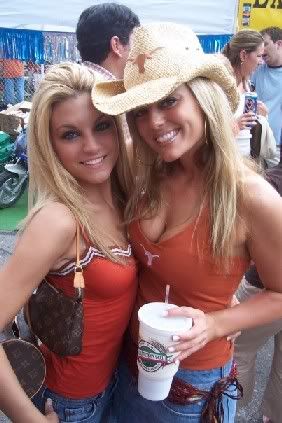 If you're into blondes ...
A few things that stood out watching the game live:
I saw on the scoreboard that OU lost and heard from about 80 people that Bradford was injured. Not a bad start to the season for Texas. Stoops basically stole about $30 million from Gresham and Bradford by convincing them to come back. Bradford is out for 2-4 weeks, OU falls out of the Top 10 and Gresham is reportedly out for the season although Stoops is already denying it. Karma, bitches.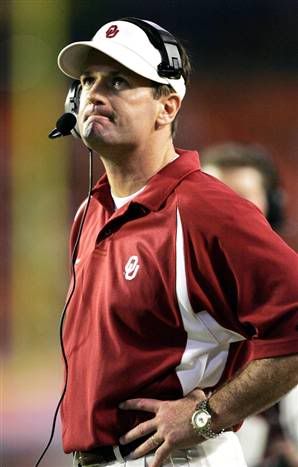 I'm such an asshole.
Yes Bob, you are.
Marquis Goodwin was a shoestring tackle on the sidelines from taking a pass from Gilbert to the house. He was your third leading WR in limited action. Huck needs to start a Gilbert to Goodwin yardage log file in hypertext markup language right now.
D.J. Monroe's kickoff was a thing of beauty and helped ease the pain of Chykie getting scorched for a 75 yd TD the play before. Monroe needs at least 15 touches per game at KR, RB, and WR. No, he's not Percy Harvin or Ramonce Taylor but our own little version of something potentially as dangerous. We shall call him ... D.J. Monroe. I loved seeing him and Goodwin lined up next to eachother on the last kick return.
Kenny Vaccaro leading the team in tackles was a shocking stat given the kid didn't make any noise this spring or summer coming off an injury. Although he isn't in the preferred whiteboy overachieving Trahan/Ungar mold, it looks like we may have found a gunner in Vaccaro. If anything, he played like somebody who was just really happy to be out of the Valley. Get ready for the quote: "We'd love to have 85 Kenny Vaccaro's on this football team."
David Snow logged the equivalent of starter's minutes, as it should be. He's quickly becoming our best lineman. I haven't rewatched the game but he and Hix dominated their side of the line in the first half. Whenever we had a breakdown in pass protection it came through Tanner and/or Hall. Before Huey was carted off with an ankle injury, he was back to his old aggressive, mauling ways. Mason Walters looked pretty good in the second half once he got a few plays under his belt. Running scheme be-damned, you have to like our depth on the OL.
Tray Allen had a huge block to spring Gilbert's TD run. If anything, his temporary move to DT has brought out more aggression in his run blocking. I'll take it.
It speaks volumes that even with Brandon Collins out, Chiles and Buckner were your next two guys over Malcolm Williams in our preferred 4 WR shotgun set. I'm assuming he dropped a shitload of balls in practice this week. But it was good to see Chiles and Buckner make tough catches and move the chains. It jibes with the practice reports but consistent production from either wasn't a given headed into the season and Chiles seems to finally be onboard with the transition to WR. It was never a question of physical skill but committing to dropping weight, quit pouting about the position change, and learning the playbook. It's still mildly concerning when your second most explosive WR logs one catch for 9 yards and is buried on the depth chart to start the season. Malcolm did spring a nice block on Monroe's TD.
Will anybody be able to stop Colt to Shipley this year? Money, as usual. Ship racked up 6/167 at halftime.
Rod Muckelroy was all over the place and angry when he got there. Mack gave him some kind of weekly award for this but it's what you should expect out of your LBs. It's just been missing since DJ and we have been Killebrewed into accepting average LB play. Keenan Robinson didn't show up big on the stat sheet but showed good lateral quickness running down a RB on the sideline and always seemed to be around the ball. As opposed to, say, Tyrone Jones.
E. Acho had one nasty hit that forced a fumble while big bro Sam had a nice game with two recovered fumbles. Alex Okafor made the most of his minutes with two TFLs for -8 yards to lead the team. You'd like to see at least one sack against an acronym like ULM but we started out last year without any sacks until game 3 before logging five against Arkansas. Eddie Jones played a whole game without getting hurt and looked good in the process. We are absolutely loaded at DE.
Houston and Randall held their positions well in the interior DL as most of ULM's rushing yardage in the first half came from losing containment on the edges.
The game in Stillwater on Halloween just got a lot bigger with Okie State beating Georgia, as predicted. I might have to go HenryJames and slap some bitches. In costume, of course.
On to Laramie.
If you can find the stadium in this picture, Sailor Ripley will pay for your ticket and transit by horse mount.