While we're all busy looking ahead to OU, musing about our basketball team like Topekans in February, and expressing wonder at how the football gods continue to ease our path to Dallas and Pasadena
(I'm now convinced that the Alabama and Florida team buses will crash into each other four hours before kickoff of the SEC championship game), I checked our schedule and it turns out that we're playing Colorado on Saturday.
In football. Home game apparently. So that's nice. Let's watch it?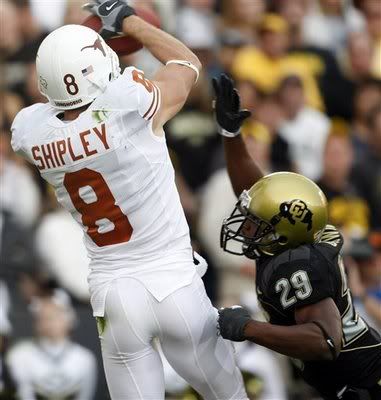 Colorado Offense
Colorado will be a borderline useful game for us. Our defensive statistics against pass-heavy teams have lulled us into the statistician's mistake of confusing infrequency with efficacy with respect to the running game. This is the same phenomenon by which people who take tae-kwon-do convince themselves that they can fight by hanging out with other people taking tae-kwon-do. So it's time to leave the suburban strip mall slapfest and go pick a fight with a biker. In Colorado's case, by biker, I mean a cyclist.
A female cyclist. A mouthy one with hirsute armpits.
Win that and then you work up from there.
We will finally get to see a semi-traditional running game - I won't insult you by arguing that it's a good one - but it will feature things like a big OL firing out, backs attempting to run downhill, blocking fullbacks, and exotic things like TEs and - wait for it - sometimes TWO TEs. And off of that madness, they will attempt to do things like run play action...and run clock. So that we beat them 34-7 rather than 52-10.
They will do these things at some level higher than our scout teams can, it will be in a game environment, and it's a good prep for OU and OSU. We need to work on controlling gaps, maintaining low pads, and having our LBs read keys beyond that of an inside slot receiver. If you were at our Fiesta Bowl game against Ohio State you saw first hand how the Big 12 is poor preparation for a traditional running game. It took us a while to acclimate. Consider Colorado a hike up to 5500 feet before an Everest Base Camp push.
This "running" will happen until we stop them and then Cody Hawkins will throw every down, like a paperboy with palsy.
Cody Hawkins is an object lesson in the perils of nepotism (145-98-1087-7td-7int; 12 carries, -84 yards). He has a weak arm, isn't fast, stands under 6 feet and is generally what you end up with when you recruit a Todd Reesing-type instead of the actual Todd Reesing. His only reliable targets are Scotty McKnight (29-325-3 td) - only the name Chalky McDutch better screams reliable route runner - and TE Riar Geer (20-208-1). McKnight is a guy that would be a #2 receiver (or #3) at every other school in the Big 12 and he's CU's best offensive player. Ouch.
The OL, for all of their recruiting hype, has been a disappointment. RBs Rodney Stewart, Darrell Scott, and Demetrius Sumler all looked a lot better in preseason magazines than on the field. Stewart, to his credit, does run hard and basically approximates Jahvid Best...with a pulled hamstring.
CU has scored 70 of their 103 points this year in the 2nd half. This means CU is a second half team! Against 2nd teamers or disinterested 1st teamers with sizeable leads. If Colorado manages more than 13 points, then someone fumbled inside our ten.
Colorado Defense
Going against Colorado's defense is a little like getting a date with Angelina Jolie. It's just a question of which way you'd like to screw them. You probably end up getting bored and trying Caligulan amusements at some point. We should dress up Fozzy Whitaker like a satyr.
If you're a schadenfreude type, read this Buff Blogger's rationalization of the West Virginia game:
Despite the 11-point spread at the end of the game, the Buffs were barely outscored in only two quarters. Granted, the last CU touchdown was scored with 3 seconds left in the game when Simas caught his first collegiate TD pass, and the Buffs were 18 points behind before that catch
I honestly don't have the words.
I enjoyed this too:
CU has plenty of team speed. What the Buffs stlll struggle with at times is being out of position too often and not making the plays when they are in position. And they need to be coached into playing fast.
Can ignorant Colorado bloggers be coached into blogging smart? Colorado is slow. Believe your eyes. It actually gets more absurd from there, so I'll stop out of mercy.

CU Defensive Team Meeting
Some fun statistics and facts I dug up for you:
When the CB blitz is your pass-rushing staple you know that you're giving up 28+ points per game. 5 foot 7 inch cornerback Cha'pelle Brown l'eads the te'am in sa'cks with thr'ee.
Set the tone early? Toledo, West Virginia and Colorado State had game opening drives of 91, 80, and 77 yards respectively. All TDs.
In four games, CU has given up eleven plays of 40+ yards. Colorado's offense has managed two.
CU's defense is balanced: they give up 201 yards rushing and 207 yards passing per game. You can only get that sort of balance with meditation, harmony, and five white starters from Durango.
CU features exactly 100% more Caucasians at safety than is advisable (two). I'm not talking about mean country white boys. I mean Cau-casian. We're talking 4.85 40, My Child Is An Honor Student At Longmont High bumper sticker, espresso makers in their dorm room. Peter Bean of BurntOrangeNation and I spent the entire Toledo game text messaging each other Mehhhhnnkee! when another Toledo Rust Belt midget would sprint by him. I literally had tears in my eyes from laughing at this Texas circa 1987 abomination. LB Shaun Mohler competed hard for the title of Most Like A Tree Sloth, but Mehnke pulled it through late.
The CU LBs are not up to their standard. Not sure I'd ever type that given their tradition there, but there it is. Jeff Smart is OK, I guess.
The DL comprises DL. They have them. Names next to positions on the depth chart and everything.
For our offense, this game is a chance for Colt to show that he is consistently back to being Good Colt. Not Bad Colt. We don't want to see Bad Colt, who kept throwing interceptions and eating socks out of the sock drawer. Lets keep him on track. It'll be good for our pre-OU nerves.
Special Teams
CU has outstanding kickoff coverage! Really. I'm being serious. So this is the battle we've all been waiting for, I think. WHO WILL PREVAIL!?!?!
Colorado FG kicker Aric Goodman has missed 38 consecutive field goals. I'm almost certain of this statistic, though, admittedly, I did not look it up.
Conclusion:
We will win big. I have no idea about this covering a 32.5 point line business as Colorado has an extraordinary ability to score mercy touchdowns against bored defenses. Let's call it a 42-9 victory. Then we can get this season started.