Basketball:
1 step forward, 2 steps backward. Dexter Pittman, Dogus Balbay and Avery Bradley each had 4 turnovers while the team had 18 overall that led to 25 Missouri points. Beyond that, the Tigers had a layup-line from open drives and offensive rebounds that led to 58% shooting in the 2nd half and Mizzou pulling away with the win. Check out the box score here.
Seeing their coach go crazy after a few of the calls late in the game was infuriating. I've never seen a game officiated by Ed Hightower that I didn't find extremely frustrating and Mizzou had some delicious home-cooking to the tune of an 18-2 FTA advantage in the 2nd half.
J'Covan Brown is the guy that really needs to take over the team as the lead guard. I think we all agree on this right? Well I want to draw attention to something. Here are his road performances since league play begun (points, rebounds, assists):
Mizz: 9-3-2 OU: 3-1-2 OSU: 5-0-4 UCONN: 0-2-1 KSU: 2, 1, 2 ISU: 11, 3, 1
In most of those games he played low minute totals. Now check out his home game numbers in that stretch.
Nebraska: 12, 2, 6 Kansas: 28, 4, 1 Baylor: 15, 3, 4 TT: 4, 3, 1 Texas A&M: 14, 10, 1 Colorado: 7, 1, 5
The moral of the story is, J'Covan Brown plays stronger defense, more minutes and takes control of games at home...and not on the road. You can point to games in the Erwin Center where the kid hasn't been strong but there aren't examples on the road where he has been good.
The frustrating Missouri game has arguably been his strongest road performance to date this season. So, what do we make of this? Well, he's a freshman with a sensitive nature who hasn't yet adapted to road play. What else can you make of it? When you have a team that relies on young players to the extent that Texas does you are going to see some struggles on the road.
Against Missouri that meant a heavy reliance on Jordan Hamilton for offense. He played point-forward for much of the 2nd half and shot 62% creating most of the offense on the team but the team's poor defense in that half kept Hamilton's efforts from being enough as in Stillwater. When J'Covan Brown doesn't take over there is a power vacuum that Jordan is more than willing to take over and the way he handled that against Missouri and on the road this season has been pretty impressive.
The difference in this game was simply the free throws and turnovers that gave Missouri easy baskets. Texas shot better from the field (46-41), from 3 (38-15), and out rebounded the Tigers 39-32. But those 17 turnovers kept Missouri around until the 2nd half where they racked up totals that amounted to 14 more FTs made (with 10 more attempts than Texas).
Peter Bean has his immediate conclusions and there is little excitement on the Longhorn interwebs now about Pittman's play. Dexy would have been very useful in the 2nd half to contest some of Missouri's layups but his foul trouble has made him virtually useless. Years ago I assumed that as he grew with more success in the league that he would stop drawing ticky-tack calls on a routine basis and earn some respect from the whistles. Clearly that has not even remotely occurred.
Hank Dudek has some advice for him that could only help. Pittman's growth as a shot-blocker has been impressive but if he can just stay on his feet and on the floor he makes the interior defense a lot stronger.
This team is going to have to build a stronger psyche to survive the upcoming road schedule, particularly Brown. Rick Barnes' method of coaching these younger guys hasn't lent itself to them being prepare for what they are about to face, that said,
this is tantamount to Mack Brown going 8-4 with our 2005 team. -Trips Right
Really dude? For one we haven't started the post-season which is far more forgiving of regular season woes than college football. And then, there's this: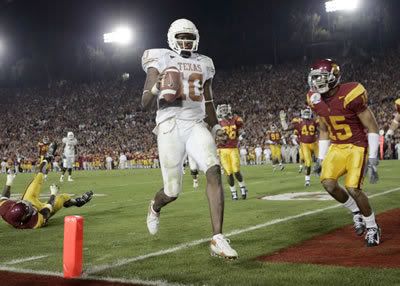 This is a remarkably talented team overall but there isn't a leader like Vince or an individual talent like Vince. Rick Barnes has had at least 4 guys in the past better than anyone on the current roster. You could never say that about the 2005 team.
Football:
Suzanne Halliburton has a fluff piece about McCoy over at the statesman. I don't know how anyone can not root for the kid at this point. I was more proud of his post-game comments at the Championship game than I would have been of a Longhorn victory (although also considerably less happy). You have to wonder if him suffering such an excruciating blow (having to leave the game, not the hit) will end up helping to fashion him into an NFL quarterback. If he has the necessary talent I don't doubt that he will find a place in that league.
Our friends at betteroffred have an amusing series in which they struggle to contain excitement about being the February preseason #5 over at Rivals. I suspect that life after Suh will prove to be tougher than expected but surely the offense will improve and overall talent might be better. Number 5 seems quite high though, I don't know what is featured on that team that would justify such lofty expectations. The defense that is losing their safeties and all-world DT or the offense that has a returning quarterback who would probably better serve the team as the clipboard holder? Of course, I consider the game in Lincoln one of the more likely losses next season.
Over at BoomerandSooner NorthDallasSooner examines the 2010 OU football schedule. They have a perfect warm-up for Texas against Cincinnati the week before. If they continue running the Brian Kelly offense they'll feature the same kind of simple spread passing game that Texas has thrown at OU the last 2 years. I think Texas returns a stronger core than OU next season and adding to that game the presence of @Baylor, @OSU, @Aggy, and @Missouri on the schedule makes me think 10 wins will be hard to come by for the Visored-one.