Now for the defense. Along with special teams, our best hope for a good year.
Remember, this encompasses both true and redshirt freshmen.
Defense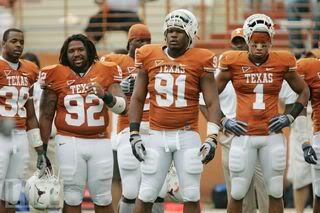 Most Likely Positions For Impact:
1. DT
2. LB
3. DB
Most Important Impact Players:
1. Calvin Howell
2. Ashton Dorsey
3. Taylor Bible
4. Jordan Hicks
5. Tevin Jackson
***
DT
A massive priority, to say the least.
You'll notice that Derek Johnson did not make my impact list and that's because I'm giving credence to the rumors that he may be in academic difficulty. He has certainly struggled with adjusting here. Luckily, we possess a fine track record of academic support staff being right on top of these things, so Christian Scott and I have our fingers crossed for him.
We're looking for answers to join Kheeston Randall at DT as well as a #3 for the rotation and it's going to have to come from freshmen. Calvin Howell is the "veteran" front-runner as a redshirt freshman. Howell was up and down in the Spring game but I think he can give us competent snaps inside. However, the lack of depth is troubling and we need true freshmen like Taylor Bible or Ashton Dorsey to step up. Dorsey is cat quick, uses his hands pretty well, but isn't physically strong enough to handle 50 snaps a game and Bible let himself get fat as a senior and lost some of his motor and athleticism. If Bible will focus on his conditioning, he's an elite caliber player. Russell Maryland type stuff. If he doesn't, he's Sonny Davis.
I expect nothing from Kriegel or Cotton this year.
Coach Tolleson works magic at DT and he'll need to again.
DE
When you have Sam Acho, Alex Okafor and Eddie Jones as your three man rotation, you're in really good shape. Throw in the depth provided by pass-rushing specialist Dravannti Johnson - who will be used on passing downs basically as a DE - and sophomore Tevin Mims, you're now reaching an embarrassment of riches. Then add two five star freshmen in Jackson Jeffcoat and Reggie Wilson and man child Greg Daniels. Wilson and Jeffcoat will shine in their second year with Acho and Jones gone, but until then, they're going to be the finest third team DEs in college football. I expect one or both will play to get them prepared for 2011, but they won't get the snaps to make meaningful impacts as freshmen.
So the next time a poster mentions that we have depth at WR, TE, or RB, do them a favor and show them the DE depth chart. That's what real depth looks like.
LB
Huge impacts from a depth and special teams standpoint, but we don't have dire need for starters here as we do at DT.
I like RS Frosh Tariq Allen as a traditional MLB banger against running offenses and he's a good guy to have on the roster, but I see Nkwopara and Roberson getting supplanted on the depth chart quickly by incoming freshmen Jordan Hicks, Tevin Jackson, and Aaron Benson.
It's quite possible that freshmen will man our entire 2nd team LB depth chart. None of the fantastic freshmen will start, barring injury, but I expect Jackson and Hicks in the two deep quickly with solid opportunities for snaps and they should be mainstays on special teams. They'll flash plenty of ability.
CB
We have good depth here up top in that we have two good to excellent starters and a capable senior #3 CB, but there is an opportunity for a couple of guys to get some reps here and build their resume for next year's wide open cornerback competition. AJ White is the best true freshman candidate and I'm eager to see if Eryon Barnett can match ideal cornerback measurables with actual play on the field. Carrington Byndom is behind White due to AJ's early enrollment, but he's already starting to fill out nicely. My guess is that White will be our #4 CB.
The freshmen should have modest impact.
S
We're set here in the two deep with Scott/Gideon and Vaccaro/Brewster. I don't love our lack of speed, but I do like Vaccaro and Scott running down hill on a ball carrier. Behind them, depth is provided by true freshmen Adrian Phillips and Bryant Jackson. Jackson is a little too skinny and needs a 'shirt and Phillips is physically ready and should be a good special teamer. No impacts here.
***
I don't think I can overstate how important the freshmen are at DT and, from a depth perspective, how important they can be at LB. The good news is that once we've weathered the DT storm, we're stockpiled with elite, young players across the board.