If we want to have a Top 5 football team and win the league, it will be because some teenagers step up in a big way.
This analysis includes both redshirt and true freshmen.
Offense
Most Likely Positions For Impact:
1. WR
2. OL
3. QB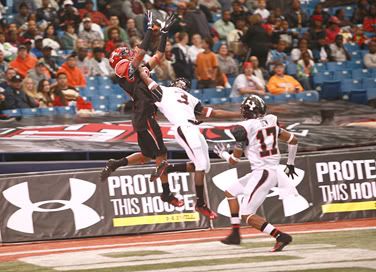 Most Important Impact Players:
1. Mike Davis
2. Mason Walters
3. Greg Timmons
4. Connor Wood
5. Thomas Ashcraft
***
We're in a strange transitional period. Not just because we lost the best WR in UT history, a thousand combined OL starts, and the winningest QB in college football history, but also because so many of our veteran returnees at RB and WR are mediocre or unknown quantities and our depth chart in the OL highlights what a shoddy job we've done developing, evaluating, and planning there. Our offensive upside, in some part, rests with a youth movement and that tension is not something we've always handled well.
OL
If you look at our depth chart, we're a bit like Kim Kardashian - weighted heavily at both ends with a skinny middle. Like Kim, our OL also enjoys getting screwed by exciting black athletes. We feature five seniors, one junior, two sophomores, and six freshman (four redshirt). Some classes are full, some empty. See? Balance.
Our entire second team depth chart and at least one starter must come from freshmen. Mason "Is He Bill Walton?" Walters is immensely talented but keeps getting hurt, Thomas Ashcraft looks promising as a brutal interior run blocker but is still remaking his body, we're not sure if Garrett Porter is a right tackle or a future guard, and Paden Kelly is still too physically immature. I love both Hopkins and Espinosa, but they're both kids and not ready for major college football yet.
Bottom line: We need all of these guys to be depth chart contributors, but we need Mason Walters and Thomas Ashcraft to come through and provide a presence, if not as starters, at least as guys that can capably play two or three games for Texas in case of an injury. We also need to show some pulse for the future as we'll be losing four starters next year. This is a big deal. A very overlooked big deal, which Longhorns fans will notice the minute we sprain a couple of ankles on the OL.
RB
Never have I seen such a stable of mediocrity since viewing Sailor Ripley's college drunk dial options.
Well, we certainly have depth here in the sense that we have a large number of bodies, but see DE if you'd like to know what real depth looks like.
However, hope springs eternal. Sometimes hope even springs for a one yard off-tackle run. Which brings us to our running game and the freshmen. I'm most interested in the player Longhorn fans appear least interested in (DeMarco Cobbs) and least interested in the player Longhorn fans and Mack Brown are most interested in (Chris Whaley). Hopefully, Traylon Shead will sneak up on all of us.
First, Whaley. As I wrote in the Spring review, the plays that made everyone ooh and ahh made me yawn. If a 260 pound back can't win a one-on-one with a 170 pound DB on a perfectly blocked play, he should quit football. And in "winning", he was still tackled. Mack has been married to an idea of Chris Whaley that hasn't existed since Whaley was a sophomore in high school, and he'll get more than his share of chances, but I don't think it amounts to much. Though I eagerly anticipate the "In your face Scipio!" posts after he breaks a twenty yarder against Rice in the late 4th quarter.
I don't know what to expect from Shead, but he is in great shape, he's extremely well-developed physically, and is a worker. However, I don't see him making a seamless adjustment from playing 2A to Nebraska quite yet.
I'm very intrigued by Cobbs, but he has to learn a new position. Before dismissing a QB to RB conversion, look at his film, look at his frame, consider his skill set, and then think about guys like Marcus Allen and Joe Addai who made similar switches. Cobbs isn't a willowy QB. His running style is based on power and quick feet, he loves contact, his frame can carry 215, and he has phenomenal hands.
Bottom line: I don't anticipate a major impact freshman here. Send Malcolm Brown this post ASAP.
Wide Receiver
Our three upperclassmen with the most experience are unreliable, though for different reasons. Kirkendoll is a solid athlete who can't get away from the field fast enough when faced with a real cornerback - watching him against OU, Nebraska, and Alabama was like an intricate dance of Vagina Kabuki. He wasn't just a non-contributor - his mental meltdown penalties and turnovers turned games. When he's whipped, he shuts it down. Front-runner.
Malcolm Williams is trying and he's a physical mismatch, but it just hasn't clicked. It can still happen for him.
John Chiles = Freddy Adu. I haven't seen someone peak at age 15 like that since Brooke Shields.
As for the sophomores, we have three duplicates - all 5-9, 170. I love Goodwin, Fitzhenry - why?, and I'm intrigued by Hales as a complementary player, but they can't do the 12 yard middle dirty work that needs doing.
Enter Mike Davis and Robert Greg Timmons (brain spell). I already love these guys. They're ballers. Timmons has a big body, good hands, reliable routes, and he's a legit 6-2/6-3 200+. Mike Davis is Jordan Shipley from another mother. The reason these crafty technicians will make a move before the uber-athletes like Chris Jones and Darius White has a lot to do with the sophistication of their skill set and the precision which our offense demands in its receivers. Davis and Timmons are both physically ready - Timmons even more so after his redshirt - and they have the egos necessary to catapult up the depth charts. Mike Davis will be particularly insufferable if the pace of his promotion doesn't match his on-field practice play, I predict.
Bottom line: Mike Davis or Greg Timmons, or both, must make a substantial impact if we have any hopes of having a dynamic offense. If Malcolm Williams comes along and Marquise Goodwin progresses as expected, we could actually be special if Davis or Timmons can give us a three-headed balance. But we need a reliable chain-mover and it must come from Davis or Timmons. I fear we won't make that realization until we endure an offensive humiliation. Or three.
Tight End
We currently have eight scholarships dedicated to the TE position. That's three too many, yet we've still looked like a monkey humping a football here. Barrett Matthews or even a healthy DJ Grant should change that, but neither is a do-it-all NFL TE. As you break down our offense into its component parts, it really is a hope-depleting exercise if you believe we're going to hold to the status quo of seniority. We won't at TE, primarily because we can't. Freshmen won't make much of an impact here, unless it's Dominique Jones' blocking or Darius Terrell blows people away in August as a flex option, but then you lose any chance of creating a running game on the edge.
Greg Smith volleyball sets over/under 1.5.
Quarterback
If Senior Sherrod Harris allows a true freshman to beat him out, we may see another Alabama scenario with true freshman Connor Wood trotting out in relief of an injured Gilbert. I do favor Wood, simply because he's much more physically ready than McCoy and has the better tools, but I acknowledge that it's early yet. This is a pretty key development and we've had a number of losses at Texas with freshmen back-ups thrust unexpectedly into a starting role.
Thoughts?