Mack deserves praise for trusting youngsters like Marquise Goodwin and DJ Monroe in the return game last year and they scored three times on kickoff returns between them with Goodwin also blocking a punt for a touchdown against Colorado. Texas dominated on special teams and that will continue in 2010.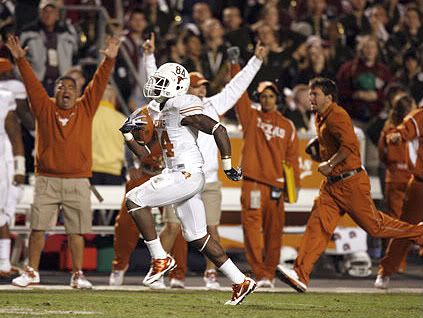 There is no one in the freshman class who is going to supplant Goodwin or Monroe in the return game on pure ability, but there are a number of players who will play a key role in the kicking game, gain valuable experience, provide crucial hidden yards, and offer some tantalizing glimpses of what they'll become as eventual starters.
If you want to see the immediate impact of the tide of young talent we've been signing, look to special teams.
Kick Off Return
Mike Davis, DeMarco Cobbs, Darius White, and Adrian Phillips are all possibilities. None of them will beat out Monroe or Goodwin, but consider that if Goodwin does become a major fixture in our offense as Gilbert's main target and he's also returning punts, the coaches will be loathe to have him returning kickoffs too. Phillips is super-reliable but more of a Quan Cosby type in the return game and Darius White strikes me as too raw. That leaves Cobbs and Davis and both would be interesting possibilities.
Punt Return
Word is that DJ Monroe isn't that great at handling punts, so I expect Goodwin to be our guy here. Similar to kickoffs, if the coaches do want to spell the main guy we have the same possibilities above with similar disclaimers. DeSean Hales or Curtis Brown may be Goodwin's #2 though.
Coverage
Some real solid possibilities here to contribute on coverage as frosh:
Jordan Hicks
AJ White
Tevin Jackson
Patrick Nkwopara
Eryon Barnett
Adrian Phillips
Aaron Benson
Carrington Byndom
AJ is fearless and athletic and Jordan Hicks could be a special teams superstar given his agility and striking ability. This may be Nkwopara's niche. Throw them in with guys like Vaccaro and Dravannti and watch the snot fly.
Blocking
The guys who block on kick returns are often overlooked, but I can tell you now that Dominique Jones is a guy I want out there. He's tenacious, athletic enough to get a piece of someone in space, and he brings the mean. Trey Graham should also get some reps here. Chris Whaley would be extremely interesting here given his size and athletic ability, were he interested in playing a role.
Kicking
Many believe that true freshman Will Russ will have the biggest leg on the team. Kicking is a meritocracy earned every day in practice and he could supplant Gold or Tucker if he kicks well enough with consistency. Would Mack trust a freshman kicker?
We'll see.
Special teams is often overlooked and though not as sexy to discuss as offense or defense, it will be one of the decisive factors in this season as it was in 2009. Texas scored an amazing 11 non-offensive touchdowns last year and special teams were a huge part of that. With an offense expected to wilt against quality defenses, we'll need scores however we can get them.