If you want to understand one of the primary reasons that the league will take a on a decidedly defensive slant in 2010 compared to years previous, perform this simple exercise:
Open a Word doc or take out a piece of Dukes of Hazzard stationery.
Make two columns.
There are 24 offensive tackles in this league and 24 edge rushers (3-4 OLBs or 4-3 DEs) to oppose them.
List #1
1. List out all of the elite Offensive Tackles in this league. Your page should still be blank.
2. List out all of the quality Offensive Tackles in this league. You should have around 6.
3. Still a pesky 18 Offensive Tackle spots remaining. Hmm....
List #2
1. List out all of the elite DEs/OLBs in this league. There are 4. Possibly even 6, depending on potential realized.
2. List out all of the quality DEs/OLBs in this league. That's about 8 more.
3. At least 1/2 of the Big 12's DEs range from good to great.
List #1 will be blocking List #2.
Right. I think you see where I'm going.
So let's talk about these edge guys, who they are, and what they're going to mean to opposing offenses, as they are, top to bottom, one of the best DE crops the league has ever seen.
I'll keep my focus on the best twelve, The Big 12's Dirty Dozen.
Aldon Smith - Missouri 11.5 sacks, 19 tfl
Von Miller - Texas A&M 17 sacks, 4 forced fumbles, 21.5 tfl
Jeremy Beal - Oklahoma 11 sacks, 70 tackles, 19 tfl
Sam Acho - Texas 10 sacks, 14 tfl
Choosing from the four best edge players in the league tells me something about your philosophy and there are no wrong answers. Do you favor the complete edge player who plays both the run and pass or do you prefer your edge guys to get after the QB, come hell or high water? Howie Long or Bruce Smith? Tony Brackens or Charles Haley?

Man crush
We can dicker back and forth on these elites to pick our favorite, but the guy with the least publicity of the lot - Aldon Smith - may have the highest upside of them all. He is Missouri's best sack threat since William Quantrill. Smith, for lack of a better term, is swoopy. Built like a NBA power forward, wingspan like a condor, and one of my favorite players in the league because of his high motor and quick first step. He's also sneaky against the run. He menaced the league as a redshirt freshman and his potential has barely been tapped. Only Nebraska's Suh gave the Texas OL more headaches. If Missouri can put some credible pass-rushing threats next to him in the front four, another double digit sack year seems assured. Big-time football player.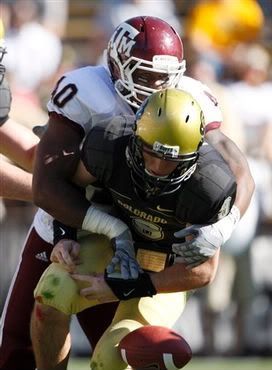 Aaron Wallace approves
Von Miller is the most explosive pure pass rusher in the league, and is both handicapped and aided by playing at Texas A&M. Handicapped in that he is surrounded by Klein High School's junior varsity and teams can find ways to take him from the game in key moments (or key games altogether - see OU, Georgia); aided by his scheme in that he's not asked to do much but rush the passer. When you're 6-3 240 and your first step can't be captured without stop-motion technology, you're going to lead the nation in sacks if that's your charge. If Miller wants to become the total package, the Lawrence Taylor the Aggies like to compare him to, he needs to impact the game on running downs too. However, petty criticisms aside, there's a reason coaches will give a testicle for a pure pass-rusher and Von Miller is that.

I'm going to praise a Sooner; must shower soon
Jeremy Beal and Sam Acho are very similar players. Both are rugged against the run, good, but not great natural pass rushers, and play with a high motor. You can line them up anywhere on the DL and they'll be fine. Unlike Miller or Smith, neither is an identifiable athletic super-freak (meaning they're only very athletic, we're picking nits here people). These are your complete DEs - the guys who can make it 2nd and 11 when a team tries to test them off tackle and can pin their ears back when game context calls for that too. You wreck quarterbacks with Von Miller, you wreck game plans with Jeremy Beal and Sam Acho.
Pierre Allen - Nebraska 5 sacks, 51 tackles, 12 tfl
Jake Laptad - Kansas 6.5 sacks (16 career)
Eddie Jones - Texas 5 sacks, 1 interception return for TD
Ugo Chinasa - Oklahoma State 6.5 sacks
Marquez Herrod - Colorado 6 sacks
These are very good NFL quality players that find themselves here because of one question mark in their game.
For Pierre Allen, it's effort and consistency. He's built like a DE prototype (6-5 265+), he's experienced, productive, and I've seen high level performances from him in a number of games. I've also seen him settle for OK far too often, slap-dancing with OTs he should be able to discard. I expect Allen to put it together this year and, along with Crick inside, replace some of the mojo lost with Suh's departure.
Jake Laptad is a pure power DE and the brightest spot on what should be a poor Jayhawk defense. He's strong as hell, high-motor, and loves to mash. However, he gets his sacks with strength and effort - not a blinding step around the corner.
Does pedigree eventually win out? Clipper Cooper thinks so. If Clipper is right, then expect big things from Ugo Chinasa and, eventually, the Menendez brothers. Chinasa looks as if he was designed on a NFL DE factory pre-set, he has a huge wingspan, and good athleticism. He's also productive-ish. -ish, I said. But...something is missing. Is it effort? Is it that he's not a natural football player? Does he need a session with a psychotherapist and a doll? Let me know if you know, because there's about $3,000,000 in signing bonus riding on it.
Eddie Jones was a five star recruit, battled injuries for years, and then found himself backing up high level NFL quality edge players like Sergio Kindle, Henry Melton, Brian Orakpo and Sam Acho. No shame in that. However, when your back-up DE manages 5 sacks in limited snaps, demonstrates a better first step than his more lauded counterpart Acho, and runs an interception sixty yards for a touchdown, you see a player that's only health and steady playing time away from doing some real interesting stuff. It's the Eddie Jones Flash - that little display of athletic ability where you turn to someone next to you and ask,"Did Eddie Jones just sack a QB on a three step drop?"
His greatest impediment? He shares a roster with another load of quality DEs. He has to beat out Alex Okafor, among others, and there's no guarantee of that. Still - make no mistake - this is a NFL talent.
Marquez Herrod is a jumbo DE (6-3 280) with solid athletic ability. He will never be an elite pass rusher, but his strength and base make him a handful for OTs and he can get to the QB if you let him work long enough. This is a big boy and the NFL covets guys that can line up outside or inside the tackle as a 3-4 DE. If CU makes a bowl, Herrod will be a big reason why.
Brandon Harold - Kansas State Freshman All-America, missed almost entire sophomore year with injury
Brian Duncan - Texas Tech 88 tackles
Alex Okafor - Texas 22 tackles
The last three guys aren't necessarily better than some other options worthy of discussion (OU's Frank Alexander and the extremely talented Sooner young talented back-ups, for example) but they all have big upside and if you were drafting the league's DEs, they'd come up in the top half.
Brandon Harold is another NFL prototype DE (6-5, 265). In 2008, he was a Freshman All-American who held Kansas State fans as breathless as an Olive Garden grand opening. Then Harold was seriously injured, missed almost his entire sophomore year, and no one knows his true condition. In fact, you won't even find him on some preseason depth charts. It's possible that Brandon Harold never actually existed. But if he did, he would be really good. Possibly even an elite DE.
Brian Duncan was one of the best middle linebackers in the Big 12, known for his reliability, sure tackling, and average athleticism. Then Tubs arrived with his 3-4 scheme and the Red Raiders decided Duncan had a knack for pass-rushing. Why? Because he just does. There are some players like that. Duncan is far from the edge prototype (6-0 240), but he's an extremely experienced and productive player and I'll venture that Tommy Tuberville knows a thing or two about defense. We should expect some things from Duncan.
Alex Okafor makes the list not just because I'm a Longhorn homer, but because it highlights the strange surplus of talent that Texas possesses at DE, while DT depth resembles a M Night Shyamalan film (mysterious, full of stupid personal decisions, and no Reggie White appearances). He's a five star talent and will battle Eddie Jones for his starting gig. He'll also battle Muschamp's use of Emmanuel Acho, Sam's athletic freak little brother starting OLB, as a dedicated edge rusher on passing downs. This seems a strange place to put a guy that may not start, but this post isn't about starting DEs - it's about the league's best.
And yes, if you had any doubts, there are 2nd and even 3rd team guys at OU and Texas who would be starting at a half dozen other Big 12 schools.
***
So what does it all mean, Basil?
First, Big 12 offenses will be down. For three reasons:
1. Because of the massive talent inequity I just described in my little exercise.
2. Because the league now calls holding again, after taking a whistle break in 2008.
3. Because the majority of the teams in the league now possess a guy on the edge who can injure your QB.
Several teams in the league lost QBs because they exposed them to hits playing wide-open schemes in which one trades quarterback abuse for the chance to either use him as a running weapon with "even numbers" or to put more wide receivers into the route. Texas is first among the guilty, but everyone offended. My guess is that we'll see offenses protecting their QBs more, running the ball, taking their shots with play action and protection, and generally playing a more conservative brand of football. Passing isn't going away, and this won't become the SEC, but five receivers routes aren't going to the norm any more. And if you see 5 wide, it's a screen.
Your thoughts?
Have I overstated the overmatch on the edge?
Any other areas where there is a comparable, glaring talent mismatch in the league?
Will the league surprise me and be a fast break on grass?