I've already written about the peculiar imbalance between the Big 12's defensive ends and offensive tackles
and how that will dramatically impact the offenses in this year's Big 12, but there's another, more subtle imbalance that does not exist conference-wide between opposing positions, but rather is an inequality in distribution at another edge position - cornerback - between the teams themselves.
We have a cornerback distribution problem.
Baylor and Iowa State have already demanded that Aaron Williams and Prince Amukamara be sliced into twelfths and shipped to various unappealing college towns in the name of fairness.
And in the league that embodies the haves and have-nots, college football's Rio de Janeiro, the haves ain't sharing.
So let's do our list exercise. Get out your Trapper Keeper and No. 2 pencil.
WR:
1. List Elite. There is only one guy that we can all agree on: OU's Ryan Broyles. He has stolen our analytical hearts, much like an unminded car stereo. I may add Jeff Fuller here for his poor man's Cris Carter impersonation. You can argue with me - it's a projection.
2. List Quality. We'll say 10-12. Most of the teams in the league seems to have one guy, some have two.
3. List JAG (Just A Guy). Mostly Caucasians and cripples. This rounds out the bulk of the Big 12's receiving corps.
CB:
1. List Elite. I've got 3 (Aaron Williams, Prince Amukamara, Curtis Brown). You can make a case for 2-4.
2. List Quality. There's another 6 or so. I guess.
3. List JAG (Just A Guy). Hemophiliacs, midgets, and assorted detritus.
This looks like a relatively even match-up en total, but that's not where I'm going with this. It's about distribution.
Five of the league's eight or nine best cornerbacks are on 2 teams.
Elites
Aaron Williams - Texas
Prince Amukamara - Nebraska
Curtis Brown - Texas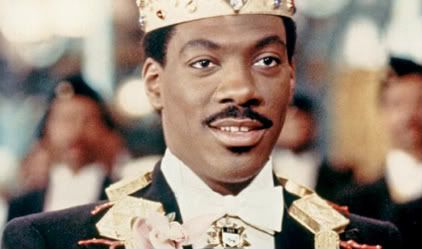 Prince Amukamara, Lord of Zamunda.
Every morning his royal penis is cleaned in a bath by cheerful, chubby Nebraska blondes who then await his bidding.
Like Texas after our game in Lincoln.
Honestly, isn't Prince Amukamara the name you stumble onto when you're being questioned and try to lie?
What did you do last night?
Out with a buddy from work.
Oh, who was it?
You don't know him.
I might. Who?
(see Purple Reign CD sleeve in peripheral vision) Ummm...Prince.
Prince?! His name is Prince?
Yeah, Prince. Prince ahhhh.....uhhhh....Am...Amu....Amukama...ahhhhh....Amukamara.
Is he in IT with that guy Mitch Cumsteen you told me about? With John Coctostan?
Yes.
**
I saw Prince in a couple of Nebraska games early in the year and was impressed. Then I saw him live at the Big 12 Title game and was very impressed. And when he sang When The Doves Cry, I felt like he was singing TO ME.
The first thing you notice is that he's huge for a corner (6-1 205). The second thing you notice is that he can run. There was probably a third thing to notice, but I was too distracted beating Vasherized with his own hat after he proclaimed that Suh wouldn't make another play after a first quarter sack.
Various media buffoons have Aaron Williams nowhere on the All-Big 12 lists and various Longhorn fans on the message boards are too caught up in mob-thinking to understand that Curtis Brown is an elite athlete who has finally become a very good cornerback. This confluence of anti-Brown and anti-Williams media/fan dimwittedness is my current jihad. Aaron Williams is the most naturally gifted cornerback I've seen at Texas in a really long time. He's physical, he's intelligent, he's focused, and technically sound. When you're a Big 12 corner and I can count the number of gaffes you've made on one hand (missing the tackle on Ryan Broyles last year is my middle finger) during your entire career, you're special.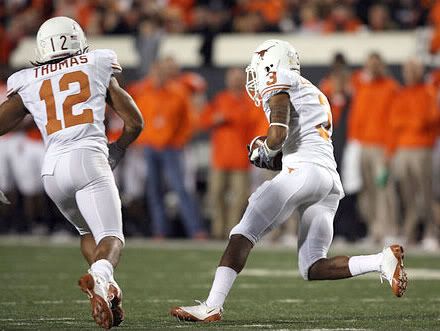 Curtis Brown is a useful filtering mechanism to see if the person I'm about to converse with knows anything about football. It's like a home loan pre-qualification. If you want a loan of my football conversation, I'm going to need to see your Curtis Brown balance. Brown had the misfortune of growing up before our eyes in a position that was not natural to him and some Longhorn fans still remember him as the struggling sophomore that couldn't take down Crabtree instead of the good junior that grew in every game he played. Young players in the secondary struggle more often than not. Then they grow up and get really good. Everyone now claims that they always loved Michael Huff and Cedric Griffin and Stanley Richard as youngsters.
Riiiight.
When you were calling them "non-tackling assholes without any instincts" as sophomores you meant that as a compliment.
Quality
Jimmy Williams Smith - Colorado
Alfonzo Dennard - Nebraska
Carl Gettis - Missouri
Chykie Brown - Texas
Leonard Johnson - Iowa State
Jonathan Nelson - OU
Jimmy Smith is on the next tier, but he doesn't belong here for pure physical ability. He's a huge corner (6-2 210) and he can run. However, his mental game is a tragedy. The same guy that can shut down Texas for three quarters is the same guy that can get torched by Toledo. If he finds some ADHD meds, the guy has a NFL career. Colorado's safeties are also very poor and offer little help.
Alfonzo Dennard is Prince's sidekick, playing the role that Curtis Brown fills for Aaron Williams. He's not as athletic as Curtis Brown, but he is physical. Pelini has done a great job instilling that sense of toughness back into the Husker program. Very solid #2 CB.
Chykie Brown is the fifth of the five Texas/Nebraska guys who dominate the corner position in the Big 12. He's likely a starter at any other school in the league, save NU. Chykie is capable of good play and he certainly looks the part of a NFL cornerback, but his mental game, like Jimmy Williams, is not strong. This is the guy the coaches damn with "If Chykie had half of the work ethic and mental approach that (fill in name of scrappy walk on), he'd be All-Big 12."
Carl Gettis is one the most experienced cornerbacks in the league (an amazing 37 starts) and he'll pair with Kevin Rutland to form a competent duo. I won't argue that Gettis is a great talent, but within the correct schemes, he's an effective cornerback, and he's a definite hitter. Cover him up with a safety and I can win plenty of games with Gettis. If you need a clincher to break down the Big 12 North as anything but a Nebraska-Missouri showdown in Lincoln, it's the fact that Missouri has somewhat competent cornerback play, solid offensive tackles, an elite pass rusher, and a QB. That's all you need to seize relevance in that division.
Leonard Johnson is a good athlete and kick returner who is still growing into the position. He came up big in some big games last year, but he's still an athletic work in progress.
The Sooners are badly hurt by the loss of B Jackson and D Franks, who gave them their own super duo at cornerback last year. Jonathan Nelson played nickel and corner and showed real ability, and I expect he'll be fine over time. He'll be called (with fellow newby CB Demontre Hurst) to hold up on the edge while the Sooner front 7 dominates. One thing to note: Nelson goes about 175 and Hurst is just shy of 170. They're going to struggle with big boys in the red zone. Start identifying Sooner opponents with big, physical receivers now for your covers and over plays.
***
So what does it all mean?
1. Unequal distributions in cornerback and receiver talent means that beta will rule. The same team that drops 50 on the cornerback-less may struggle to put 10 on Texas.
2. Pairing the cornerback analysis with the DE/OT analysis is an interesting way to look at the league in ways beyond "I love Garrett Gilbert!" or "Jerrod Johnson is the bomb!" Or if you believe that skill players are all-important, pick A&M to win the league.
3. Texas fans predicting the demise of the Nebraska defense "because Suh was their entire team" are in for a very rude awakening.
What have you got?