This week the sad news came via email for many of his former players: Susan Bellard, wife to legendary coach Emory Bellard, notified them that Bellard is suffering from Amyotrophic lateral sclerosis (ALS), Lou Gehrig's disease.
Bellard, looking fit and much younger than his age of 82, still gets around. He took part in a charity golf tournament earlier this summer, but the disease has begun to take its toll.
Few men understand the game of football as well as Bellard, and fewer still understand the Texas-Texas A&M rivalry as he does, having coached on both sides.
Bellard's coaching career started out at the high school level where he was Head coach from 1952 to '66 at Ingleside, Breckenridge and San Angelo Central. He won the 1958 and '59 state titles at Breckenridge and then again in 1966 at San Angelo Central.
His success brought him to Texas in 1967 when Darrell Royal lost three assistants. Bellard started his career at Texas on the defensive side of the ball -- coaching the linebackers.

In 1945, Emory Bellard started his collegiate career at Texas. After breaking his leg, he transferred to Southwest Texas State.
When 1967 produced a third straight 4-loss season, Royal shifted some of his staff around, and he put Bellard in charge of the offense.
THE WISHBONE
Bellard had used the option attack as a high school coach, often with three backs. Royal was a true believer in the option as well, and he wanted to find a way to get his three best runners, (Chris Gilbert, Ted Koy and Steve Worster) on the field at the same time.
Bellard began his experiment after spring training, and he held to three basic principles:
• Have a blocker on a defender with a ball carrier behind.
• Have two blockers on one defender with an option play.
• Create one-on-one match-ups in the passing game.
Those principles fit in with Royal's plans. He wanted an offense that would be as effective either to the tight end or the split end side of the formation, and he wanted to utilize speedy receiver Cotton Speyrer as well.
Bellard believed from the start that while a triple option attack would be run oriented, there was no reason for it not to have a passing dynamic as well.
Bellard declared, "I never liked the concept the defense could say, 'you can either run or pass.' We should be able to do anything we like—this is the way football ought to be played."
Bellard came up with the formation that was simply called the "Y" formation in the summer of 1968.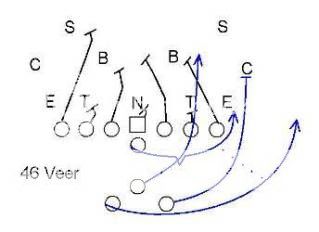 Houston columnist Mickey Herskowitz dubbed the new formation the "Wishbone" after its debut against Houston in 1968.
Once the players returned to Austin for fall practice, Bellard discovered something about the passing option out of the Wishbone -- there was no real need for the short passing game.
The Wishbone was designed to run a Triple Option with a Lead Blocker, with the purpose of eliminating one defender without blocking him. Ideally, the defender must make a choice to eliminate one of two offensive players. The Wishbone scheme forces a defender to choose one of two offensive players to defend and then allows the other offensive player to move in space, making whatever choice the defender made the "wrong" choice.
What Bellard discovered early on was that a speedy split receiver, already working with an advantage of pressure on the safety for run support, didn't need to bother with short or intermediate routes.
We did not need to throw short because everybody was coming up this way trying to stop the run, said Bellard. So as long as we kept to our deep threats, post patterns and the streak patterns — that's what would break open."
The offense didn't run without bumps and stumbles along the way. Obviously it became a real threat when James Street moved in at QB in the 2nd game of the 1968 season, but there was one other adjustment, put in right before the OU game, that proved to be a real difference maker.
Fullback Stever Worster was moved about a yard further back, which gave the QB a split second longer to make his first read, and it allowed Worster to hit the line at a better angle.
After starting the 1968 season 0-1-1., Texas ripped off 9 straight wins by an average score of 37-16.

In 1969, The Texas backfield of James Street, Jim Bertlesen, Steve Worster and Ted Koy set an NCAA record when all four rushed for over 100 yards against SMU.
That of course was the starts of a 30-game winning streak. In 1970, Texas was forced into a dramatic last-second 20-17 win over UCLA. Many thought Tommy Prothro had come up with a defense for the Wishbone, what he called a "mirroer-defense" that essentially applied the basketball principles of man-to-man defense. Actually it was Texas mistakes inside UCLA territory along with the passing arm of Dennis Dummit that kept the Bruins in the game.
In 1972, Texas A&M, tired of getting run over by Texas and the 'Bone, decided that "If You Can't Beat 'Em, Then Hire 'Em."
Emory Bellard became the Head Coach at Texas A&M. In his 6+ years at A&M, Bellard was 48-27. Going into the 1978 season Bellard was 2-4 against Texas and after starting with 4 straight wins, A&M lost to Houston & Baylor by a combined score of 57-6. Bellard resigned under pressure.
The next year Bellard moved to the Graveyard of Coaches in the SEC, Mississpi State. He was 37-42 in 7 years at Starkville.
The last coach to post a winning record at Mississippi State is Darrell Royal -- who was 12-8 in 1954-55.
Bellard moved back to Texas in 1985 and settled into retirement, until the day that some Spring Westfield HS football players came knocking on his door.
Bellard decided that coaching was still in his blood and, "I thought, 'I'm going to have some fun' and that's what I did," Bellard said. "I really enjoyed it.
He took over a team that had won only 4 games in the previous two seasons and went 41-22-5, making the State quarterfinals twice before retiring for good in 1993.
His stint at Spring Westfield put an exclamation point on his sterling coaching career, but it doesn't begin to paint the picture of the total package.
I covered Emory as a college reporter at UT and got to know him better during his time at A&M. As a coach he was accessable, open and honest. His former players are lining up to sing his praises not just as a coach but as a father-figure who had an open door policy no matter what.
The charity golf tournament I mentioned at the begining of this post was for the Retired HS Coaches Asociation. I played in the event, and spent some time around Bellard, who moved slow, but was engaged with anyone and everyone, still telling stories in that smooth southern drawl.
Darrell Royal was in attendance, although he didn't play. As we waited for lunch, Bellard came over to Darrell's table, and for a few moments two coaches traded pleasantries, while several high school coaches just took it in.
If there can be such a thing as peaceful melancholy, I witnessed it that afternoon.
You can also see what the Aggies had to say at Spence Park Soapbox.