They're not who you think they are. It's not necessarily about who is the best, it's about who we can least afford to lose.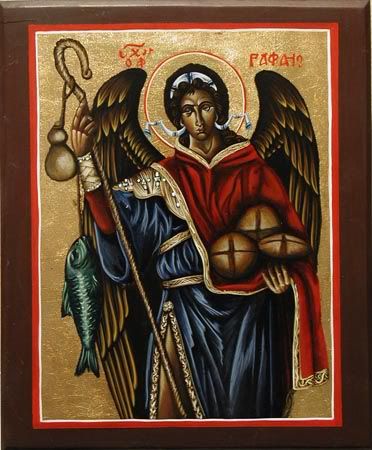 That's St Raphael, an Archangel. An Archangel is basically an angel that knows karate. They're like the Chuck Norris of angels.
When Raphael is not binding demons, and smiting transgressors, he's known for his powers of healing.
Mouth some words to Raphael for these guys. Our five most valuable Longhorn football players.
1. Garrett Gilbert
2. Kheeston Randall
3. Aaron Williams
4. Kyle Hix
5. Barrett Matthews
Garrett Gilbert is the no-brainer #1. He's the most important player on the team at the most important position. And our alternatives are poor. He's backed up by two true freshmen. One of them has wrists like Nicole Ritchie and the other was playing against kids named SinJin a year ago. Lose Gilbert and feel free to pencil in a trip to Shreveport. What I wouldn't give to have GJ Kinne on campus right now.
Kheeston Randall is certainly one of the best players on the defense, but he's also indisputably the most important. Like Gilbert, his back-up alternatives are unreliable freshmen, DE conversions, or lesser talents. His absence would create a void in the middle of our defense that would be difficult to scheme around, no matter Muschamp's genius or Sam Acho's willingness to spin down.
Aaron Williams is the best player on the defense and our best NFL prospect. Though our depth situation at CB is miles better than QB or DT, the dropoff from a CB trio of Williams-Brown-Brown to Brown-Brown-White is substantial. The ability to remove a wide receiver from the game in single coverage and use extra defenders to pass rush, defend the run, or roll coverage is huge and that's what AJ enables. He's also capable of game-changing plays that are tough to replace. Just ask Sam Bradford.
I don't think Kyle Hix is a dominant OT, but he's solid and experienced at a position, like DT, where the option behind him are unproven and immature. The reason Hix isn't higher is that an OT deficiency can be addressed via scheme. TEs and RBs can chip, QBs can shorten drops, receivers can shorten routes.
Finally, Barrett Matthews. I'm going out on a limb with this final choice, but hear me out. We invested our entire Spring and Summer on our new running packages, taking snaps under center, and integrating the TE/H-back position into our offense.
Name the TE/H-Back personnel that can block.
Now name the ones that represent legitimate receiving threats.
Only one name is on both lists - Barrett Matthews.
Without Matthews, the offense plays 9 on 11 with another TE in the game or we'd revert back to last year's stale pass-happy offense running four wide. The downhill running game would be shelved (against real defenses, at least) and the same frustrations from 2009 would be played out painfully. Without Jordan Shipley.
Why no wide receivers on the list? We have six or seven that can play and none of them is a dominant player.
Why no running backs? See above.
Why no Sam Acho? DE is the strength of the team. Eddie Jones and Alex Okafor backed up by Dravannti, Jeffcoat and Wilson would be OK.
What about E Acho or Keenan Robinson? Our depth at LB is surprisingly solid and we can play Big Nickel.
Thoughts?