What happens when a resistible force meets a movable object? Only Sir Isaac Newton or Isaac Hayes knows. It's going to be like watching Napoleon Dynamite pick up on the class slut on the tetherball courts. She'll give in if he can string together three persuasive sentences, but he'll probably just make fun of her ignorance of how Romulans differ from Vulcans.
The Longhorns are ranked 77th in the nation in offense and 87th in passing efficiency, complemented by a moribund running game and bad play calling. They are in a struggle for identity like a transgender schizophrenic.
The Sooners are currently allowing 421 yards per game and 5.8 ypp on defense and have been, to date, one of the worst performing units in the Stoops era. They've been disappointing against the run, against the pass, and against standardized testing in all of its forms. Brent Venables is coordinating a unit ranked #97 in the FBS with schemes designed on the back of a Color Me Mine coupon.
Now that we've savaged our coaches, players, and each other in a way befitting the worst home loss in the Mack Brown era, it's time to move on and turn our rage to a worthy target.
Oklahoma.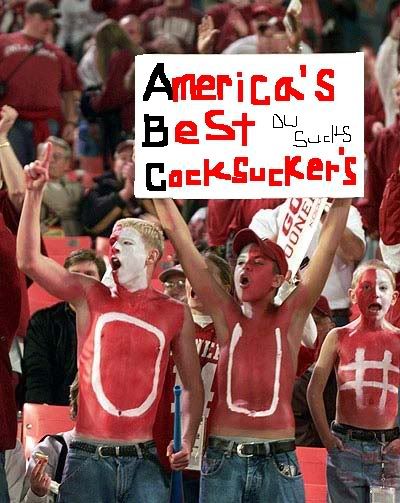 The state. The football team. The university. The coaches. The citizens. The treacherous quisling Texans stocking their roster. The rampant cheating and gangsterism that characterizes their success. The concept of the place in general. This is a state composed almost entirely of men fleeing child support payments with an economy based on stripping copper wiring and the robust barter of Datsun mini trucks decked out with mega-speakers playing Toby Keith driven by dudes who look like Fred Durst.
It's Florida without beaches or the IQ raising influence of Israelites.
In addition to being our rival, OU is the most important game of the season. By a factor of 10. Not only if we have hopes of winning the Big 12, but because this games comes at such a critical time for a football team that finds itself in a fragile state. A loss here likely snowballs into a loss in Lincoln and then we're 3-3, looking at a remaining schedule that morphs from supremely navigable to a weekly coin flip.
Forget the Alamo Bowl - we're talking Shreveport.
Clipper Cooper does not winter in Shreveport. Ever.
Is there any good news after last week's projectile self-urination?
Yes.
Oklahoma isn't really that good. However, they're not good with an identity.
Let's break down their personnel, their schemes, and talk about how we might attack them if we had a cherished degree from McNeese State.
Defense
OU's D has played four games and turned in three bad performances against Utah State, Air Force, and Cincy, with one home crushing of Florida State. Utah State and Cincy bedeviled the Sooners with a running threat at QB, zone read, and robust running games. Air Force whipped them with the Triple Option. We can duplicate exactly nothing that any of these teams did. The team we most resemble - Florida State - was savaged by the Sooner pass rush and fell behind the chains early. A bad habit we've been duplicating.
DB
Safety Jonathan Nelson has been Oklahoma's best secondary player and he's a baller. NFL guy. The corners - Fleming and Hurst - have had a rough go of things and neither is cut from the mold of traditional Sooner success at this position: big, strong, physical, quick. They're little and I expect our receivers to use their size to make plays downfield on them!
Ha ha ha ha! Just seeing if you were paying attention.
Fleming is a little banged up and if he can't go, the Sooners will roll out a freshman at CB. I expect us to attack that freshman with a complex and varied game plan full of nuance and complexity.
Yeah, I didn't think I'd get you again. Had to try.
Quinton Carter is the other safety and he's solid within their schemes. Experienced and will put a lick on you.
Former starter and safety Sam Proctor is sometimes used as their nickel, but he's not a pure coverage guy. If we can get him iso'd on a WR, it's a favorable matchup. Unless that iso involves our receiver stopping with his back to Proctor catching a telegraphed pass after running a four yard route. Then it's...
Corch Vulnerables, I sen' him to the Proctoroligis'!
LB
Travis Lewis is a stud and the former three star RB from San Antonio is a great reminder as to why Brett Venables is such a fantastic LB coach. Ronnell Lewis is also a stud and the Sooners' inability to use his sic' em skill set defines why Venables is an average DC. I expect to see Lewis used almost exclusively as an outside edge rusher against us and he could be wildly successful with Beal on the other side.
Their Limey MLB Tiny Tom Wort - a Dickensian name if there ever was one - was talked up by the Sooner coaches in the preseason and, to date, he has been disappointing, spending most of his time decrying the Euro, sweeping chimneys, and pining for Rhodesia. He is a gridiron Dunkirk. He is torn by class consciousness and address Stoops alternately as Gov'nah and Your Right Lordship. The kid is a mess.
However, there's nothing quite like our running game to remedy what ails you.
Misdirection got you down?
Need a confidence boost?
Having trouble diagnosing plays?
Order the Greg Davis experience now for only $19.99 and we''ll ship it your home!
Ten tackles guaranteed or your money back!
DL
All of their DTs are either struggling with lingering injuries (Adrian Taylor) or so obsessed with writing Lesbian Fan Fiction (Jamarkus McFiction) that they can't keep their head in the game. One of them - Stacey McGee - has a chick name and has turned the Boy Named Sue theory on its head ( Well, I grew up quick and I grew up mean, My fists got hard and my wits got keen...). Tracy Rocker he is not.
Tyrell Higgins laughs at these dudes. They have a middle softer than the fibers of Mike Sherman's Cosby sweaters.
DE Jeremy Beal is outstanding and if I have to tell you that, you should wear ribbons of shame for your ineffectual status as a knowledgeable football fan. I shall place his sack over/under at 1.5. Beal will also place his sack over and under Kyle Hix's forehead if we attempt to single block him on 3rd and 10. Let's CHIP him like Ponch Poncharelli.
Frank Alexander is OK at the other DE position.
Overall
As cold stone killa BrickHorn points out - and I mean in the sense that he loves Coldstone ice cream - we've not performed well against bad defenses thus far so any notions that we will cream this crimson are likely wrongheaded. OU understands how to play us (see 2009 offensive debacle) but unlike 2009 we don't have the ability to surprise them with a misdirection running game.
However, OU is weak personnel-wise at CB and at DT. Venables also can't resist over-blitzing. This gives hope. Not for real offensive output, mind you. But hope that we might be able - somehow - to play a relatively clean turnover free game in which we can exploit quick change turnovers or a fluke play to put enough points on the board to win.
OU will play us two safeties deep, man-under, with their corners and LBs squatting on our horizontalism. If we can run the ball or hit a TE or slot receiver down the seam splitting the safeties, things will loosen up. If not, I fear our non-confidence will metastasize.
Can we beat OU? Hell yes we can. The offense just needs to stop shooting the team in the femoral artery and tying knots in the bandages when the defense attempts a field dressing.
GD - leave the fold, be aggressive, and bring back a rabbit...