Keenan Robinson was just announced as a Butkus semi-finalist. His 57 tackles lead the Longhorns and his qualitative level of play has been very high. Fantastic stuff from one of our most improved players.
This also highlights the impact of our favorite DC. Will Muschamp has affected this team positively in a number of areas: better evaluations and recruiting, superior coordination on defense, instilling attitude and toughness, but arguably his greatest impact has been creating an elite LBing corps (no, Derrick Johnson doesn't count as a corps), absent from the 40 Acres for 20+ years. Keenan Robinson, Emmanuel Acho, quality role players like Earnest & Norton, and the blindingly bright future of Jordan Hicks are testament to our rapid transformation from mediocrity and awfulness.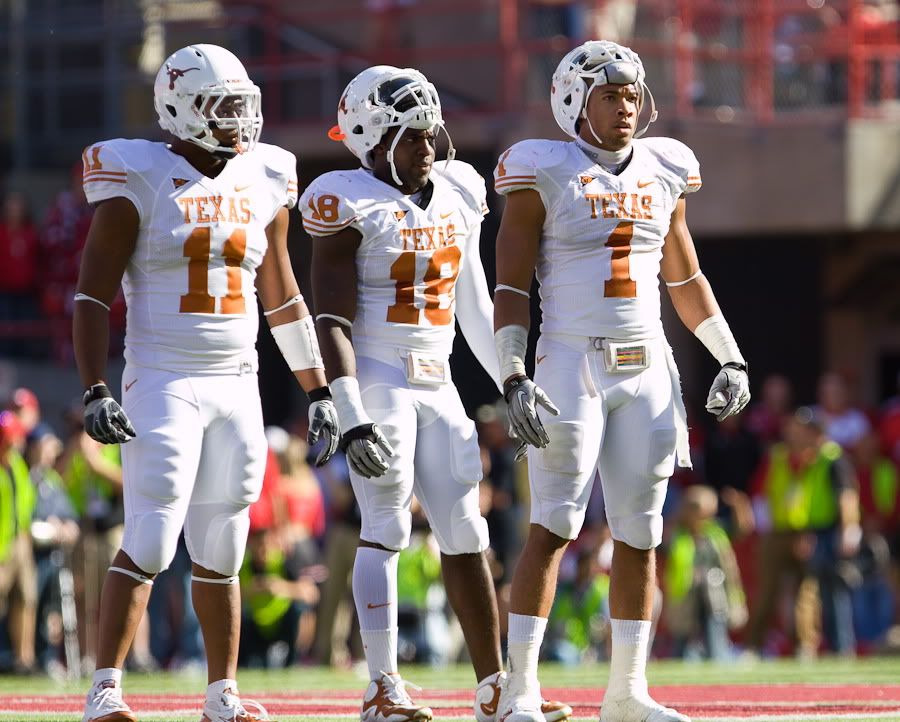 The list includes:
Akeem Ayers, UCLA
Bruce Carter, North Carolina
Mason Foster, Washington
Mario Harvey, Marshall
Dont'a Hightower, Alabama
Justin Houston, Georgia
Nate Irving, North Carolina State
Greg Jones, Michigan State
Luke Kuechly, Boston College
Travis Lewis, Oklahoma
Casey Matthews, Oregon
Von Miller, Texas A&M
Keenan Robinson, Texas
Sean Spence, Miami (Fla.)
Manti Te'o, Notre Dame
My money is on Greg Jones from Michigan State with Oklahoma's Travis Lewis a solid possibility. Next year is probably Keenan's best opportunity, now that his name is getting out there with the media. He's more or less unknown on the East Coast.
Von Miller is an interesting, somewhat lazy inclusion. Although Tim DeRuyter has proven to be an outstanding hire for the Aggies, his schemes haven't allowed Miller to rack up gaudy stats blindly rushing the passer on every snap and it's showing on the field and in the box score.
Through six games, Miller has 2 sacks and is currently 9th on the Aggie defense in tackles.
Did returning to College Station cost him money?