Whenever I think Greg Davis can't possibly fail to meet my own meager expectations (score at least at the average of what the awful opponent surrenders, minimal turnovers, not begin every game nestled in the womb), he manages to surprise me.
Fortunately, a quarter and half of prevent defense from the Cyclones and 86 plays from scrimmage allowed us to break our eight game streak of being held under 400 yards of offense (440 - ticker tape tomorrow!) and allowed us to put 21 points on the board against a team that was allowing sixty points per game over its last two and 33 per game on the season.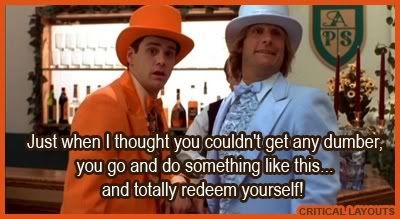 If you've written or said the words "But - 21 points should be enough to win!" in the last 36 hours, please remove yourself from our gene pool in whatever way best conveniences you.
We left Lincoln with some newfound identity in the running game and a shaky confidence that our front might just impose their will on another team when bulwarked with misdirection, QB running plays, and bootlegs. With this new knowledge, we might finally establish the ability to punish two deep coverage, force teams to roll up an extra man, and finally see something from our passing game down the middle of the field instead of menacing Igloo coolers and sideline reporters with our deep ball. Iowa State was surrendering 5.1 yards per carry, was badly undersized up front (including starting a LB at DE and with no DT heavier than 280; we outweighed them by 50 pounds per man), and had been victimized by the run game throughout the season (112th in FBS).
Naturally our first play was run from an empty set and that set the stage for a brutal horizonal attack, the likes of which we've not seen since Greg Davis had his ear wax deposits candled by a street hawker in Guangzhou. This renewed commitment to the tenets of Horizontalism yielded Garrett Gilbert the awesome first half stat line of 15 of 23 for 86 yards and staked Iowa State to a 14-3 lead. That's a smooth 3.7 yards per attempt.
FYI, OU was leading them 31-0 at halftime last week.
THAT FOOTBALL AIN'T ROUND AND THAT MEAN IT SURE DO BOUNCE FUNNY, DON'T IT MACK! Backslap. JOE JAMAIL TOLD ME THAT ONE! Clap clap clap...
Speaking of Stephen McGee Gilbert, however you want to apportion the blame - offense, coordinator, player, supporting cast - Gilbert is now functionally the worst starting QB in the league. And don't come at me with Tyler Hansen. And is Kansas still in the league? He's making bad decisions, his mechanics are non-existent, he self-sacks like the 15 item or less line in a grocery store, his release is best timed with sundial, and he doesn't have a single WR on the team that he can trust. He's playing less like a robot, and I appreciate his toughness running the ball and taking hits, but with interceptionpalooza now I'm beginning to pine for C3PO. Three interceptions and - not trying to be dramatic - it should have been five or six with a smooth Pick 6 thrown in for good measure.
Let's talk positions:
QB
Three yards and a cloud of bust.
RB
Didn't attempt to use them. Fozzy had one carry. DJ Monroe had a sweet 11 yard run where no one blocked for him and he outran two ISU defenders with an angle to the corner, but he was immediately benched for showing up the coaches since they'd evaluated him as our 6th best RB coming into the season. Cody ran hard again, running over two defenders in short yardage, but had no opportunities. Tre ran his best and had a couple of nifty runs. After Fozzy's promising use in the passing game against Nebraska - and given that ISU was covering him with a 240 pound LB - we wisely ignored him except for a swing pass set up by nothing and a Random Screen Generator call.
OL
Once we pissed on the running game fire pre-emptively (this is where you piss on a pile of sticks, and then yell out, "This wood is wet, I shall not try to light it!"), Iowa State was able to bring pressure on us, exploiting our weakness at RT. Mind you, this Iowa State team was in the bottom decile of D-1 sacks and pressures. They got two big sacks (including a FF) and had 9 Quarterback Hits on Gilbert.
Mitchell got worked, Hopkins played like the true freshman he is, Huey Hix cost us a likely TD with an offsides inside the 5, and the rest of the guys played passionless, if sometimes competent, football. Had we stuck with the running game, they would have had some success and the ISU pass rush would have dissipated, but if ifs and buts were candies and nuts, Greg Davis would sit in bed eating pecan pralines all day.
WR/TE
Props to John Chiles (5-117-1), who played hard, was productive, created some silk purse plays with sow's ear routes, and I even caught him blocking a couple of times. This was the guy I saw in the summer - not a world beater, but a Jason Avant lite who can be productive within a real offense. Since we don't have that, let's move on...
DeSean Hales! Plays for Texas. Receiver eligible! He played. Looked OK. Bench him immediately.
Marquise Goodwin caught 7 balls for 0 yards or something and got hurt on 5 of those catches.
James Kirkendoll summed up his entire career with his -3 yard run on a WR screen in which he attempted to reverse field as if he were playing Westwood High and then crumpled to avoid a tackle.
That play was his Rushmore.
He also leads the team in dramatically overselling pass interference when he receives minimal contact which he navigates with the upper body strength of an Olsen twin. He has gone 7 games now without blocking and I'm actually somewhat in awe of that, like the way the characters in Office Space are of Ron Livingston when he starts cleaning fish in his cubicle and shoos away Lumberg so he can play Tetris.
"Go away, Kennedy. I'm busy here. Can't you see I'm watching Lady GaGa videos? RAAA RAAA....LAAA LAAA LAAA"
Malcolm Williams had a nice touchdown catch, but was otherwise a non-entity. 6-3, 220, runs like a deer, not a pussy at all. But we're getting less from him now than in 2008? Really. Really?
Mike Davis caught 17 passes for 12 yards. Or something. He's good. But it's like putting Laurence Olivier in your high school production of Our Town. The cast will drag him down to their level and the gym still smells like field hockey lesbians.
Darius White showed a lot of...splinters in his ass? We can't line him up outside and try to make a football play?
Or is DJ his playbook tutor?
Overall
I had hope that Greg Davis had accepted what we are against Nebraska and that we would play accordingly, even specifically scouting each team as if we had to prepare real wrinkles for all of them and expand the ones we'd used last week the way football coaches do in 2A ball, but he completely mailed it in from a game planning perspective.
Now they're puzzled? Hilarious.
The beauty of Davis and Brown is their total inability to see forests instead of trees, branches instead of leaves, and tell chlorophyll from chloroform. We smothered this offense with bad personnel and bad schemes in August and there's not much to play for anymore but pride.
Assuming we have any left.
Which brings me to the defense....