And that means one thing:
Howard Schnellenberger.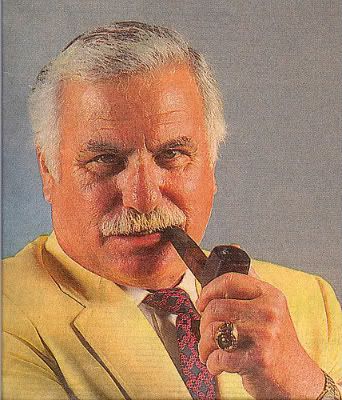 You may recall a couple of years ago Howard said that Texas was soft. Prescience, perhaps? He's crafty.
Then his minions went on to build a bonfire or set a dumpster ablaze or something.

Sundry links and learning materials:
Thankfully for all of us, Spencer Hall also enjoys Howard.
Taylor T points out Howard actually gets a bum rap sometimes.
Howard travels in style:
And has a way with the ladies.
Howard comments on the 30 For 30 Documentary on The U.
http://www.youtube.com/watch?v=dhAhbCE_uMs
Howard has some thoughts for Floridian Jenn Sterger:
http://www.youtube.com/watch?v=gec9IIJEU2E
But most importantly, please do check out this blog. It's easily my favorite FAU Sun Sentinel blog and Ted Hutton does it right, with micturating action figures.
He also has an Owl handicap games for him. See this excellent footage when FAU recently squared off against ULaLa.
Doug Coupland said: Florida isn't so much a place where one goes to reinvent oneself, as it is a place where one goes if one no longer wished to be found.
I don't know Doug, you got these people, Carl Hiaasen, Mike Leach... They may be having all the fun.