It's Aggie time.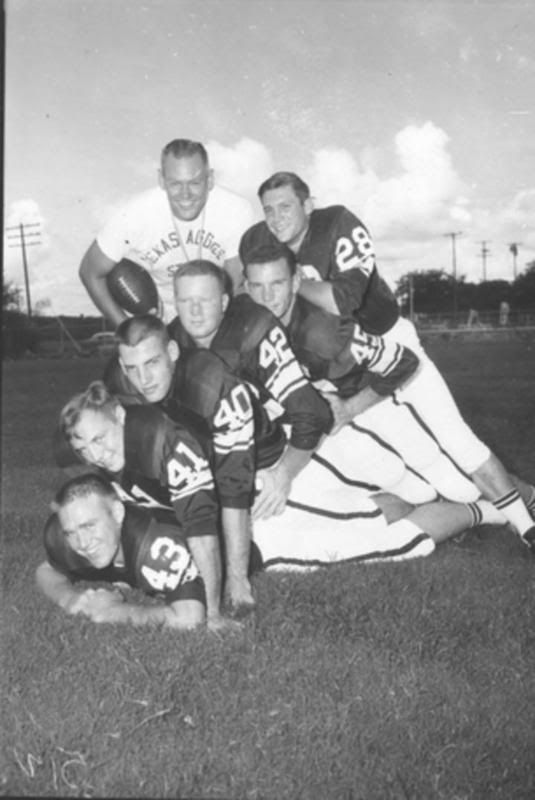 Unlike Oklahoma, for which we reserve pure hatred and a secret desire to see a flaming dirigible crash into their football facility, or see their campus overrun by a pack of homosexual rapist orangutans sprung from a biology laboratory by a PETA enthusiast with a lock pick, this is a rival we're most comfortable regarding with equal measures of bemusement and condescension. We play the older brother who puts the Heisman stiff-arm on little bro's forehead while he swings wildly in the air, his face red and puffy with tears and frustration, never connecting on his enfeebled haymakers; a team and school that offers so much comedic material on a consistent basis that it's like watching a Whale Wars/Millionaire Matchmaker mash-up with over dubs of Barney Frank explaining Freddie Mac.
They want us to hate them as much as they hate us and instead we offer them the ultimate insult - laughter. And pointing. Then more laughter. Then eye rolling. Then we take a nap.

For much of my life, I've treated Aggie fans much the way I treated mall security guards as a teen. The similarities are obvious. They possess dubious authority, love paramilitary uniforms, are easily outwitted with simple ruses, it's fun to steal their keys (kept dangling on belt - why? To a 16 year old boy, dangling mall security guard keys are like shoelaces to a puppy- I must take them and throw them on the skating rink ice), and on one glorious occasion friends and I were able to secure a personal effect (left shoe) from a security guard with a Super Troopers mustache and toss it satisfyingly in the Arboretum duck pond. Not to mention the time that a friend jumped in a security guard's mini-truck and took it for a joyride while the guard trailed him like Rerun in the What's Happening opening credits.
Now defensive coordinator Tim DeRuyter and QB Ryan Tannehill have gone and supplied these blowhards with a taser and and sprinkled their roster with off-duty APD.
What the hell? We're going to get our asses kicked. The mall isn't fun anymore.
This year's Aggie team is gutty, well-coached, has finally found a QB (will this impact Jerrod Johnson's Heisman candidacy, John Lopez?), and rediscovered the merits of playing defense, long lost since the glory days of Dat Nguyen tunneling into our backfield with punji sticks.
There's a good chance they come in to Austin and whip our ass. Which isn't hard. Everyone whips our ass in Austin this year. The cast from Rent would whip the shit out of our offense. Our coaching staff would have trouble figuring out how to handle the innovative tactics at the Somme. They'd probably tell our machine gunners to fix bayonets.
By the way, there's nothing more insufferable than a victorious Aggie. They're the New Money of college football winning and if Longhorns regard a football win as an arrogant birth right, Aggies see victory like a Scratch-Off lottery win in a trailer park: unexpected, glorious, and deserving of an extended Fuck You soliloquy to all of their creditors, delivered in tighty-whities clutching a bottle of Mad Dog 20-20 at midnight.
Let's break these Mar-ubes down, Hammer style:
Offense
They have one. That is to say that they have philosophies, practice plays, schemes, scout and game plan, and possess skill players that engage in exercises such as blocking, throwing, and catching. At first, I was confused by the exoticism of their offense: attacking opponent weak points, running plays that built off of each other, occasionally using 2nd and 2 as a down as something other than an opportunity for a QB sneak, but eventually I adjusted to their trickery.
Ryan Tannehill has been great for them. Dude is like a cross between Cory Pullig and Jerry Rice. He doesn't mess up, he can use his feet to buy time and convert a 3rd down, and he's delivers the ball where receivers can do something with it. Like, catch it? He has a 10-3 TD-INT ratio and he never kills them with a knucklehead play. That's not faint praise either. He's more than just a bus driver. He's like a cool bus driver for Elvis Costello circa 1983.
Cyrus "The Warriors killed him!" Gray has taken over for Christine Michael and has now reeled off 5 consecutive 100+ games. Running is hard. Though A&M starts true freshmen at both tackle positions, their OL is more effective than ours, largely because they receive coaching, basic S&C attention, and schemes that don't hamstring them from the get-go.
Since the beginning of the year, I've pointed out that every opponent's goal will be to attack our safety positions. The surprising Ryan Swope (65-760-4) and Jeff Fuller (62-959-11) will do it well. This week will be no different. A&M will put enough receivers on the field until we either go so DB heavy as to allow them to run with impunity or until they can draw single coverage on Scott/Gideon or force two deep coverage so deep that 15 yard posts and drags will be candy from a baby.
Similarly, they'll work on E Acho's knee and see how he responds to running with Gray out of the backfield.
Their weakness is a very basic one: protection. The Aggies give up a lot of sacks, a lot of pressure, and a lot of hits on the QB. They deal with this in a number of ways - draws, screens, short passing game with Swope/Gray, but unless they can establish a credible running threat or Tannehill can hurt us with his feet when we bring pressure, this is our best chance for disruption and forcing turnovers. Eddie Jones has been disappointing down the stretch in terms of assignment football, but this is a game that's potentially in his wheelhouse along with Sam Acho. If we can get pressure with 4 or 5, we've got a good shot at preventing them from picking too hard at our safety scab.
If we fall into the no-man's land of last year in which we're scared to do anything but contain rush and we can't cover downfield with safeties that provide help like a bucket of water thrown on a man holding a power line, it will get Corps-member-in-jodhpurs ugly.
Defense
Tim DeRuyter has been exceptional, taking a horrid A&M unit and making it respectable. Shades of Muschamp 2008. The jump from being ranked in the 100s to the 50s is the reason that the Aggies are 8-3 instead of 5-6 (along with Tannehill's steady hand and aversion to turnovers). The Aggies share a lot of similarities to what we do and though their personnel are less talented, they're playing with an offense and special teams that's largely supportive of that unit rather than destructive.
And, in my estimation, they're playing harder. Because they're playing for something. Their coaches don't pony express their game plan from Sun City in Georgetown.
I won't bother with the minutiae of individual breakdowns, because A&M is playing unit defense. It's not about the players individually, it's about how they're playing mistake-free football together. A&M's mistakes are largely physical - a guy gets beat - not mental. And their effort is through the roof. I don't know how you could compliment a coach more.
The LBs and DBs are the clear strength of the group and their play has been surprisingly good.
The bottom line is that A&M's DL - when not trying to take your balls and go home - a twist on the old adage in every sense, is very ordinary. You should be able to run the ball on them and protect the passer. A&M's pressure should have to come from blitzes, which should create opportunities downfield. But that's all theoretical. The reality is that our offense has stunk against terrible defenses all year and I see no reason for that to change now.
Our best strategy would be to involve Gilbert heavily in the running game when A&M is spread out - use him up, there is no tomorrow - use Cody to wear on them throughout the game, see if you can get a surprise DJ Monroe sighting, and make a play or two downfield in the passing game.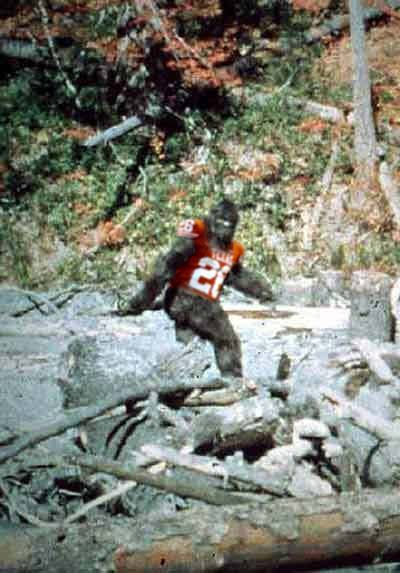 DJ Monroe In The Flat
The key is no turnovers and red zone conversions.
Special Teams
If we break even, or our players don't run around in random circles like Benny Hill after seeing a trollop's breasts, it's a victory.
Overall
This A&M program - for years a laughing stock - is a sharp contrast to our own right now - in effort, recruiting, development, urgency. Maybe we pull it together, give real effort, and the staff decides to coach as well as they spin. We can win this game, but it's going to require someone on our offense and defense grabbing this team by its scruff, like Lady Reveille in a rough trade kennel, and dragging it to victory.