I was all set to write a preview, then I meandered over to Burnt Orange Nation, saw Peter Bean's write-up and realized it would be easier to do this.
Nice job by Peter.
Some additional considerations...
This is the first game in a five game run pre-conference play that will reveal a great deal about the upside of this basketball team.
@North Carolina
@ Michigan State
Coppin State
Arkansas
Connecticut
Aside from the obvious manliness of this slate, how we fare in those games is not necessarily determinative in how our season will play out, but it will sure as hell will be instructive.
The truth about this team is that our three best players are a sophomore (Hamilton) and two freshmen (Joseph, Thompson). We're small. We don't have great depth. We're still seeking an identity on offense. If you know how to scout us and can get your players to execute the correct plan, we're as solvable as an Us Weekly crossword puzzle.
But we're in great shape, we play hard, we will guard you, and we've got some ballers. In college basketball, that mix can propel a team to surprising levels of achievement.
The last few games have shown all of our weaknesses in glaring and brutal fashion (USC) but we've also seen some very encouraging developments:
Cory Joseph has found his shot. He was overly deferential early, but he's finding his legs. Over his last 5 games, he's 16 of 30 from the three point line and averaging 15.2 ppg. He's the only complete guard on the team.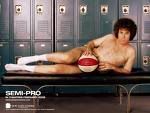 Matt Hill, in repose
The much maligned Matt Hill is not just five fouls and eye candy for the ladies. Hill screens so effectively it's noticeable in the kinds of shots we get when he's in; he has learned not to leave his feet to block shots, and he rebounds his ass off. I'm angry that he cut his Sideshow Bob Jew-fro, but that's my only grievance currently.
We're a better basketball team when Hill gets 15-20 minutes per game.
//pinches self//
Yes, I wrote and believe that.
J'Covan Brown is finally learning that Rick Barnes doesn't control his J'minutes. He does. When Barnes left him in with four fouls against North Florida, J'Covan may have grasped this. He's averaging 12 ppg over our last 3 and he's shooting 50% from behind the arc. He's also defending. J'Covan will either rise to the occasion on the national stage and play well or he'll rack up three fouls in five minutes, have three turnovers, and throw a basketball off of an official's head. We need him badly because the Human Jai-gnome is already hitting the wall, shooting three pointers like he's heaving a medicine ball.
If he ricochets that frustration ball off of Clark Kellogg's head, I will defend J'Covan to the death.
Jordan Hamilton is learning that being a true alpha dog also means creating and deferring to teammates against lesser teams so that they can find their swagger. Jordan, we know you can get 25 any time you choose. What matters is how you go about getting it. After a bad gonna-show-for-my-hometown display against USC, it's no coincidence that Jordan laid down an Evan Turner like 16-10-5 against an outmatched Texas State which might have been a triple doublish if some teammates had finished.
A chance to smoke Harrison Barnes on CBS should bring out the best in Jordan.
I'm excited for this game. Hostile crowd. Outmatched on paper. Bad match-ups across the board. Historically, Rick Barnes' teams respond here.