Do you know anything about this team? Good. Me neither. Some of that has to do with the nimbostratii around the QB picture, the new staff, and I'm still fully grappling with the realization of how badly we've recruited and developed talent in the upper classes, but the closed practices have clinched my incertitude.
We're all relying on second hand practice reports of variable authenticity and reliability, a Spring scrimmage that's dangerous to draw too many assumptions from, historical data, a projected growth curve of staff turnover addition minus new system subtraction, multiplied by the ameliorative effect of having a new S&C coach who will no longer be mistaken for 2nd chair tuba or a jewelry magnet made of pudding.
We're looking through a keyhole into a ballroom of Texas football. Is it the ballroom from the Shining? Or a delightful sock hop of victory?
New Era Pinstripe Bowl, I hope you're ready to rock in the New Year.
Let's see if we can come to some agreement on some strengths, weaknesses, and I-don't-know-what-to-expects. This isn't meant to be exhaustive or comprehensive - I just wanted to type a few things.
Offense
QB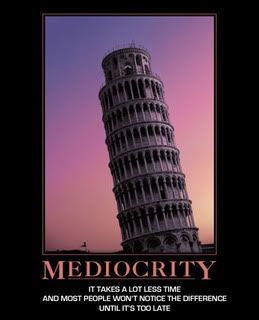 I'm leaning towards it
Is someone ready to rise to the level of mediocrity? If so, he will lead the 2011 Longhorns. I won't get into the QB pissing match here, but if our QB won't lose games outright, can limit turnovers, and can convert 40% on 3rd down, we're in business. Well, a lemonade stand by the side of the road business. Currently, Gilbert lacks something mental, McCoy lacks something physical, Wood is a blank slate upon which we can project whatever we want, and Brown is as likely to start a true freshman over Colt's little brother and his handpicked presumed three year starter from Lake Travis as I am to host The View.
My Mackstincts tells me that Gilbert is our starting QB against Rice. My Mackstincts also tell me the names and ages of your children, your alumni giving total, and all of your food allergies. Burnt Orange Sunsets! Hug your kids! Let's evaluate running backs! I like that slow one with the tight hamstrings!
RB
We have the tubby guy, the injured guy, the freshman guy, the fast guy who drops things and some other guys. Would you rather have a herring milkshake, listen to a NPR show on backroads Saskatchewan, or antique in the Toledo historical district? Mack - next time you feel a RB evaluation coming on, put on a nicotine patch and hit the steam room.
However, they will be running in a real system designed by a coordinator who doesn't actively resent running plays. That's cool.
By the way, Jeremy Hills has looked good in every scrimmage and practice I've ever seen him in since forever, so I'm convinced when the public isn't around, he smokes clove cigarettes while resting on a bed of blocking dummies and responds to any coaching command with, "Jeremy does not hear youuuuuu! Tellit to deez nutz."

Not Jeremy Hills.
WR/TE
We've got some young talent at WR and they're going to get to do wild stuff like run crossing routes, run downfield, and catch balls on the move. The same startling concepts that turned Brandon Weeden into a 4300 yard passer with the Skullet in his first year at OSU. We all agree that Mike Davis is legitimately good, Darius White has big potential that's waiting to be realized, and guys like John Harris, DeSean Hales, Marquise Goodwin, and even Irish Micky Ward Patrick McNamara have their roles in a competent offense.
I'm still trying to gauge whether the Malcolm Williams move to H-Back/Split Tackle/FullbackFlanker is an honest attempt at using his awesome physical attributes or a not-so-subtle way of clearing depth chart space.
71 of our 85 scholarships are devoted to the unused TE position, so it's unimprobcievable that we don't produce something here. Dominique Jones as a blocker and DJ Grant as a useful receiver are my current bets. I also think we solve the budget deficit by June and that Kristin Bell will return one of my e-mails. Barrett Matthews could have been used as a Vegas cooler last year, but a new offense may realign his psychokinetic energies. Trey Graham will pull a 3.8, really "get" Woody Allen movies, and date an AE Phi.
OL
The good news is that we have a new schemes, new blood, and a new beginning. Sort of like when a woman flees an abusive husband and starts her life over with some peroxide, her cookie jar of runaway money, and a taser. It will start off rocky, but I have zero doubt we'll land a job stripping while we work towards our GED.
I like our interior line. I like Mason Walters. I like Tre Hopkins. I also liked the movie The Fifth Element and everyone seems to hate it. Don't you understand that Ruby Rod is a devastating social and media criticism!?
Our OTs gave up 10 sacks in the spring scrimmage. As a manager, I would term this "a developmental area." As a urologist, I would term the blood our QB is subsequently pissing to be "something to investigate." They still have a chance to develop this summer - remember Becky Ann Westenhoffer in 8th grade? And some support is coming as guys get healthy and the freshmen arrive.
Is it good to rely on freshmen in the OL? Is it good to rely on Sudan chairing the UN Human Rights Commission?
Basically, everyone needs to get better. Then we need the running game to work so the play action game can work thus preventing DEs from taking liberties with our OTs like they were drunk female guests or we need to get really proficient at throwing out of three step drops.
Also, we could run the wishbone.
Defense
DL
Chris Whaley is here. Who could have predicted that? NOW I BELIEVE ANYTHING CAN HAPPEN IN THIS TOPSY-TURVY WORLD!
Lost in last year's disappointment is the fact that Kheeston Randall was pretty dominant in 8 or 9 of the 12 games we played. Then he either got injured or disinterested by November when he realized Cleve Bryant was still being considered a program strength. He's a good player and too many Longhorn fans dismiss that that under the assumption that last year sucked so all things associated with last year must suck too. I expect someone from Howell, Dorsey, Bible to provide adequate play @ #2.
If not, we run a 1-6-3-1 and a new era dawns in football history.
Our DEs are going to be a strength. We have three very good players here. We only have three players here. Why are all of our really good players backed up by divinity graduate students? Actually, I expect Dravannti to play here too - whether we call him a OLB or DE.
Wilson, Jeffcoat, and Okafor will all be key because our pass defense will need constant pressure to mask coverage inadequacies. We'll create some of that with Manny's manipulations, but the guys on the edge need to win.
LB
I like this crew. A healed Hicks, Robinson, Acho makes a formidable trio. Our most athletic LBs...ever? Apologies, Tyson King. If I had to pick a nit, it's that all three of them are speed linebackers who excel at lateral pursuit, taking gaps, and running under blocks. We don't have an honest plug and fill LB on the starting unit. Where art thou, Tommy Nobis?! That means we'll have to rely on negative plays and some guesswork to get people out of the running game. That's fine for most of the Big 12, but teams that are stubborn running the ball (ahem, UCLA) will pound us down the stretch unless our offense can put up enough points to get them out of theirs.
Just something to consider.
DB
I like the young talent. And I'm ready for some of the older talent to graduate. And I'd like to see Kenny Vaccaro let fully off of the leash as an every down player. Tell him the opposing QB threw a basketball at him and stand back.
Our corners are young and young corners generally get abused. Young Aaron Ross got abused. Young Cedric Griffin was actively mocked for a two year stretch. Even at safety, Michael Huff wasn't a fan favorite until rather late in his career. Yet, Earl Thomas was a bad mama jamma by the middle point of his redshirt freshman year. The point is: DBs ripen on uneven schedules. It's hard to know when the light will turn on through physical maturation, increased competitiveness, refined technique, or understanding of scheme. And when writers mix fruit and lightbulb metaphors, that further complicates their growth.
We are going to be running a lot more zone, which is good news in that DBs will now be facing the QB and that means opportunity, but bad news in that young DBs don't always handle zone that well and Duane Akina, for all he does so well in developing individual talents and being a good dude, hasn't really demonstrated a facility teaching big concepts to an entire unit. See coordinator stint, 2007. Or any time we've run zone other than Cover 2.
I like Carrington Byndom and think he has a bright future, but expect his early career to be rocky. Same for AJ White. Adrian Phillips. Etc. Akina will make these guys tougher and more competitive, Diaz will put them in good schemes, and they'll blossom. But they will take their lumps.
Blake Gideon - four year starter. What do all you naysayers have to say now?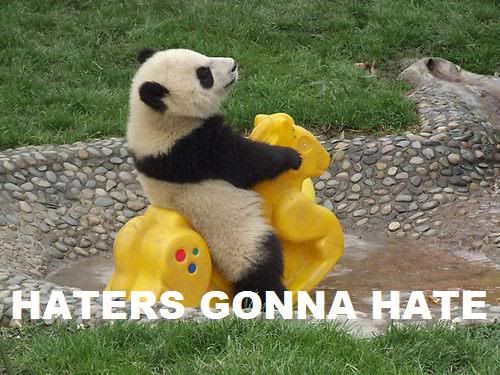 Pandas also adapt poorly and cover very little geography
Special Teams
Dunno. Justin Tucker is good. Will Russ punted in the Spring Game like he'd just been bailed out that morning after a Nyquil binge that left him naked on the lawn of the Chi-O house, so, if true, my hat is off to him. He's a legend.
That's all I got.
Let us discuss more truths and, through dialogue, build foundations of mutual respect.