It clicked for Kevin Durant on Wednesday night.
With 3:31 left in the game, his Thunder were down 91-82 to the Denver Nuggets. Their other main scorers, James Harden and Russell Westbrook, couldn't buy a basket from the perimeter, combining to go 5-22 from the field.
At only 22, his whole career is ahead of him. But those next three-and-a-half minutes will always be a part of his story.
Kevin Durant's Game 5.
The first Matrix is the story of Neo's journey towards becoming "The One". When we first see him, he's a socially awkward computer programmer struggling at his job and drifting through life.
He meets Morpheus, the charismatic leader of a band of vigilantes, who tells him that the world around him is an artificially created illusion designed to enslave him. And oh yeah, he also possesses God-like powers to change it and free humanity.
Naturally, this is all a little much for Neo. He can't defeat Morpheus in hand-to-hand combat, can't leap buildings in one bound, and can't convince the rest of the crew, much less himself, that the prophecy is true.
Our minds are a product of social conditioning, and everything Neo has heard his entire life is contradicting what Morpheus is saying.
It's only at the movie's climax, after he survives a few point-blank gun shots to the chest, that he knows. The agents, astonished, fire off a few rounds at him. But in that moment, Neo realizes they're no longer playing the same game. For all their speed, they still operate by rules that no longer apply to him.
And in the hundred-year history of basketball, there's never been a player quite like Kevin Durant. The ever-growing influx of international players has changed the game, evolving it in ways which James Naismith could never have imagined.
When he died in 1939, the jump shot was still in its infancy, invented only a few years before. Since then, it has evolved from novelty to science:
A former captain of the German national team and a physicist, [Geschwinder] has developed a series of formulas that may reveal the optimum arc for jump shots, using a combination of player height, arm length and release point.

"Take differential and integral calculus. Make some derivations and create a curve," he recently said. "Everybody can do it." "The higher the arc, the better, but you can go too high. The optimum is around 60°."
Geschwinder needed a blank slate on which to test his theories, and he found one in Dirk Nowitzki, a lanky German teenager who had a poster of Scottie Pippen on his wall. While American coaches would have made the young seven-footer a post player, Geschwinder had an intriguing idea: why not make him a jump-shooter?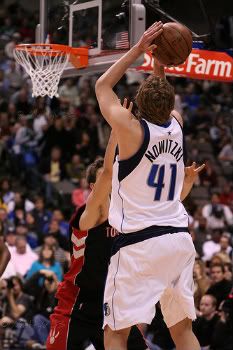 One of Durant's spiritual predecessors.
If a proper jump-shot is merely a series of mechanical calculations, than anyone can learn the correct mechanics to shoot one. And while smaller players have to develop inventive ways to prevent their shot from blocked, Dirk, at seven feet, can just shoot over his defender's head.
In essence, Geschwinder created a seven-foot shooting platform. Because he has a fundamentally perfect jump shot which he can release at any time, Dirk is one of the most efficient scorers in the NBA, despite operating so far from the basket.
Of the league's top scorers, only Dwight Howard, at 59%, shoots a higher percentage from the field than Dirk. But while 63% of his shoots are around the rim, only 13% of Dirk's are.
One evolutionary off-shoot was Yao Ming, an even taller shooting platform at 7'5. But he has struggled to stay healthy, as his body might be beyond the upper limit for which it's possible to run up and down an NBA floor 82 games a year.
Durant represents a different spin on Geschwinder's idea. Instead of making the shooting platform larger, what if you made it faster? With a freakish 7'4 wingspan, his release point is about as high as Dirk and Yao's, but he has the body and skills of a guard at 6'10 215.
The Nuggets had no answer for his combination of skills. Their 6'9-6'10 post players, from Kenyon Martin to Al Harrington and Danilo Gallinari, didn't have the foot-speed to stay with him on the perimeter; their 6'5-6'8 wing players, from Wilson Chandler to JR Smith and Aaron Afflalo, didn't have the length to contest his shot.
http://www.youtube.com/watch?v=2onPqStNnkk
The Takeover.
And with a chance to close out a dangerous Denver team at home, Durant took over. He brought the ball up the court himself, stepping into and knocking down a 25-foot three-pointer. When the Nuggets crowded his outside shot, he took the ball towards the rim, going 4-4 on mid-range jumpers and rising over the out-stretched hands of the Denver defenders.
Most impressively, he found James Harden in the corner when they double-teamed him and he emphatically blocked JR Smith's last-second three-point attempt with less than 10 seconds left.
Now the Thunder wait for the winner of the Spurs/Grizzlies series after San Antonio had a miraculous escape of their own on Wednesday night.
The Spurs would be an easier match-up for Oklahoma City, as they don't have an elite perimeter defender nor do they have an athletic shot-blocker in the front-court. Defensively, the Thunder can put Kendrick Perkins on Duncan and Thabo Sefolosha, a lanky 6'7 defensive stopper, on Ginobili.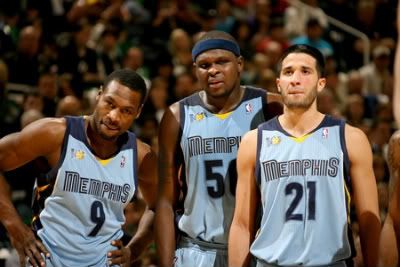 Allen and Randolph would be a real challenge for the Thunder.
The Grizzlies, meanwhile, would be an intriguing match-up of strength vs. strength: Memphis runs their offense through Marc Gasol and Zach Randolph in the low post, while Oklahoma City can counter with two of the best interior defenders in the game in Perkins and Serge Ibaka. On the perimeter, Memphis has the wily Shane Battier and an All-NBA defender in Tony Allen to defend Durant and Westbrook.
Looming down the road are the two-time champion Lakers. Ron Artest, a 6'7 260 former Defensive Player of the Year, used his strength to deny Durant the ball and force him off his spots in last year's playoffs, frustrating him into shooting an uncharacteristic 35.5% from the field. Behind him are three mobile 6'10+ big men who can shrink the floor defensively.
Most intriguing would be a Finals match-up against the Heat and LeBron James, the NBA's best player and the guy who will become Durant's long-term rival for All-NBA teams, MVP's and championships. James, a 6'9 270 tank, is a better passer, rebounder and defender than Durant, and is even bigger and faster than Artest.

The rivalry of the the next decade.
Defenses will likely force Durant to be a passer by sending double-teams, especially since two of the Thunder's starters (Sefolosha and Perkins) aren't very good shooters. And while Harden will often replace Sefolosha in the fourth and Perkins can be hid near the rim, at some point in the playoffs, Serge Ibaka will have to knock down some mid-range jumpers in crunch time.
Long-term, defensive players will adapt to the new breed of super-sized shooters. With the power game de-emphasized, 6'10+ defenders are increasingly stepping out from under the basket. One guy to keep an eye on is John Henson, a preposterously long 6'10 210 forward for UNC who is purported to have a 7'4 wingspan.
Nor are playoff performances guaranteed to improve with age. In 2006, Dirk willed his team to the NBA Finals, dropping 50 points in Game 5 of the Western Conference Finals and out-scoring Phoenix 22-20 in the fourth quarter. The next season, LeBron carried the Cavaliers to the Finals, scoring 29 of their last 30 points in Game 5 of the Eastern Conference Finals against the Pistons.
Neither has reached those heights since.
More tragically, Tracy McGrady, a player Durant is often compared too, was never the same player after his back and knees gave out in his mid-20's. And at only 26, Brandon Roy is a shadow of himself after a pair of serious knee surgeries.
For now, with a bright future ahead of him and the league's best young supporting cast around him, basketball fans can echo the sentiment of Tank in The Matrix: "If what they say about you is true man, it's an exciting time to be alive."